Greg Ninness wonders how liveable Auckland is when it can take more than an hour and a half to travel by bus from Herne Bay to Dominion Rd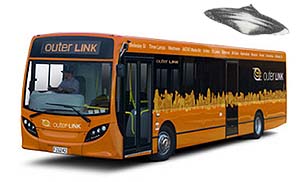 By Greg Ninness
Martians have been abducting Auckland's buses and taking them back to their depot on the red planet.
I'm convinced the little green devils have been flying around the city and beaming our buses back to Mars, where they are parked up with Elvis Presley and squadrons of missing World War II bombers.
They seem to have a particular fondness for the orange Outer Link buses I catch to and from work most days.
Those are the ones that operate on a continuous loop from Newmarket to Parnell, the CBD, Ponsonby. Herne Bay, Pt Chevalier, Mt Albert, St Lukes, Mt Eden and back to Newmarket.
Around and around they go in both directions all day long, with a 15 minute gap in between each bus, except when the Martians are about.
To see the results of the Martians' handiwork you only need to watch those nifty electronic displays they have at bus stops to show you how many minutes you will have to wait until your bus arrives.
The display boards will tell you that a bus is say, five minutes away, then four, three, two minutes and then it's displayed as being due.
Usually that means the bus will be along in the next minute or so, unless it's been beamed up to Mars.
In which case the display board will keep telling you that the bus is due for another few minutes, until the satellite navigation system that keeps track of them realises that the one you thought you were going to catch has been beamed off the face and the earth, and then poof, the bus simply disappears from the display screen as though it had never existed.
On nights when the Martians have been particularly active, I've seen two or three buses in a row disappear off the display screen like that.
And when a bus finally does arrive, there is no guarantee it will pick you up.
I had a particularly bad experience with the Outer Link service last week.
I was at the bus stop by 5.15pm and the display board said the next bus was 6 minutes away, then five, then four and so on, until it was showing as due.
Then it disappeared off the display screen altogether.
"The Martians are at it again," I said to a fellow commuter waiting at the stop.
She agreed, and said they had also been at it the previous night, when she had had to wait 55 minutes for a bus that's supposed to come along every 15 minutes.
Our fears were allayed when a bright orange Link bus heaved into view at 5.30.
A bus is like a friend, I thought, because you are always glad to see it.
But they can also be the type of friend that lets you down.
When this one pulled into the stop the driver opened the back door to let passengers off, but wouldn't open the front doors to let us on, even though there was clearly room for us on board.
I knocked on the door plaintively, but the driver was unmoved, telling us he was running late and wasn't picking up passengers to save time so that he could get back on schedule.
And then he drove off.
After 20 minutes we were joined at the stop by a young woman who told us she had walked up from a stop on College Hill after the bus wouldn't stop for her.
But after walking in the cold and dark for nearly half an hour she had decided to wait with us. At least we had a shop awning to shelter under.
At 5.55pm another Link bus finally arrived and let us on.
By that stage I'd been waiting 45 minutes, so I suppose it was a 10 minute improvement on the 55 minutes my fellow passenger had waited the previous night, but the nightmare was far from over.
The traffic was abysmal and it took about 40 minutes for the bus to crawl its way from Westmere to Mt Albert, then just as the bus got free of the traffic and started traveling at a reasonable pace, the driver pulled into a stop and turned the engine off.
He told us he had to get his bus back to the depot, so we had to wait for another bus and transfer on to that to complete our journey.
Around five minutes later the other bus arrived and we transferred to that and continued on our way and I was let off at my stop at 6:51pm, which meant I had spent one hour and 36 minutes either waiting for a bus or sitting in one.
An intervention
There are two organisations that are responsible for Auckland's bus services, Auckland Transport, the Auckland Council-owned entity that is responsible for planning and oversight of the city's transport needs, and NZ Bus, the Infratil-owned company that is contracted by Auckland Transport to operate most of the city's bus services.
Auckland Transport is responsible for the electronic display boards at bus stops, so I asked their media relations manager Mike Hannan how buses could simply disappear from the display screens when they were supposedly just a few minutes away.
He responded that "Auckland Transport believes this is a technical issue. We will be investigating to understand the issue and provide a fix."
Which is nice to know, but in the absence of a more complete explanation, I'm sticking with my Martians theory.
I also asked Hannan why drivers wouldn't pick up passengers when they were running behind schedule, even when they had to stop to let others off (I have experienced this more than once).
Hannan said Auckland Transport introduced this policy in March and it was called an "intervention."
It was designed to save time when buses weren't running to schedule, but was only supposed to be applied when a following bus was no more than five minutes behind.
"We are aware that this disadvantages the customer who is either held on a bus or is not picked up, however international examples have demonstrated that while some customers are adversely affected there is a greater benefit to the majority who are picked up by a bus which has returned to the promised frequency," he said.
I also had a call from Andrew Gillanders who is a senior duty supervisor at NZ Bus.
He confirmed the policy of interventions but blamed the driver for leaving me waiting at a bus stop when there wasn't another bus following closely behind.
Gillanders said the driver had taken it upon himself to stop picking passengers up and had not been told to do so.
"The driver shouldn't have done that. He was not asked to do an intervention, he took it on himself to do it and we don't want them doing that because we obviously want to have control," he said.
So its sounds like it was a case of good intentions going awry all around.
However to me, it smacks of desperation when a bus company has to resort to leaving passengers standing on the side of the road at night to try and make its buses run to schedule.
I think there's probably a bigger problem than just errant individual drivers taking matters into their own hands.
As one of my fellow travellers said to me the other day, this seems to happen every time it rains.
As Auckland continues to expand, upwards and outwards, the congestion that was once confined to the city's motorways has spread to suburban roads and streets.
Traffic congestion is now so bad that it may only take a shower of rain or a couple of nose to tails and everything grinds to halt and it then it takes more than an hour and a half to get from Herne Bay to Dominion Rd.
Where more is less
According to the great minds that lurk in Auckland Council's corridors of power, Auckland is being transformed into one of the most liveable cities in the world.
I beg to differ.
The population growth that they believe is so essential to our wellbeing is creating a city where for increasing numbers of its inhabitants, housing is in short supply and expensive and transport is a nightmare.
I read the other day that Auckland Council is looking for a new brand to make it "stand out from its global competitors."
I have a suggestion.
What about "Auckland is More!"
As in more crowded, more congested, more expensive and more difficult.
And as it happens, all of those things are helping make the city less liveable.
So perhaps the slogan should be: Auckland, where more is less.