Terry Baucher finds many families grappling with the EMTR problem; says Universal Basic Income one obvious alternative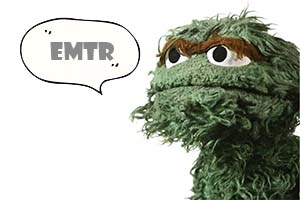 One of the bigger surprises in the Budget was the first real increase in benefit payments for over 40 years.
But what the Government giveth, it can also taketh as the Budget also included increases in the rate at which benefits are "abated" as a person's income rises.
For some families the combination of income tax on increased income and the resultant abatements of benefits may result in no net gain. In effect, they are paying 100% or more on their income. 
If you're thinking "But I thought the highest rate of income tax was 33%?" then say hello to the Effective Marginal Tax Rate ("EMTR").
In Inland Revenue's words "EMTRs are a measure of the total amount lost from a marginal increase in earnings (often taken to be $1) due to taxes, deductions and social assistance abatements."
EMTRs are not some obscure technical issue.  They are of major concern to a surprisingly large number of taxpayers.
These include beneficiaries, recipients of Working for Families and anyone with student loan debt. For example, in the year to 31 March 2014 381,000 families received Working for Families payments totalling more than $2.5 billion. 
For recipients of working for families abatement of their entitlements start when the family income exceeds $36,350 per annum.  For every dollar earned above that amount working for families credits are abated at a rate of 21.25 cents in the dollar.  The income tax rate for someone earning $36,350 is 17.5% (18.95% once the ACC earner premium of 1.45% is included).  The effect of abatement means once a person's annual income exceeds $36,350 they have an EMTR of 40.2% (including ACC). 
If the person has outstanding student loan debt then a further 12% of his or her salary must be deducted once the annual income exceeds $19,084 or $367 per week.  As at 31 March 2014 there were 615,746 New Zealand based borrowers collectively owing $11.189 billion in student loan debt.
Incorporating Student Loan deductions would result in an EMTR of 52.2% (including ACC) on income between $36,350 and $48,000 (the threshold at which the income tax rate rises to 30%).   Someone with a student loan and receiving Working for Families on the average weekly wage of $1,310 would have an EMTR of 64.7%.
An Inland Revenue August 2010 report on Working for Families noted that for the year ended 31st March 2008 126,700 families had an EMTR between 50% and 75%, 30,800 an EMTR of between 75% and 100% and 5,400 had an EMTR above 100%.  Inland Revenue presently estimates 4,000 families have an EMTR of 100% or more.
Despite the benefit increases the strain of EMTRs seem likely to get worse.  The recent Budget increases the abatement rate to 22.5 cents on the dollar from 1 April next year.  The threshold at which abatement commences will also be reduced to $35,900 from 1 April.  Eventually the abatement rate will be 25 cents on the dollar and commence at $35,000. 
The impact of abatements and tax for low income earners and beneficiaries is illustrated by this example taken from a MSD presentation made at last year's Tax Administration in the 21st Century conference.
The left hand column shows what a non-employed sole parent with two children living in Auckland and paying $410 in rent would receive.  The right hand column illustrates the position if the parent works 30 hours a week at the then minimum wage of $14.25.
Income of solo parent with 2 children living in Auckland earning $14.25/hr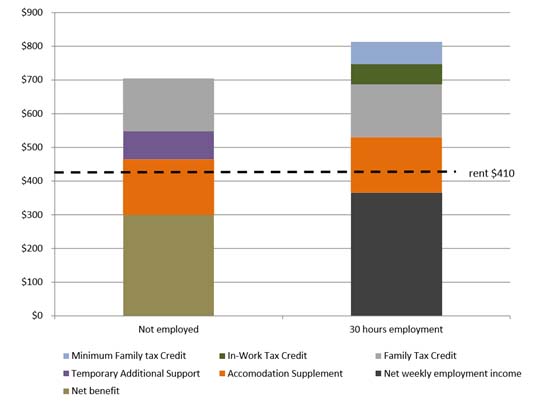 Although the parent is now earning and consequently qualifies for the In-Work Tax Credit, overall the parent's net position improves by just over $100 per week.  In effect, the parent is earning $3.40 per hour after tax, or an EMTR of 76%.  Arguably, once transport and child-care costs are factored in, the parent's net position may be little changed.  
The problem of EMTRs and their impact on low income earners receiving social assistance is not unique to New Zealand.  A November 2012 United States Congressional Budget Office survey noted an EMTR of 97% for some low-income taxpayers.
In 2013 the British charity CARE carried out an international comparison of EMTRs in the OECD. It reported an EMTR of 159.4% for a single person in Portugal with two children on 50% of the average wage. (According to the CARE report the EMTR for an Australian in the same situation would be 67.9%). 
The implications of EMTRs are potentially profound. High EMTRs can make it very difficult for low-income earners and beneficiaries to break out of poverty.  This is behind Child Poverty Action Group's recent calls for an overhaul of Working for Famlies and other low income support schemes.
For those with student loans it hampers saving for a house and delays having children. Consequently some commentators are starting to question the long term merits of the current student loan scheme.
Quite apart from the fiscal impact on families, the current system is costly to administer and its complexity makes it difficult for claimants to understand their potential entitlements.  Having to deal with Inland Revenue and the MSD can also be frustrating.
Stage Three of Inland Revenue's massive Business Transformation project intends to address these issues by digitising and streamlining the process for claiming entitlements. Although the Business Transformation changes will be welcome, and certainly of benefit, they won't address the underlying EMTR issue for social assistance recipients.
That will require more radical treatment: maybe in the form of a Universal Basic Income along the lines of the idea promoted by Gareth Morgan.
Longer term, higher salaries and wages resulting from productivity gains and strong economic performance, should reduce the need for initiatives such as Working for Families.
Until that day many families will continue to grapple with the EMTR problem.
---------------------
*Terry Baucher is an Auckland-based tax specialist and head of Baucher Consulting. You can contact him here »