Bernard Hickey criticises the Government's U-Turn on criminalising cartels and calls for it to adopt some Australian-style mongrel when it comes to monopolies and cartels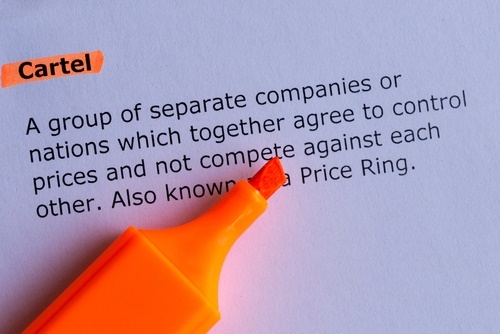 By Bernard Hickey
This week's move by the Government to remove criminal sanctions for cartel behaviour from a bill already before Parliament was sadly not big news in a big week for news.
It should have been. It may seem a technical matter, but it's another example of foot-dragging and soft-pedalling by both the Government and its bureaucrats when it comes to cracking down on monopolies, cartels and abusive behaviour in some sectors dominated by a few players.
The Commerce (Cartels and Other Matters) Amendment Bill, which originally included the criminalisation of such behaviour, was introduced to Parliament four years ago and had already passed its second reading. Cabinet decided in December 2009 New Zealand needed to 'join up' its laws on cartels with Australia, which does criminalise cartel behaviour and has a very robust and effective anti-monopoly watchdog in the Australian Competition and Consumer Commission (ACCC).
It's very rare for a Government to change its mind so late in the Parliamentary process, but sadly it's not the first time over the last decade that Wellington has gone soft on monopolies. The fact it took six years for a cabinet decision to be translated into law, and then to be gutted at the last minute, shows how reluctant it has been to take on powerful businesses in the interests of better prices and services for consumers - and a more efficient, competitive and productive economy.
The Productivity Commission recommended in May 2014 the Government review and sharpen Section 36 of the Commerce Act on using market power. New Zealand is supposed to have the same tough rules used in Australia, but interpretations by our High Court have made it much harder to prosecute those companies that abuse their power here. It also recommended the Commerce Commission be given the power to conduct market studies to find out if powerful players are abusing their power or acting as cartels.
The Government took almost 18 months to even respond to these recommendations before signalling a review last month of the Section 36 and market studies issue. Submissions are due by February next year and the Government's track record since 2009 does not inspire confidence that anything will happen.
Paul Goldsmith's extraordinary comments after ditching the criminalisation provision do not bode well on the Section 36 and market studies issues. He said criminalisation of cartels would have a "chilling" effect on innovation because directors would become ultra-cautious in their decision making. This decision leaves New Zealand alone in the developed world with the softest laws on cartels.
The cost is obvious for consumers and the economies in a variety of ways. Australia's much tougher laws and its much snarlier watchdog have helped its economy be at least 30% more productive, which in turn has led wages 30% higher than in New Zealand.
Secondly, in the one area of the economy where anti-monopoly rules were toughened -- telecommunications -- prices have fallen 22% since 2006. That's because the Government and Commerce Commission forced the break-up of Telecom and intervened in various ways to encourage robust competition between Telecom (now Spark), Vodafone and new entrant 2 Degrees. The Commerce Commission was given the power to conduct a market study of telecommunications and the Productivity Commission has recommended this power be widened to other industries. Yet the Government is still dithering.
One area that is ripe for a study and where the Commerce Commission has proven it is more poodle than watchdog is insurance. Last May the Commission approved IAG's takeover of Lumley, which gave IAG - the group that includes NZI, State and AMI - more than half of the insurance market. The Commission gave the deal the big tick without requiring IAG to sell any assets, which even IAG had expected it would have to do.
In contrast to the fall in telecommunications prices, insurance premia have risen sharply since 2006. Life insurance is up 12.2%, home insurance has risen 219.1% (albeit skewed by the Canterbury earthquake effects), health insurance has risen 82.1% and car insurance costs have risen 19.2%. Over the same period the overall Consumer Price Index rose 20.4%.
Another area where there are a few dominant players and one big takeover that is about to deliver one player almost 50% of the market is petrol retailing. The Commission is scheduled to decide on Z Energy's takeover of Caltex petrol stations before Christmas.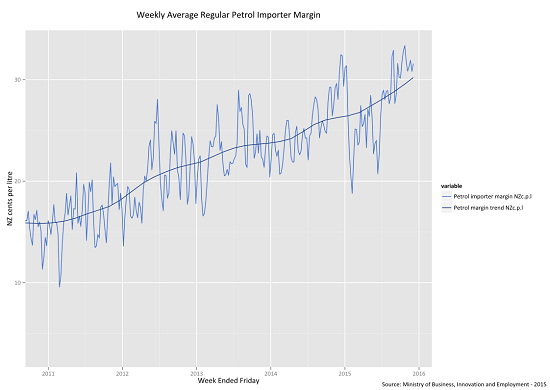 It should have a good look at MBIE's figures on the trend for overall petrol company profit margins, which hit a record high 30c a litre in the last week of November. That's almost double the 15.2c per litre seen in May 2010 just before Infratil and the NZ Super Fund bought Shell's New Zealand assets and turned them into Z Energy.
Many have applauded Z Energy's leadership of the industry to rebuild the very low profit margins seen in 2009/10 and reinvest those profits into cleaner and more reliable tanks, pipes and service stations. These are good things and today's profit margins are still below the painfully high levels of the 1980s, but a doubling of profit margins in five years should be scrutinised and a merger to give one player half of the market deserves a tougher look. Z Energy's shareholders are confident the Commission will give the deal the same big tick that IAG/Lumley got.
No one is suggesting the petrol retailing or insurance industries are engaging in cartel behaviour or abusing their market power, but the Government should be following through on its 'Business Growth Agenda' promise to give New Zealand's watchdog the same sharp teeth and bite as its Australian colleagues at the ACCC.
The Government's bite since 2009 has not even been close to matching its bark. Lately, its barely even managed a whimper.  
------
A version of this article first appeared in the Herald on Sunday. It is here with permission.