Siah Hwee Ang on China's impossible trinity, multinationals & India, Korea Inc 2.0, Foxconn & Sharp, China's customized McDonald's burgers & more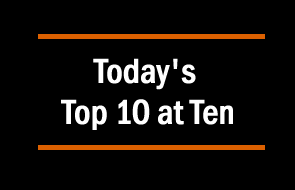 Today's Top 10 is a guest post from Professor Siah Hwee Ang, the BNZ Chair in Business in Asia at Victoria University.
As always, we welcome your additions in the comments below or via email to david.chaston@interest.co.nz.
And if you're interested in contributing the occasional Top 10 yourself, contact gareth.vaughan@interest.co.nz.
See all previous Top 10s here.
1. China facing impossible trinity dilemma. 
China seeks to control the exchange rate and monetary policy, while at the same time moving towards freer capital flows. It's an important task from an economics viewpoint and the world is watching attentively, as reported on BBC News. 
"The impossible trinity - or trilemma - is the idea that it is impossible for a country to have three things at the same time: a stable currency, the free movement of capital (i.e. the absence of capital controls) and independent monetary policy. A country can instead choose just two of the options from this policy suite. The UK, in common with most developed economies, has free capital movement and an independent monetary policy - but not a controlled exchange rate." (Duncan Weldon, Newsnight economics correspondent, BBC News).
 In a recent survey of 1,400 chief executives (CEs), only 27 percent thought growth would improve over the next 12 months. But 75 percent of Indian CEs suggest there are more growth opportunities for their company today than three years ago. 
Opportunities are on the rise in India, which explains why Apple and Samsung are both more than happy to queue up for single-brand retail licenses in the Indian technology market. Amazon is also entering into the market, adapting its U.S. model Amazon Fresh to service the already crowded hyper-local grocery delivery market in India. 
India's economic growth has been revised downward recently (closer to 7.3 percent). There are also reasonable sceptics on this figure. It will be interesting to see how long the optimism of multinational corporations will translate into profits. 
Starbucks, in the meantime, is going digital in India. 
"I look at India with great optimism. There are lots of people around the world who for the last few years have compared the race between India and China, I don't see it that way. Both the markets are critical for us. We will bring our learning in digital and mobile this summer into India, which will be a game changer in the business." (Howard Schultz, Starbucks's global chairman & chief executive). 
3. South Korea Inc. 2.0 is in the works.
South Korea is moving towards a new economic strategy – Korea Inc. 2.0. The new strategy focuses on small capitalisation issues, business-to-consumer opportunities and software innovation and will be consumption-led and service-orientated. 
Don't be surprised if Korea Inc. 2.0 sounds familiar. It is definitely similar to China's strategy in the next few years! 
"Just as Chinese state-owned enterprises used the chaebols as benchmarks for their business models, a growing population of Chinese consumers is benchmarking South Korean consumption trends for its lifestyle aspirations." (Nikkei Asian Review).
4. Stumbling block for Japanese partnership.
Japan is pushing for small business investments from Thailand, and is actively encouraging Thailand to join the Trans-Pacific Partnership to explore further opportunities. The Taiwanese company Foxconn is the world's largest assembler of Apple Inc.'s gadgets. It can certainly understand what it means to 'partner' with Japan. Its generous bid for Sharp Corp. faces a stumbling block as the Japanese government might want the century-old Japanese brand to stay Japanese-owned.
The concern here is that Foxconn might redeploy Sharp engineers in its factories outside Japan, letting other countries benefit from Japanese research. The verdict on this will be out late February. Even for developed countries we can see some challenges with protectionism. 
"It would commoditize Japan's cutting-edge display technology." (Yasuo Nakane, analyst at Mizuho Securities).
5. Vietnam clinches EU free trade deal. 
Vietnam is putting up a strong campaign to promote its free trade agreement with the European Union (EU). The deal was signed in December 2015 after 3 years of negotiation. Officially, this will take effect in 2018. Before businesses can digest and explore the potential benefits from this pact, they will need to look into the Trans-Pacific Partnership agreement - spoilt for choice indeed. 
"Vietnam has a vibrant economy of more than 90 million consumers, with a growing middle class and a young and dynamic workforce. Its market has great potential and offers numerous opportunities for the EU's agricultural, industrial and services exports." (EU Trade Commissioner Cecilia Malmström). 
6. Myanmar under the spotlight. 
It's good to see that Kiwi Philip Blackwood is back in Wellington! The 33-year old was imprisoned under religious offence provisions of the Myanmar Penal Code. Last week he was finally given a presidential pardon by Myanmar's government. Philip was arrested in Myanmar in November 2014, for insulting Buddhism in his drinking establishment's poster. The poster showed a Buddha wearing DJ headphones. Myanmar is predominantly a Buddhist country and the image upset many people as a result. 
"His conviction limited the countries he could enter on his way home and there were fears of attacks by those who believed he should have stayed in jail" (Chris Blackwood, cousin of Philip Blackwood). 
7. McDonald's revamps burger programme. 
The need for multinational corporations to customise their products and offerings for local markets has often been demonstrated by McDonald's. But do they run the risk of over-doing it? Well, let's see how McDonald's "grey" burger fares in 2016!  
Having been in the red for a while now in China, McDonald's may have found some answers to re-establishing itself in China. It is doing well with the all-day breakfast offerings (also being trialled in New Zealand), setting up new stores in lower tier cities, and allowing customers to customise their burgers. 
"This year, McDonald's will also upgrade its 150 Create Your Taste restaurants in first tier cities with digital services and do-it-yourself burgers. At the Wangfujing store, the company has teamed up with WeChat, the instant messaging service from Tencent, to offer mobility solutions to customers. These include order placement, selection of items from the customized burger menu, table bookings and an offline game space." (China Daily). 
8. Shanghai Disneyland opening this year. 
Shanghai Disneyland has set its ticket prices! Tickets will go on sale from 28 March with the opening date scheduled for 16 June this year. The ticket prices will be the cheapest of all the six Disneylands. 
The park, which Disney began building in 2011, is located in Pudong New Area. It is the centrepiece of a 20-square-kilometre tourism and resorts zone, and aims to attract 25 million visitors annually. Once fully operational, it will provide a fitting alternative to the Tokyo and Hong Kong Disneylands which are the nearest to mainland. 
"We are building something truly special here in Shanghai that not only showcases the best of Disney's storytelling but also celebrates and incorporates China's incredibly rich heritage to create one-of-a-kind destination that will delight and entertain the people of China for generations to come." (Robert Iger, Disney's chairman and chief executive). 
9. Wellington-Canberra link confirmed. 
Singapore Airlines links the Australian capital, Canberra, to Asia. It also plans to provide an inter-capital link between Wellington and Canberra via which New Zealand travellers can connect to Asia. The four-day-a-week service is the first regular international operation in and out of Canberra. Another connection into Asia is always good. But it is likely that Canberra will benefit more from the connection to Singapore than to Wellington. When will it be Wellington's turn to fly directly to Asia without the "embarrassing, inconvenient and demeaning" scenario described below by Canberra Airport's Chairman, Terry Snow?
"We called ourselves the Canberra International Airport—we cut it out recently because it was a bit of a joke—but we called ourselves (an) international airport because that was our aspiration ... Canberra is relieved we do not have to have the embarrassing, inconvenient and demeaning experience of going through Kingsford-Smith." (Canberra International Airport chairman Terry Snow). 
The TPPA was signed on 4 February in Auckland, following seven years of negotiations. The 12 countries will take the next two years for ratification. In the meantime, countries beyond this group are starting to look into the feasibility of joining the TPP. Malaysia's Parliament has agreed in principle for Malaysia to join the TPP. Indonesia's President has also indicated his interest in joining. Despite interest from these countries, many other nations are adopting a 'let's wait-and-see' attitude before making any commitments. 
"Indonesia intends to join the TPP. Indonesia is an open economy and with a population of 250 million, we are the largest economy in south-east Asia." (Indonesia's President Joko Widodo).