Auckland University's Michael Rehm says a burst of housing supply won't bring down house prices, but debt-to-income ratios will and are a policy option that will make Auckland houses affordable again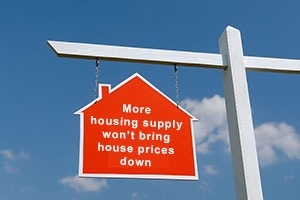 By Michael Rehm*

A comparison of Auckland and Dublin suggests that flooding a housing market with new supply is no silver bullet for runaway house prices.
While pundits and politicians chase supply geese, banks are busy blowing housing bubbles through credit expansion.
Why do Auckland house prices continue to defy gravity?
The predominant view is that housing supply has lagged behind demand, driven by population growth, which has elevated house prices. Both the National and Labour Party are calling in unison for Auckland Council to both intensify and expand outwards in order to increase supply, the assumption being that new supply is the key to 'solve' the city's deplorable housing affordability crisis.
At the PINZ annual conference this June I challenged this thinking and argued that flooding the market with new houses and apartments will not bring down prices, but will instead worsen the crisis.
Credit expansion
A largely overlooked driving force behind house price growth in Auckland and countless other housing markets is credit expansion, which is brought about through deregulation of the banking industry and fierce competition among banks for profit and market share.
The extent to which pumping money into a housing market can raise house prices has been the subject of several research papers in the wake of the global financial crisis. In the OECD's report titled Economic Policy Reforms 2011 the authors remarked that 'financial deregulation is estimated to have increased real house prices by as much as 30% in the average OECD country over 1980 to 2005.' Two 2015 papers authored by US Federal Reserve staff (Anenburg et al. and Favara & Imbs) further found that increases in credit availability explained between 30% and 50% of the change in US house prices between 1994 and 2005.
Thanks to widespread deregulation of the financial sector in the 1980s, both in New Zealand and around the globe, longstanding prescriptive restrictions on how much and where banks lend were lifted and banks were actively encouraged to compete for market share and profit. In New Zealand, this resulted in banks shifting their attention from lending to economically productive activities such as manufacturing and business to the unproductive housing sector. In 1984, manufacturing and business accounted for 40% of bank lending while housing comprised less than 14%. Fast forward to 2016 and manufacturing and business now comprise only 9% of lending, while housing dominates at 52%. Banks have sought profit and found it in the housing market. No other industry presents individual company profits in terms of billions, rather than millions, of dollars.
What has occurred slowly over time is that banks have continued to extend ever-increasing amounts of credit against relatively stagnant borrower incomes. This essentially enables borrowers to further leverage their income to 'afford' pricier and pricier houses and apartments. Banks must do this to successfully compete for market share. First-time buyers determined to get into the market, homeowners wanting to climb the next rung of the property ladder, or investors wishing to acquire another investment property will gravitate to the lender who will enable their desired purchase.
Debt-to-income ratio
At the PINZ conference I presented a number of graphs from a range of countries illustrating slowly growing (or falling as in the case of the US) real incomes against a backdrop of rapidly rising household debt (home loans) and house prices. Figure 1 shows New Zealand's aggregate nominal value of residential property alongside households' aggregate debt-to-income (DTI) rate. DTI depicted as a horizontal line in this figure signifies credit is treading water and keeping pace with household income. An upward slope in DTI indicates that further credit is being extended against a fixed amount of income, while a downward sloping DTI reflects deleveraging with borrowers, in aggregate, paying down debt. In general, as DTI increases so do house prices. When DTI stagnates or declines, house prices tend to do the same. This pattern is not only found in New Zealand – it is a global phenomenon.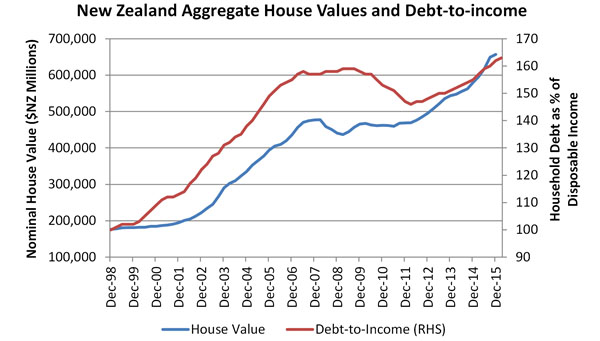 Figure 1: NZ aggregate house values and debt-to-income. Source: RBNZ
Banks fueling houses prices
What I find alarming is that the banks themselves seem genuinely unaware that their own activities are fueling house prices. Often in the media, and in the academic literature on mortgage debt, the onus is placed squarely on borrowers. Individuals with varying backgrounds and financial aptitude are somehow expected to know their own personal debt limit and when they over-borrow it is their own fault. In reality, home lending is completely controlled by banks. It is their call to originate a new loan or not.
It is ironic that on July 20th David Hisco, the CEO of ANZ, publicly proclaimed in the New Zealand Herald that the Auckland housing market is over-cooked without realising that he himself is a head chef. Although Mr Hisco didn't acknowledge the role that lenders play in the housing affordability crisis, during a July 23rd 'Double Shot Interview' by interest.co.nz's Gareth Vaughan, he shed light on bankers' fear of losing market share by explaining that "the banking market's very competitive and, again, this is a situation where [ANZ] may have a view that we want to tighten our lending conditions and pull back but unless there's a generally shared view that now is a time where we need to navigate more carefully, well then that business will just go elsewhere."
Effect of immigration
David Hisco's explanation for the over-cooked Auckland housing market hits the common threads of insufficient housing supply and high immigration. I did not touch on immigration at the PINZ conference, but will address it now by pointing out that permanent immigrants to New Zealand, of which I myself am one, generally begin their time here as renters and not homeowners.
In the absence of hard local evidence, I turned to a 2015 report by Oxford University titled Migrants and Housing in the UK, which found that 74% of recent immigrants reside in the private rental accommodation. Furthermore since Auckland is one of the most over-cooked housing markets internationally, it is unrealistic to assume that an immigrant will be cashing up in their home country and coming to New Zealand with sufficient funds to outbid Kiwis already participating in our hot market. More likely, they will come with some savings and they will initially rent. Their presence does add to aggregate demand for rental housing, but they are not responsible for Auckland's high house prices.
Chronic shortage of dwellings
By far the most cited reason for the Auckland housing affordability crisis is a chronic shortage of dwellings. Insufficient housing supply in Auckland has been recently elevated to 'a matter of national significance' by the National-led government. I have uncovered a wide range of estimates as to the size of the purported housing deficit. The Salvation Army is somewhat conservative at 12,000 to 13,000 dwellings, while Auckland Council's Housing Project Office fears the current (mid-2015) shortage of 15,000 is likely to increase to 25,000 by 2018. The largest estimate originates from MBIE which, in its New Zealand Housing Report 2009/2010, used projected household and home construction figures to arrive at a 2011 deficit of 27,112 dwellings in Auckland.
With such estimates abounding, I was surprised to find that the number of occupied dwellings has consistently exceeded the number of households within the Auckland region in each of the past seven censuses. For instance, on census day in 2013 Auckland boasted 472,044 occupied dwellings and 469,500 households. To appreciate the net number of dwellings added to Auckland, and the net increase in households between each census, I produced Table 1.

The difference between the number of new dwellings and new households from one census to the next is indicated in the table as either a positive surplus or negative deficit. Using the 1986 census as a baseline, a running surplus/deficit is provided which shows, as of 2013, that Auckland maintains a slight surplus of 1,257 dwellings. This is a far cry from MBIE's estimated deficit of 27,000 dwellings.
Of course the above analysis does not consider overcrowding or homelessness, which are rightfully cited as reasons to bolster supply, particularly social housing. The key argument surrounding housing supply, however, is that by dramatically increasing the supply, house prices will either fall outright or plateau. Recently Arthur Grimes, former Chief Economist of the Reserve Bank, suggested that 150,000 homes, representing a 30% boost to supply, be built in Auckland over a period of five years for the purpose of reducing house prices by 40%. This is an ambitious goal since it would require an average of 25,000 new dwellings to be built per year. That happens to be double the maximum annual output Auckland has ever achieved.
Dublin experience
There is, however, a housing market that has recently experienced such a herculean residential building boom: Dublin, Ireland. Fortuitously Auckland and Dublin (city and suburbs) have roughly the same population. Figure 2 provides the annual number of new dwellings constructed for each city in vertical bars along with Dublin's house price index indicated by a solid line. It took Dublin's residential construction sector six years to erect 99,041 new dwellings between 2002 and 2007. At peak output in 2006, Dublin developers built just under 20,000 new houses and apartments. This six-year building boom increased the Dublin housing stock by 27%, which is close to Arthur Grimes' prescribed 30% housing supply boost for Auckland to achieve his anticipated 40% reduction in house prices.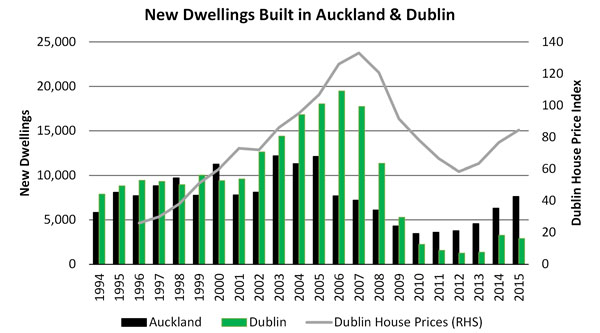 Figure 2: New dwellings built in Auckland and Dublin 1994-2015. Source: Central Statistics Office (Ireland)
According to the vast majority of New Zealand's property pundits and politicians who demand more supply be delivered in order to 'solve' Auckland's housing affordability crisis, Dublin's unprecedented rapid expansion of its housing supply should have crashed its housing market. Alas, rather than a sharp drop in house prices, Dublin experienced an 85% increase in prices between 2002 and 2007 during which its housing stock grew 27%. What's more, unlike Auckland's close alignment between new dwellings and new households, Ireland (including Dublin) has consistently built more dwellings than new household formations.
Figure 3 compares Ireland's household numbers from the country's Central Statistics Office with their housing completions data. It should be noted that demolitions are not included in these figures so there will be some inherent over-estimation of new housing supply. Nevertheless the data shows a clear pattern of over-supply, particularly in the boom years. In 2006 alone, Ireland welcomed 50,000 surplus new dwellings in excess of the number of new households formed that year. Unsurprisingly the number of new households began overtaking new dwellings from 2009 onwards as construction activity died out following the global financial crisis.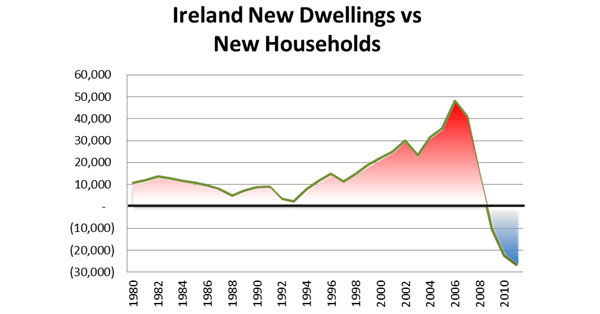 Figure 3: Ireland – new dwellings vs new households. Source: Central Statistics Office (Ireland)
Glut of new houses will fuel prices
There are two main reasons why flooding a red hot housing market with new supply will fuel house prices rather than reduce them. First, if the new supply is targeted towards the upper end of the market (as in Auckland), the associated high prices of such new houses and apartments will tend to increase median and mean sales price statistics, which are the dominant metrics of many housing markets such as Auckland. This would not be the case if a more complex house price index was developed to more accurately track house price movements. In that case the location of the new supply along with the new dwellings' physical attributes and quality will be taken into account.
Arguably the key reason why a glut of new houses will fuel prices is that each of these new houses and apartments will boost sales volumes. These new properties will be sold alongside existing homes from the secondary market. At the peak of the market in 2006 a total of 93,410 dwellings were built and sold in Ireland. Research suggests that higher sales volumes place upward pressure on house prices. Essentially, high trading volumes assist prices to race ahead.
So what has been driving Dublin, Auckland and other cities' house prices during the global house price boom, which saw some markets such as Dublin temporarily derailed by the global financial crisis while others like Auckland largely untouched? Unlike Prime Minister John Key, who suggested recently that all roads lead back to housing supply, it is my view that all roads lead to credit expansion.
Although fundamentals such as supply and demand play a role in determining house prices, two prerequisites are required to enable owner-occupants to make their eye-watering winning bids at home auctions or investors to purchase rental properties yielding returns at or below term deposit rates:
First, market participants, including lenders, must firmly believe that house prices will continue to rise.
Secondly, lenders and borrowers must collude to further leverage against borrower income.
The latter is paramount because without the additional leverage (credit expansion), house price growth is tied to income growth particularly since Kiwis, like their OECD counterparts, have dreadful savings rates.
The credit expansion cycle involves the coupling of widespread expectations of higher house prices and banks' fear of losing profit and market share, which results in banks electing to extend increasing amounts of mortgage debt against borrowers' incomes. With slightly inflated home loan pre-approvals in-hand house hunters can succeed at auction. News reports of higher house prices, incessant immigration, and Auckland's inability to adequately supply the market with new houses reinforces the notion that house prices must continue to rise. The next wave of prospective buyers sit down with their mortgage broker or mobile mortgage manager and the cycle repeats.
While homebuyers using overseas funds and non-bank lenders also contribute to the flow of capital into the Auckland housing market, these players are largely along for the ride. Mortgage lending from the main trading banks is the primary driving force behind credit expansion and runaway house prices.
Prices must be brought down
Sadly there is no way of backing out of Auckland's housing affordability crisis without economic pain and political fallout.
If policy-makers genuinely wish to make housing affordable once more, prices must be brought down. Flooding the Auckland market with tens of thousands of new houses on converted farm paddocks and high-rise apartments near downtown will not bring down prices. In the absence of effective policies, an ambitious building programme will likely make matters worse.
The most rapid and effective means of reducing house prices is by restricting credit.
Loan-to-value 'speed limits' are helpful, but DTI ratios are likely to be fairer and more effective. If New Zealand were to adopt the Bank of England's DTI limit of 4.5, demand from Auckland property investors would be drastically curtailed. First-time home buyers will be locked out as well, but it would be in their best interest not to purchase into Auckland's over-cooked market if the Reserve Bank declares war on house prices and implements policies to reduce them.
---
Dr Michael Rehm is Senior Lecturer in the Department of Property at the University of Auckland Business School. You can contact him directly at: m.rehm@auckland.ac.nz.