Ryan Greenaway-McGrevy on hi-tech services and manufacturing, making Auckland affordable, land taxes, paying teachers & how economics can improve your life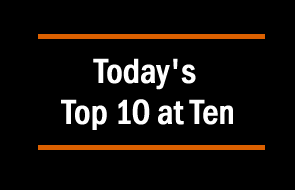 Today's Top 10 is a guest post from Ryan Greenaway-McGrevy, a senior lecturer at the University of Auckland. Prior to that he was a research economist in the Office of the Chief Statistician at the Bureau of Economic Analysis (BEA) in Washington DC.
As always, we welcome your additions in the comment stream below or via email to david.chaston@interest.co.nz.
And if you're interested in contributing the occasional Top 10 yourself, contact gareth.vaughan@interest.co.nz.
See all previous Top 10s here.
Five ideas from the OECD to improve economic growth
I do not envy the wonks who must figure out how to improve our economic performance. The OECD came out with our biannual report card in June, full of ideas to lift our economic performance. 
There is much food for thought in the document. In the five points below I give my take on some of their key recommendations. 
1. The high-skilled service sector is growing. Let's do more to help firms exporting hi-tech services and manufacturing. 
The OECD report notes that employment in the skilled sectors has been growing. What it doesn't say is that many of our hi-tech firms are exporting their services to the globe. 
In fact, our service sector has been a quiet little earner for the country. Whereas the balance of trade on goods tends to fluctuate over time, since the late nineties our balance of trade in services has been consistently in the black. Policymakers should be looking at how they can do more to support and nurture the firms exporting their services to the world. 
Yes, our economy is built on the back of commodities. But is exporting more dairy the way forward? 
First, commodity prices are buffeted around by the whims of international markets. Second, commodities are low-value added: Witness Fonterra's push to add value into their production chain. 
But perhaps the biggest problem with commodities of all is the lack of prospects for improvements in productivity. Economic growth is about doing more with less. And although there are labour-saving agricultural technologies out there, I do not see us catching up with the rest of the OECD by milking cows more efficiently. 
Services and hi-tech manufacturing, on the other hand, offer high value added and a more than a sniff of market power to influence prices. Take a look at Vista and Compac – both dominant in their global market segments. They have competitors, but their product is sufficiently unique – meaning that they need not compete on price alone. Moreover, hi-tech is the very definition of productivity. 
These firms exemplify and make use of our national strengths: We are a highly-educated, English-speaking nation, and our workers costs less than the average American, Briton or Canadian to employ. And while distance still matters a lot, the internet has reduced the tyranny of distance substantially compared to thirty years ago. This makes us ideally poised to put together a service export sector. 
We need a blueprint to wean our economy off volatile, low-value-added commodities, and export more high-value-added, high-tech services. 
I could speculate as to what these firms need to expand and grow. But I would rather hear it from the horse's mouth: So why not have our policymakers sit down and listen to the CEOs of our most successful little exporters to see what they could do to help them do better? Some kind of forum or working group, perhaps?
2. Make Auckland affordable again. 
The report also points out that house prices are ridiculous compared to incomes – particularly in Auckland. But you knew that already. 
It's hard to understate that importance of restoring affordability to Auckland. Cities exist for a reason; they are incredibly productive places. They are the engine room of the modern economy – the great metropolises are where we find the hi-tech firms in operating in the STEM, IT and creative fields. In the US, for example, just twenty-four metropolitan areas account for half of gross domestic product. 
But high property prices and restrictive land use regulation are a sure-fire way to restrict growth. And although there is peer-reviewed paper after peer-reviewed paper to back up that claim, it is not rocket science: High house prices discourage people from moving to the big city, and firms consequently find it hard to fill new roles as they try to expand. Firms can also lose employees as the younger generations out-migrate in search of a home at a reasonable price. 
Moreover, the benefits to agglomeration in cities dwarf any other policy you have seen our politicians try to sell. US researchers reckon that US GDP would be ten percent higher if it weren't for restrictive land use regulations.
Put simply, our politicians must declare a war on house prices in Auckland. Do what it takes to make Auckland affordable again. As I have previously argued, this does not necessarily mean that all property investors have to lose. But if push comes to shove, our politicians must favour first-time home buyers over investors, and bring house prices down. 
Unfortunately, they have left it so long to recognise the problem that correcting that mistake will entail short-term economic pain. That is the price we will pay for trying to foster economic growth on the back of inflated asset prices.
3. Teach computer programming. 
The OECD reckons that the robots are coming to take our jobs. Well some of them, at least. (Although there is no real consensus as to how many jobs are in danger of being replaced). It is better to have a job designing and programming the robots than to risk having your job taken by one. 
Regardless of whether the robots are arriving any time soon, technology and data science are here to stay. Some of the best jobs out there – and the ones that need filling here in NZ – are in IT. Put programming on the curriculum.
In fact, motivated by the need for more digital skills in the workplace, Canada has done just that. In kindergartens.
4. Pay teachers more. 
It's no good asking for computer coding and the other skills we need – like science and maths – to be taught in schools if there is no one willing and capable to teach it. And those proficient in these fields are probably going to earn much more in the private sector. 
That means we need to pay our teachers more – particularly those whose skills are in short supply. Take the example of Finland, where teaching is a highly-respected profession. No wonder they do so well when it comes to education. 
Unfortunately, the public education system looks to be headed in the wrong direction. It is not just Auckland that faces a shortage of teachers. Meanwhile Auckland kindergartens appear in danger of becoming daycare centres. Education matters. We should not be undermining it.
5. Land tax. 
In past surveys, the OECD has called for a land or capital gains tax "to facilitate a more efficient and equitable tax structure." Our own economists have been beating the drum for a land tax for a while now. In fact, the Victoria University Tax working group proposed a land tax as part of a lowering and broadening the tax base back in 2010. And after commissioning the study, the government promptly ignored it. I guess it did not support what they had already decided to do. 
The problem with taxes is that they create tax avoidance. But a land tax is harder to avoid than other taxes on other forms of capital: You cannot hide that lakefront property in your Swiss bank account. And, in contrast to taxes on other capital, a tax on land does not discourage the creation of more land: the supply of land is more or less fixed. Structured properly, a land tax also encourages suburban development and discourages land banking.  
In other words, compared to other taxes, a land tax comes with fewer distortions, and may incentivise development by punishing land banking. 
A land tax would also hit the pockets of the global elite that are buying up our country for their own bolthole or lavish holiday pad. Our nation's natural beauty and stable political system clearly appeals, so if we are going to continue to sell our prime real estate to the top one percent of the global one percent, then let's at least have them spend some of that wealth contributing to our country and supporting the stable political institutions that they benefit from. A land tax would achieve that. 
Final point: it would be vital to have a land tax be offset by tax relief elsewhere – on income and GST, for example – in order to keep the policy change tax revenue neutral overall.
Ok, that's enough about the economy. Here are five ways economics can improve your life. (Yes, I am being serious!)
1. Know your constraints. Then optimise.
Most economics majors carry the scars of having to learn constrained optimization to this day. Like soldiers returned from some far-off war, the shared pain of completing a course in microeconomic theory creates an unspoken bond. 
We don't like to talk about it much. 
But as in any struggle, we emerge on the other side stronger. And there is a deeper lesson behind having to optimise subject to constraints: We have things we want, but we cannot have it all. 
Realizing that helps put things in perspective. 
And I am not just talking about material wants. Perhaps you also desire experiences – that counts as a want too. Cast in this light, we all have wants. (Unless you happen to be a practicing ascetic. And I don't mean a yoga-practising, mindful yuppie. I mean full-on Buddhist Monk on a mountain top living directly off the energy of the sun.) 
Sure, that new-fangled iPhone 7 looks pretty fancy, and it can take seven-hundred megapixel photos at ten times atmospheric pressure, but is it really worth putting it on hire-purchase, and forgoing that life-changing trip to South America you've been planning on? It's either one or the other kiddo. Choose one.
2. Time is the most binding constraint. 
Of course, there is a big difference between what Bill Gates can afford and what most of us can afford. But when it comes to minutes in a day – well, Bill has no more than you or me. 
We should use those minutes wisely – and stop spending time on what does not matter. 
Economist couple Emi Nakamura and John Steinson take this seriously - they even pay someone to troll through their multitudes of digital family photos to choose the best ones. I am not saying you should take things that far, but the point is that they chose not to spend their time on the chores of life, and instead use the time saved on what they enjoy. Moreover, they are willing and able to explicitly pay for that saved time. 
We all know people who seem so rushed and over-committed that they do not seem to even have the time to enjoy their pursuits. (And at the other end of the scale there are those who choose to fritter away their precious minutes on TV and games.) 
3. Death is the final constraint.  
Sorry to be a downer, but here it goes: You are going to die. Hopefully not today, nor the day after. But that day is coming. 
As Tyler Durden says: This is your life. And it is ending one second at a time. Confronting that truth helps put things in perspective. It's time to get to work on all those things you want to do with your time on this mortal coil…
4. All models are wrong. But some are useful. 
Nobel (memorial) laureate Milton Friedman once said: 
Truly important and significant hypotheses will be found to have "assumptions" that are wildly inaccurate descriptive representations of reality, and, in general, the more significant the theory, the more unrealistic the assumptions (in this sense).
Personally, I prefer George Box's take on the issue: 
All models are wrong. But some are useful. 
Professor Box was, notably, a statistician, not an economist. But it is not just statisticians and economists that rely on wrong models. We all do it. 
Consider buying a house, for example. How many times have you been told that house prices only go up? That is a simple model – and a lot of people how found that model to be very useful (read: profitable). 
But it is a model that is necessarily wrong. Prices do go down – and it is only financial prudent to make sure that one is prepared for a downturn. 
5. Correlation is not causation. 
If you remember one thing from taking a course in statistics or econometrics, it should be this one valuable lesson!