Selena Eaqub on the importance of social enterprises after our election, the rise of clean energy, our risks from the US-North Korea tensions, earning a better quality of bad health, bashing the beneficiaries and more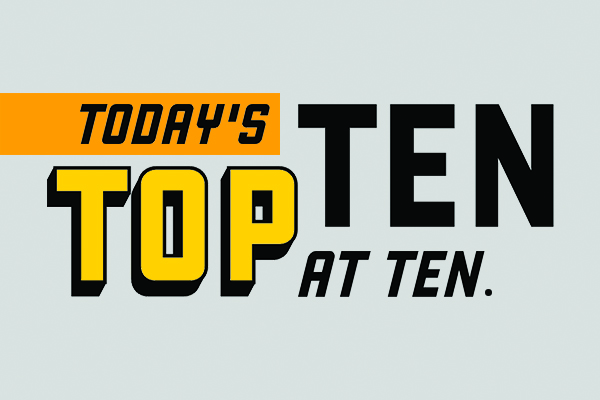 Today's Top 10 is a guest post from Selena Eaqub, an economist and co-author of Generation Rent - rethinking New Zealand's priorities. She has previously worked for Goldman Sachs JBWere, the Reserve Bank and Statistics New Zealand.
As always, we welcome your additions in the comment stream below or via email to david.chaston@interest.co.nz.
And if you're interested in contributing the occasional Top 10 yourself, contact gareth.vaughan@interest.co.nz.
See all previous Top 10s here.
1. Social enterprises more important post-election
With a National-NZ First coalition looking likely, poverty alleviation is likely to take more of a back seat than under a Labour-Greens government. Labour, has more generous packages for lower income people, and a stronger commitment to alleviating poverty. National tends to wait until the public really wants something before it makes changes – a powerful strategy that has in part made it successful for the past four election terms.
It does leave a gap though for the poorest parts of society and It is now up to private citizens to fill the gap by helping the community, and this can be done through social enterprises.
As reported by The Spinoff, social enterprise is on the rise, both nationally and internationally:
A recent census conducted by Social Value Lab for the Scottish Government documented 5,600 social enterprises, employing 81,357 people, with 64% of founders women, and generating an estimated £2bn for the Scottish economy. New Zealand is no slouch either. In the 2016/17 financial year, Ākina [an organisation that helps social enterprises] alone provided business development support to more than 700 organisations engaged in social enterprise activity at various stages of development.

Also on the rise are investment funds that exist to provide capital to social enterprises. Internationally, there are huge players like Bezos Expeditions, the sprawling venture capital vehicle for Amazon founder Jeff Bezos. Here, Aera VC – the investment arm of social entrepreneur and B Team co-founder Derek Handley's Aera Foundation – has a well-established presence, and the recently-launched Impact Enterprise Fund and Soul Capital both have an explicitly domestic focus.
As stated by Docherty of Munchly, a start up in Queenstown for kids in poverty:

"A start-up business can do in six months what a council can do in ten years". Docherty is also positive about the entrance of venture funds into the sector: "I want to have a strong impact and I need to have money to do that". Of the critique that government should be stepping into the social gaps that exist, not business, Docherty is emphatic: "A solution is a solution".
Munchly sells fairly priced school lunches to parents and donates part of the money back to the schools.
Another interesting social enterprise mentioned in the article is New Ground Capital. New Ground Capital develops affordable properties for sale and long term rentals, filling a gap in the market.
2. NZ ranks highly for functioning of Government and voter participation
We don't know the outcome of the election but we are world leaders in the functioning of Government and political participation, as found by the London School of Economics.  A quality functioning government includes the quality of administration, government control of its territory and the rule of law. Political participation means citizens being involved in politics such as joining public interest groups, contacting political leaders directly, and voter turnout. At the time of writing, NZ voter participation rose slightly from the previous election to 78% without counting specials.
This graph from the article shows the quality of governance vs political participation. NZ rates highly on the quality of Government and political participation.
Source: London School of Economics
3. Clean energy gaining traction
The cost of renewable energy is falling. 
For example, wind turbines are getting bigger and more energy efficient, as reported by Bloomberg. Clean energy will become more economical than fossil fuels one day.
The figure below shows the height wind turbines have been able to reach, with a forecast that they will be higher than the Eiffel Tower in 2026.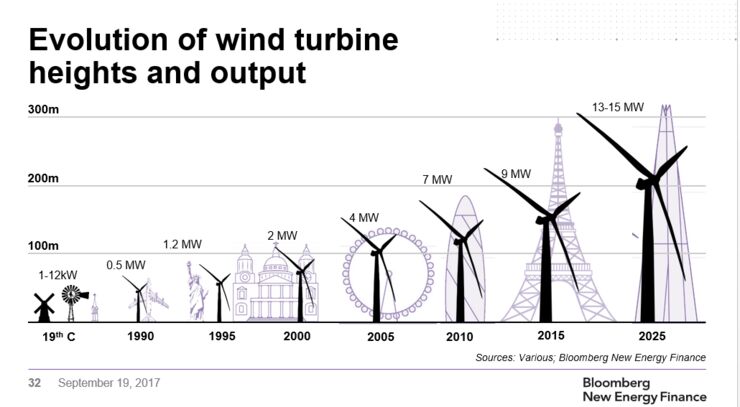 Source: Bloomberg
The founder of Bloomberg New Energy Finance Michael Liebreich said there are two tipping points where clean energy will be more attractive than fossil fuels:
"The first is when new wind and solar become cheaper than anything else," Liebreich said. The slide below from his presentation indicates that in Japan by 2025 it will be cheaper to build a new PV plant than a coal-fired power generator. That milestone will be passed in India for wind power by 2030.

At that point, anything you have to retire is likely to be replaced by wind and solar. That tipping point is either here or almost here everywhere in the world. The second tipping point, a little further off, is when it's more costly to operate existing coal and gas plants than to take power from wind and solar. The chart below, from BNEF forecasts, indicates that point may arrive in the middle of the next decade in both Germany and China."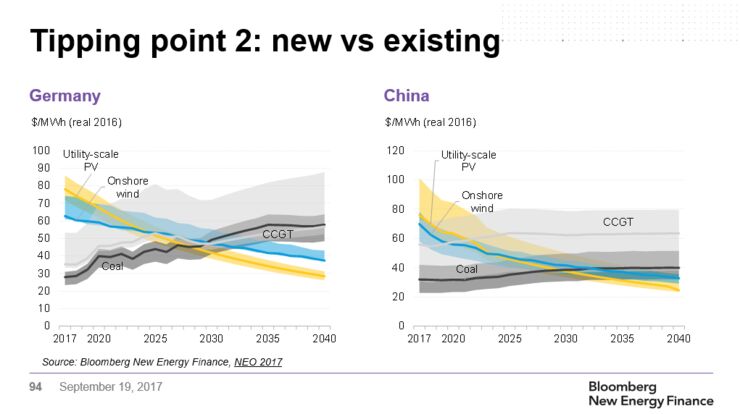 Source: Bloomberg
4. Geopolitical risks from US and North Korea tensions
Tensions between United States and North Korea could put the world at risk. The BBC reported that US bombers have flown close to North Korea's east coast as a show of force.
Any conflict is likely to have flow-on effects for NZ's economy. The first channel will be through financial markets. During periods of uncertainty, investors abandon small and volatile markets like NZ to seek refuge in safe-havens like Swiss Francs and USD. The NZD would fall. The outflow of capital also tends to increase the cost of NZ borrowing. The second channel would be through exports – likely affected by any shipping disruptions and impacts on destination countries in the pacific coast of Asia.
President Trump, insulted Kim Jong Un by calling him "rocket man on a suicide mission". North Korea's foreign minister Mr Ri has hit back at President Trump:
Mr Ri added that "insults" by Mr Trump - who was, he said, "mentally deranged and full of megalomania" - were an "irreversible mistake making it inevitable" that North Korean rockets would hit the US mainland.

Mr Trump, the foreign minister said, would "pay dearly" for his speech, in which he also said he would "totally destroy" North Korea if the US was forced to defend itself or its allies.
The way President Trump has dealt with the North Korean situation has been scrutinised, particularly because he has little experience in foreign policy and because he tends to say what he means. Here are some thoughts from Vox on how dangerous the approach has been.
5. How income affects your health according to your income
This clever interactive tool from The Financial Times helps to determine what the major health concerns are according to your income bracket. It is in pounds, so here is a table to determine where you sit.
| | |
| --- | --- |
| Income range in pounds (£) | Income range in NZD |
| less than 10,000 | less than 18,400 |
|  10,000-19,999 | 18,382-36,763 |
|  20,000-29,999 | 36,765-55,145 |
|  30,000-39,999 | 55,147-73,528 |
|  40,000-49,999 | 73,529-91,910 |
|  50,000-59,999 | 91,912-110,292 |
|  60,000-69,999 | 110,294-128,675 |
|  70,000-79,999 | 128,676-147,057 |
|  80,000-89,999 | 147,059-165,439 |
|  90,000-119,999 | 165,441-220,586 |
|  120,000-149,999 | 220,588-275,733 |
| 150,000 or more | more than 276,000 |
Source: Financial times, RBNZ exchange rate
For example, if you earn $36,765-$55,145, the biggest risk factors you are likely to encounter are sleep quality, physical quality and obesity. Health issues when your income is $165,441-$220,586 will most likely be related to alcohol, obesity and binge drinking.
6. Threats to the megacity from technology
This article which featured in The Conversation highlights areas where there are threats to the megacity from technology. The article argues that the rise of urban centres is not a given:
"As technology researchers, however, we see a less rosy urban future. That's because digitisation and crowdsourcing will actually undermine the very foundations of the megacity economy, which is typically built on some combination of manufacturing, commerce, retail and professional services.

The exact formula differs from region to region, but all megacities are designed to maximise the productivity of their massive populations. Today, these cities lean heavily on economies of scale, by which increased production brings cost advantages, and on the savings and benefits of co-locating people and firms in neighbourhoods and industrial clusters.

But technological advances are now upending these old business models, threatening future of megacities as we know them."
For example, some cities are too exposed to areas that have been taking over by 3-D printing (making their part of the production cycle obsolete), and cities that are based heavily on shopping malls. There will also be menial jobs taken away through artificial intelligence.
I would be careful though to apply these ideas to every city. Not all cities are exposed to the automation risks identified in the article. The benefits of having a big city are huge due to economies of scale. Businesses being able to use a larger network of accountants and web designers is much more competitive in a larger city. Meeting people face-to-face is also important and sometimes cannot be replaced with technology.
This article by The Conversation points out that people tend to have an unconscious bias against benefit claimants, whether they want to or not.
Without us knowing, our brains are busy making associations. While on the surface we may sincerely believe that men and women are equal, or that people on benefits are just regular folks who happen to need help, our unconscious minds might not be so progressive. In psychology, ideas that we hold unconsciously are called "implicit attitudes".

Implicit attitudes develop under the influence of the world around us. Immerse your brain in a culture that routinely represents women as emotional and irrational, or in which black men are habitually portrayed as aggressive and criminal, and it will develop those associations whether you want it to or not.

This can happen even if you are part of the maligned group yourself. It is these unconscious associations that can – for example – lead a police officer to view a black suspect as more threatening than a white one.
It tested among 100 people whether they thought negatively or positively about people on the benefit, without giving them much time to think about it. It found that these people tend to view claimants negatively, associating them with words like "bad", "useless", and "dirty", rather than friendly", "clean", or "wonderful".
These views are similar to how some NZers view poverty. Poor people are often stigmatised in society. For example, parents of poor children can be blamed solely for spending too much on alcohol and drugs and being bad parents. They may not understand the circumstances that put them there.
Bloomberg reported that Australia, one of our major trading partners is slowing. Australia exports a lot of iron ore, but this has been trending down since 2013.
Australia's biggest export earner, iron ore has significant sway over the nation's currency, with the pair moving largely in line over the past five years. That means renewed signs of a glut in the steelmaking ingredient are likely to weigh on the Australian dollar, with options on the currency skewing further into bearish territory last week as iron ore capped its first two-week retreat since the start of June. The Aussie is currently hovering below 80 U.S. cents as iron ore at Qingdao port, China, trades at its lowest level since July 28. This is after it slipped below its 50-day moving average -- usually a bearish sign.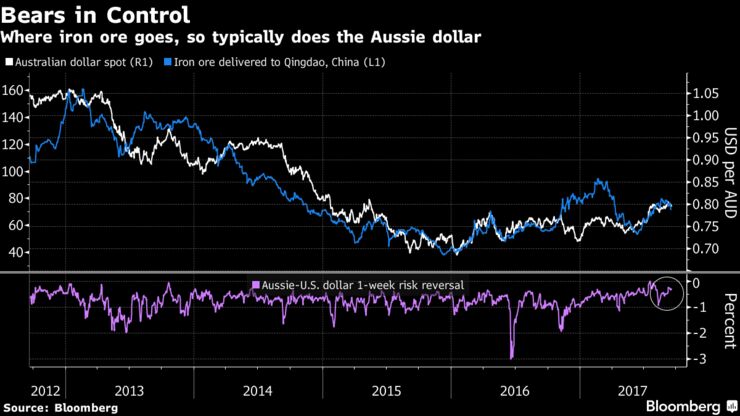 Source: Bloomberg
This chart shows NZ export volumes to Australia. It appears export volumes haven't suffered, but is not benefiting from the strong growth between 2008 and 2012.
9. Comparing healthcare systems
This handy interactive article by The New York Times compares the healthcare systems in different countries. Countries can differ in terms of public vs private funding, and how individuals are insured.
NZ spends 11% of GDP on healthcare. It is free or low cost to NZ residents and work visa holders. Non-residents can use our services but at a cost.
We also have Accident Compensation Corporation, which covers part of the costs for residents and work visa holders if they have an accident.
It is comprehensive and ranks well in the OECD. There can be waits for elective surgery for example, but there is private healthcare if you can afford it, or could be covered by private insurance.
10. Passive investment wins over active investment
The housing crisis in Auckland is not improving, especially after the most likely potential election result being a National-led Government. Many of the other parties had policies to fix the housing market, which will take a long time, but it's a start.  There are other options to housing investment because it is still important for people to save for their retirement - these are passive funds, which tend to do better than active funds.
In the United States, passive funds outperformed active funds.  As reported by AEI, Warren Buffett made a $1m bet a decade ago that the S&P500 stock market index (passive investment) would outperform hedge funds (active investment). Passive funds, which usually follow an index such as the S&P500 have lower fees. Hedge funds incur higher fees because it involves fund managers buying and selling funds, according to what they think will beat the market. It is generally quite hard for active funds to beat passive funds because by the time you take away fees, the return is often lower.
Source:AEI
Buffett found that:
A lot of very smart people set out to do better than average in securities markets. Call them active investors. Their opposites, passive investors, will by definition do about average. In aggregate their positions will more or less approximate those of an index fund.

Therefore, the balance of the universe—the active investors—must do about average as well. However, these investors will incur far greater costs. So, on balance, their aggregate results after these costs will be worse than those of the passive investors.