Personal Finance
/
news
October online spending up 71% on last year and becoming the go-to for purchases of all sizes; shop local motivation still strong, NZ Post says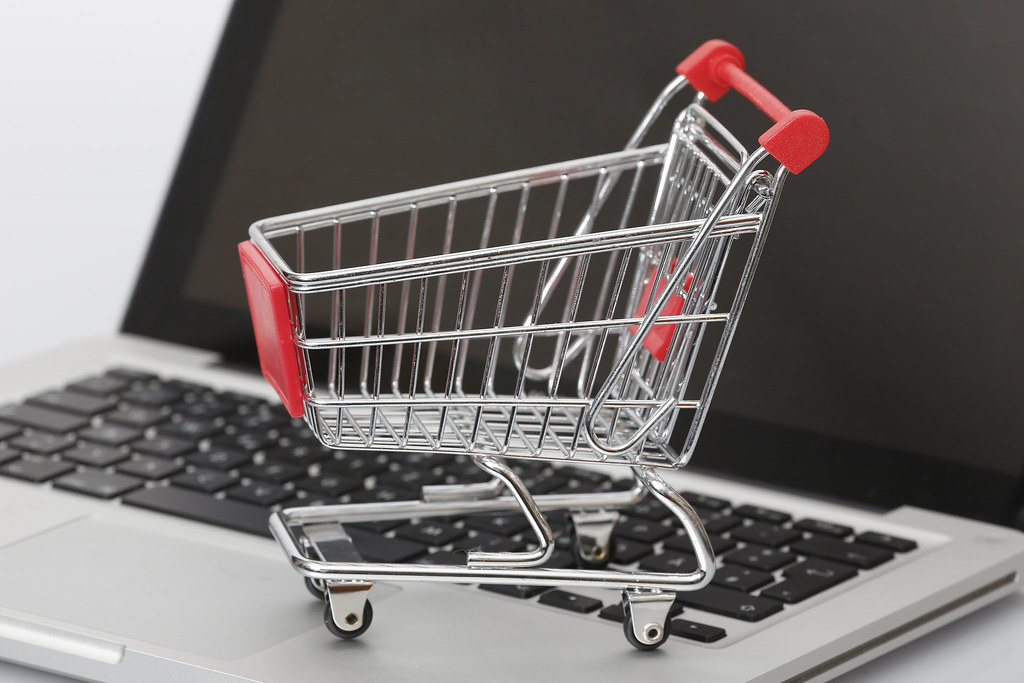 Online sales soared during October with sales averaging $25 million per day, partially fuelled by Aucklanders, who spent the entire month in lockdown, latching onto a convenient way to release those moths from their wallets. 
According to the NZ Post eCommerce spotlight, New Zealand's October online spend was $765 million, a significant 71% increase on October last year and up 89% on two years ago.
It was even an $82 million boost to September's figure - also a month of full online shopping carts. 
October's online spending accounted for for 17.2% of all nationwide retail (both online and offline), one of the highest monthly percentages of the past three years, with the exclusion of April 2020, another housebound month.
As online sales skyrocketed, it was no surprise that offline (bricks and mortar) retail sales fell, particularly with Auckland, Waikato and Northland stores down for the count in lockdown.
Over half (52%) of the spending that did continue offline in October was for essential items: food and grocery, with liquor squeezed in at a pinch.
This was the only offline sector to improve its share compared to last October. 
Overall retail spending (combining online and offline) was still 5% down on last October, indicating some consumers were gun-shy in murky economic conditions or struggling financially while deep in lockdown all month.
Despite that, the pivot to online purchasing in uncertain times has been swift: by the end of October, the weekly online spend was up 64% and the total number of transactions up 49% on the week before lockdown began, back in August.
That's more than half a million additional transactions per week.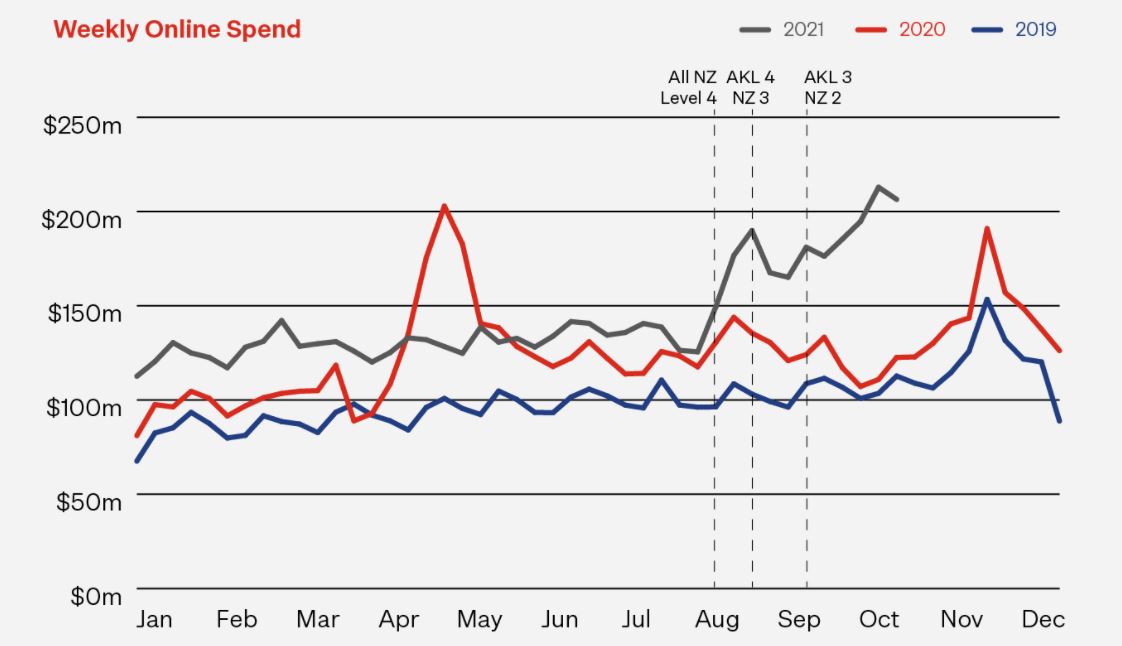 More individuals have got on board with online shopping over the past year too: during October 1.5 million Kiwis shopped online, up 24% on the year before, equating to over 300,000 more online shoppers.
The number of transactions per individual was also higher, according to the NZ Post eCommerce spotlight.
"In October, the average online shopper made 4.6 online transactions (up from 3.2 a year ago). This means that, on average, shoppers are buying something online every week."
The average cost of items purchased online ($107) has also come down by $4 since last year, indicating consumers are using online shopping as a go-to for everyday products, rather than higher value or one-off purchases. 
No longer in their first lockdown rodeo, many retailers have made improvements to click and collect or delivery options after being thrown in the deep end during 2020.
The NZ Post eCommere spotlight indicated a rise in consumer appreciation for local retailers doing it tough.
"A further factor, adding to growth for Kiwi online retailers is shoppers' continued preference for buying local. Two years ago, domestic spend made up about two-thirds of all online shopping. We've seen this steadily rise, with lockdowns keeping local sentiment high. In October, 74% of all online spend was with Kiwi retailers."
Not unexpectedly, Aucklanders were the most trigger happy when handing over the credit card digits, with the online digital spend in October, more than doubling (110%) October 2020's spend.
NZ Post's eCommerce spotlight listed six key facts about Auckland's spend in October 2021, as the most tightly locked down region:
1. At $362 million, Aucklanders' online spending made up nearly half (47%) of New Zealand's total online spending for the month.
2. Nearly 650,000 Aucklanders shopped online. This represents 47% of Auckland's adult population aged over 15*.
3. There were 3.25 million online transactions made by Aucklanders during the month – that's over 100,000 online purchases a day.
4. The average Aucklander made 5 online purchases (up from 3 in October 2020) and they spent $558 ($190 more than October 2020).
5. The average online transaction was $112: $12 less than the same month one year earlier.
6. When we compare the week prior to lockdown (w/c 9 August 2021) to the last week of October, weekly online spending in Auckland is up a huge 129%. This growth is driven by a 152% increase in transaction volumes in the same period.
You can read the full report here.
* Statistics NZ (22 October 2021) Subnational population estimates: At 30 June 2021 (provisional)