Study finds that a majority of Kiwis believe that fixed-interest will deliver better long-term returns than a mix of equities
By Amanda Morrall
Fixed-interest investments may have proven a saving grace during the global financial crisis but can they deliver better long-term returns than equities going forward?
According to a majority of New Zealanders surveyed on their understanding of risk diversification as part of an international financial literacy study the answer is yes.
Asked which of the following: (a) savings account b) range of shares c) range of fixed-interest investments, d) chequing accounts, would make the most money over 15 to 20 years, 47%  answered c expressing a belief that fixed-interest would make them richer over a longer time horizon.
That compares with 27% who went with a mix of shares and 22% who thought a savings accounts would achieve optimal returns.
The "right" answer (debatable given recent experience) is b) a range of shares. On that question alone, 71% of Kiwi's got it "wrong.'' (See chart below measuring 20 year returns of bonds versus equities.)
As several of the eight countries that participated in the international survey tailored the question on risk diversification, New Zealand's relative performance on risk diversification is tricky to gauge, said Annamaria Lusardi, one of the academics heading the OECD study.
In general terms, Lusardi said most survey respondents, regardless of nationality, fared the poorest when it came to an understanding of risk, reward and the importance of diversification. The other main questions they were tested on related to interest rates and inflation. They were as follows:
"Suppose you had $100 in a savings account and the interest rate was 2% per year. After five years, how much do you think you would have in the account if you left the money to grow?"
i) more than $102
ii) exactly $10
iii) less than $102
iv) don't know
v) refuse to answer
And on inflation:
"Imagine that the interest rate on your savings account was 1% per year and inflation was 2% per year. After one year, with the money in this account, would you be able to buy..."
i) more than today
ii) exactly the same
iii) less than today
iv) Don't know
v) refused to answer
Finally, the standard question on risk diversification was this:
"Do you think the following statement is true or false? Buying a single company stock usually provides a safer return than a stock mutual fund?"
Lusardi joked that the latter could have been reworded: "Do you remember Enron and what have you learned from it.''
Savvy Germans
While the full survey results have not been released, Lusardi revealed some of the preliminary findings at a financial literacy summit earlier this week in Wellington.
Overall, Germans were among the most financially savvy, with 82% correctly answering a question testing their understanding of interest rates, 78% showing an understanding of inflation, and 62% scoring correctly on risk diversification.
Across all three, 53% of Germans answered correctly, with 72% correctly answering the interest rate and inflation question.
By comparison, less than half of New Zealanders answered all three questions correctly on interest rates, inflation and risk diversification.
Lusardi, an economics professor at the George Washington School of Business and Financial Literacy Centre, said the purpose of the international study was to assess the basic "a,b,c" financial knowledge level of the participating countries.
With governments and employers internationally shifting responsibility for retirement savings onto employees themselves, Lusardi said financial literacy would become increasingly important in the future.
Lusardi referred to a 2004 study, which found that those individuals who characterised themselves as "planners" in that they had done some preparation in this area, had a median net worth of US$308,000, compared to US$122,000 for those who hadn't done any planning.
Asked how a more recent snapshot measuring net wealth might look, given that some investors (who could be regarded as planners) saw their equities portfolios sheared in half, Lusardi said macro-economic shocks were in all likelihood beyond the scope of basic financial literacy.
For the full the interactive historical bond versus equity chart go to BondeskGroup. 
The following charts show historical returns for the bond market vs. the equity market. During the past 20 years the trends are consistent - bonds have provided a steady stream of payments leading to much more stable returns. Compared to investment in equity, bonds have been more effective in preserving cash to meet predictable exp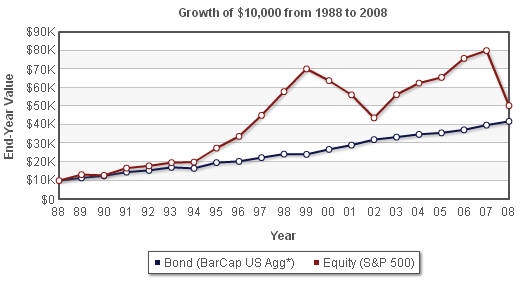 * The Barclays Capital U.S. Aggregate Bond Index is a broad-based bond index comprised of government, corporate, mortgage and asset-backed issues rated investment grade or higher.