Good supply, low demand reduces wholesale electricity prices, but consumers hit with increases. Your view?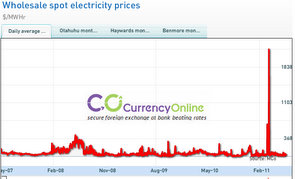 By Amanda Morrall
New Zealand power companies have been reaping the benefits of unusually low wholesale prices for electricity due to reduced demand and an abundant supply, but consumers looking for a discount are out of luck.
Despite average wholesale prices having fallen by more than quarter in the year to May, retail electricity  prices have gone up more than 7% during the same period.
The Haywards average price benchmark (HAY2201), shows wholesale electricity prices were 22.6% lower in May 2011 than May 2010 with average prices per megawatt hour of NZ$36.31 this May compared to NZ$49.47 in May 2010. In May 2009, they were NZ$59.1 per megawatt hour.
The slide in wholesale prices is weather related. On one hand, heavy rain has boosted supply at New Zealand hydrostations. At the same time, unseasonably warm weather has resulted in reduced demand.
Powershop CEO Ari Sargent said demand is down 5-7% from normal usage this time of year.
Consumers hoping to catch a break shouldn't hold their breath.
Unlike mortgages where consumers have the option of a fixed or a floating rate (the latter more accurately reflecting current market conditions) electricity consumers don't have the luxury of choice.
Sargeant said it wasn't realistic to assume that electricity prices would reflect the variable rate because the business model isn't built to handle them.
"Unlike petrol, the price at the pump so to speak doesn't change every day or every week. Typically retailers change their tariffs on an annual basis or at most a couple of times a year. Normally most  retailers, ourselves included, will procure a large amount of energy either through hedging arrangements or through our own generator.''
Powershop is a wholly-owned subsidiary of the Crown-owned power company Meridian Energy.
While retail rates may seem sorely out of step with wholesale prices, Sargent said 40% of the retail price typically related to the cost of distribution and transmission.
He said power companies with a higher exposure to Christchurch were having to contend with increases in distribution costs related to damaged infrastructure and rebuilding.
Yet the 7% consumer increases shown in the chart below reflect energy prices alone, exclusive of line costs.
New Zealand's Electricity Authority said the authority did not presently monitor price differentials between retail and wholesale prices.
CEO Carl Hansen said statistics comparing the two were not a "meaningfully indicator of competition'' because of the complexity of the market.
Hansen said the Electricity Authority was in the process of establishing a market monitoring function and would be "developing a range of indices to measure the competitiveness, reliability and operational efficiency of the electricity sector. "
Hansen said the authority's mandate wouldn't  be affected by the potential sell of Government-owned power companies Genesis, Meridian and Might River Power.
"The Authority's role is to regulate key components of the sector regardless of the ownership mix of any participant,'' he said.
"Section 15 of the Electricity Industry Act 2010 requires the Authority to promote competition in the electricity industry for the long term benefit of consumers, which the Authority is pursuing through several initiatives on its work plan. As with other markets, competition for customers is the primary means of providing efficient prices to consumers.''
Free market?
Powershop has questioned that free market mantra.
Sargent said private players dealing in electricity were at the higher end of the price spectrum when it came to retail prices with Crown-owned companies in the middle of the pack.
To what extent retail prices could be impacted by the partial sell-down of these sovereign owned entities (SOEs) remains uncertain, he said.
"The unknown to me is if the Crown will retain majority ownership (which they say they will). Will they go to the same extreme as other private players or remain more moderate,'' in terms of price.
You would expect there to be more commercial pressure on them once you've got a proportion of the SOEs in private hands. How much that majority end will moderate that pressure is unknown until it becomes a reality.'
The weather is also a wild card. Sargent said material price jolts would more likely be effected by macro-economics not mother nature.
"Part of the problem is that most of the industry takes historical records as an indicator of the future.
"If you get one or two wet years, it won't have a huge impact on the way electricity generators view wholesales prices. Demand is a bit more fast reacting. If you see the current recession and so on continue you would expect demand forecast to remain lower. Temperature effects are less directly built into forecasts.''
Futures contracts reflect that outlook, said Sargent.
Quarterly contracts for Otahuhu (a power station on the North Island) and Benmore (South Island) show June 2012 contracts  priced much  higher than June 2011, reflecting current lake levels. (For details see the NZ Electricity Future Options on the Australian Stock Exchange.)