Hannah Lynch looks for signs of gender equality in the workforce and has to squint to find them; instead she gets a five-point lesson in how to avoid the usual money mistakes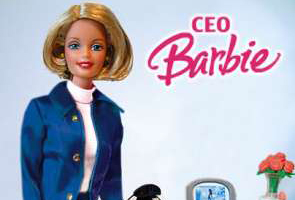 By Hannah Lynch
Barbie is the ultimate girl's toy.
When I was little girl I had a generic Barbie doll; she had blonde hair, blue eyes and wore a pink dress. 
Today, Barbie's American manufacturer Mattel sells "computer engineer barbie" or "princess tea party barbie" but what I really would have liked when I was eight would have been "corporate exec barbie.''   
Despite an increased female presence in the workforce over the past fifty years, women are still not widely perceived as corporate executives. 
Historically speaking women have had as hard a time breaking glass ceilings at the workplace, as they have shedding the image that they have only a token place at the boardroom table.
Therefore, I wasn't surprised to find that out of the 150 ultra high-net worth individuals profiled in the National Business Review's 2010 rich-list only three were women. With the 2011 list due out at the end of the month I am not hopefully that there will be a significant improvement in the numbers. 
Maybe it is about time Mattel caught up and sold "corporate barbie."  It might have the effect of spurring more young women to strive  for a spot at the head of the boardroom table, instead of being an bejeweled accessory to male corporate tycoon. 
Young girls can pick out barbie's designer suits in preparation for climbing their own corporate ladder.  
Top 5 financial faux pas: 
I asked why women were are still lagging behind men when it comes to money. She identified five financial faux-pas. 
Sutherland's number one piece of advice for young women setting out to make it on their own, without relying on a male for financial plan,  was to insure themselves.
Women lack adequate insurance cover and income protection. The importance of insurance for women is particularly strong because they live longer than men and will therefore be single later on in life. "Women tend not to have income protection and when you consider that you are earning for longer than men you need to be protected," Sutherland said.  
A fear of money; women tend to adopt an emotional rather than rational approach to savings and finance.
Women use their money to enable others i.e. spend it on family members. "A women's own financial strength is important," she said.   
Women take time out of paid work to raise a family and look after loved ones.
Women fail to take investment risks. While an inherent conservatism, or possibly self-doubt, can be a strength in investment it can also hold them back, she said.
New Zealand Institute of Financial Adviser's president Nigel Tate agreed that both men and women need to insure themselves but suggested that financial success was also about one's ability to balance public and private life.
"There is value in maintaining thought and financial independence from your partner." 
Tate said women need to have the ability to generate their own incomes especially since there are clear issues around the funding of retirement because women live longer. 
Dream of making the rich list?  
I asked Tate what advise he would give to an aspiring "corporate barbie" who has dreams of making her millions.  
He said, it is important to have clear business objectives with a tight focus. However, you also need to be able to adjust to the environment around you and maintain the ability to be flexible. 
From that perspective, he did not believe gender made a big difference.
"In all honestly I don't see a great deal of difference in the creation of wealth between men and women. There is no gender bias to financial success, the process is the same either way - you have to work damn hard!" 
Fair enough.  
Boys, I'll race you to the top and hopefully by the time we get there Mattel's "corporate barbie" will be rolling off the assembly line. I'll see to it.