Instant Finance's biggest loan is to its CEO Richard de Lautour at a much lower rate than the 29.95% it charges customers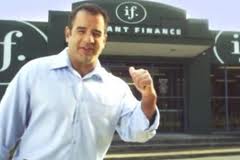 By Gareth Vaughan
Instant Finance, which charges nearly 30% interest on loans to customers, loaned NZ$453,000 to its chief executive at just 7.62% in what is the company's single biggest loan.
The loan, disclosed in the personal lender's annual financial statements, was made so CEO Richard de Lautour could buy shares in Instant Finance at a discount to fair value through an executive share plan designed to provide a long term incentive for de Lautour to stay with Instant Finance. The firm, which has its headquarters on Auckland's Great South Road, is 10.3% owned by its key funder Fortress Credit Corporation.
De Lautour appeared on TV3's Campbell Live this week defending Instant Finance's profitability, interest rates and use of former rugby league star Stacey Jones in its advertising. See the Campbell Live report and interview here.
This follows the targeting of Instant Finance and Jones by Wellington community group, Debt-Free Newtown, which is calling on Jones to withdraw his celebrity endorsement from Instant Finance and its high interest rates, and to lend his support and name to a more "creative and constructive'' means of helping the poor cope with money problems. See Amanda Morrall's story here.
The financial statements show that de Lautour bought 172,400 Instant Finance shares at NZ$2.63 each on April 1, 2005. They were issued at a 32% discount to their NZ$3.88 fair value. The shares were held in escrow and didn't fully vest until March 31, 2008.
Instant Finance, which has 19 branches spread between Kaikohe and Christchurch and plans to expand during its current financial year, loaned de Lautour NZ$453,000 at 7.62% to fund the share purchase. The loan is due to be fully repaid on March 31, 2012. During the year to March 31, 2011 de Lautour was charged NZ$39,000 in interest, and as of March 31 this year the balance outstanding on his loan was NZ$507,000. Instant Finance has an option to reacquire the shares or require de Lautour to sell the shares to a nominated third party at a 25% discount to fair value.
The financial statements don't specifically break out de Lautour's annual remuneration but they do disclose that key management personnel, being the two executives with the greatest authority for the strategy, direction and management of the company, were compensated to the tune of NZ$515,000 in the March year, up from NZ$456,000 the previous year.
Mark Barnard, a member of Debt-Free Newtown, said it was interesting that de Lautour was happy to accept 7.6% for himself while taking 30% from "the vulnerable".
"It further highlights the obvious injustice inherent in the high interest lending industry," Barnard said.
Recipient of the company's biggest loan & a Bonecrusher link
The loan to de Lautour is Instant Finance's biggest, worth the equivalent of 2% of the group's equity, or 0.5% of its gross loan receivables. Instant Finance specialises in personal loans of between NZ$200 and NZ$20,000 to what de Lautour describes as "needs based" borrowers rather than people borrowing for "aspirational" purposes.  See more on how Instant Finance operates in this Double Shot interview de Lautour did with Bernard Hickey last year.
The company's financial statements note that the weighted average interest rate on its loans is 29.74% and that it pays, on average, 11.38% to Fortress for its wholesale funding.  Of a NZ$45.406 million facility with Fortress, NZ$24.594 million was undrawn at March 31. Instant Finance also has NZ$8.605 million worth of redeemable preference shares on issue paying an average interest rate of 13.82%.
Instant Finance's major owners are Auckland's Nausbaum family and Peter Mitchell, best known as owner of the famous race horse Bonecrusher. Fortress gained its 10.3% stake in October 2008 with the NZ$1.2 million it paid offset against a NZ$1.2 million facility fee it was owed through a NZ$70 million wholesale funding facility it had provided to Instant Finance. Shareholders received dividends of NZ$2.636 million, or 20.2 cents per share, for the March year, up from just NZ$115,000 in the previous year.
In a recent shareholder update de Lautour noted a range of highlights for the year to March 2011 including:
* Profit before income tax of NZ$8.1 million, up 56% on the previous year's NZ$5.2 million.
*Tax paid profit of NZ$5.3 million compared with NZ$3.2 million in 2010.
* Loan receivables increased 13.2% to NZ$73.2 million from NZ$64.7 million in 2010.
* Unearned revenue was up 16.6% to NZ$25.3 million from NZ$21.7 million.
* Shareholder equity increased 10.3% to NZ$24 million from NZ$21.8 million.
* Gross loan instalments receivable increased 14% to NZ$101.5 million from NZ$88.9 million over 20,000 active loans. 
* Impaired asset expense reduced by 36% to NZ$1 million from NZ$1.6 million, and loan arrears continued to reduce over the reporting period.  
Asked on TV3 by John Campbell whether he thought charging interest rates of 29.95%, with real effective interest rates above 30% in some cases, was a fair deal or whether customers were using Instant Finance simply because it would give them money, de Lautour said: "I totally disagree with that. We're strong advocates of responsible lending."
"We're supporters of the initiatives that are going on at the moment, we're supportive of the review of the CCCFA Act (Credit Contracts and Consumer Finance Act), we're good corporate citizens, we pay tax. This company is 40 years old, it has never missed an obligation in its history. And I think you'll find, if you surveyed the 26,000 current customers that we have, you'd find 25,900 of them would be very strong advocates of this business."
This article was first published in our email for paid subscribers this morning. See here for more details and to subscribe.