How much are you worth, really? And why is it important.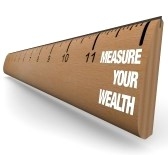 By Amanda Morrall
A key part of retirement planning is knowing your net worth.
Instinctively most of us think we know what we are worth. The common mental measuring stick is our contribution to society and the material stuff that we have accumulated. By that calculation, there are a lot of millionaires and paupers amongst us. Here, the tendency is for people to either grossly over-value or under -value their worth and wealth.
However, your net worth should not be confused with feelings of self-worth or the gadgets you have. Net worth is strictly numeric and is, in theory, divorced from ego, emotion and fantasy and therefore objective.
How do you figure out your net worth?
Simply put, your net worth is the total sum of your assets minus your liabilities. Assets that figure into the equation are all the things you own that could be sold off and converted into cash. So that includes stocks, bonds, property and superannuations schemes. Personal property, including cars, jewellery and artwork also count as assets but for the purposes of calculating net worth are best left out of the equation. That's because the real monetary value of the things that we own is rarely in line with expectation of what we think they are worth.
Unless you own a Matisse, a collection of Rolls Royces or a cellar full of vintage wine, it is probably best to exclude personal belongings from your asset sheet.
Liabilities are the debt you owe. Typically that would include mortgages, unpaid credit card balances, hire purchases, personal loans and I-owe-yous.
Your net worth is what you are left with when you deduct all your liabilities from your assets.
Why does it matter?
Although your future wealth could go or up down, knowing your current net worth is useful to the extent that it helps you to plan for the future.
Financial advisers often describe net worth as a financial GPS in that it can help you find your way.
Comparing your net worth with someone else's may not be that helpful particularly if you're comparing it with an UHNWI -- an ultra-high-net worth individual whose wealth is beyond the realm of realistic attainment.  Still, it can be useful to know where you stand in relation to others.
The point of knowing your net worth is not to inflate or deflate your ego, but to help you figure out how far or close you are bridging the gaps between where you are at now and where you want to end up. 
Several factors influence one's net wealth including age, marital status, income, education and children.
Unsurprisingly, partnership has its perks.
The Retirement Commission, in its most recent report on the net worth of New Zealand, refers to a 2001 Household Savings Survey (HSS) which found that non-partnered individuals had an estimated net worth NZ$91.112 billion, whilst the total for couples was an estimated NZ$275.867 billion.
And Statistics New Zealand, in a separate report on the same subject, found that net worth increased as couples grew older.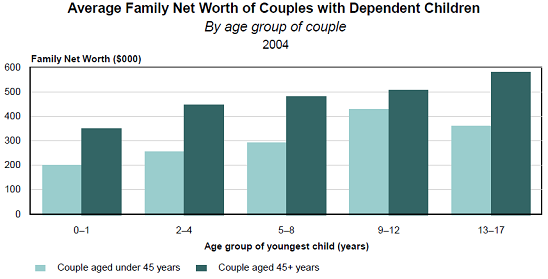 The same trend holds for single-parent families however relative net worth is dramatically lower. Looking at the graph below, the median net worth of a  single parented family with children age 13-17 is around the NZ$50,000 mark, whereas the two-parented equivalent had an average net worth between NZ$300,000 and NZ$600,000 depending on their age.
Partnered or unpartnered, education is a factor working in favour of a higher net worth.
By some estimates, the net worth of a university graduate is double that of a high school graduate. Being self-employeed is another economic advantage. Self-employed individuals reportedly have triple the net worth as their employed counterparts. (To see more net worth projection read this article on Investopedia.)
How much you should be worth will depend on your objectives and lifestyle goals however Thomas Stanley and William Danko, U.S. authors of "The Millionaire Next Door" (1998), came up with this formula as a guide:
Net worth = Age * Pretax income ÷ 10
On that basis, the net worth of a 20-year-old would be $50,000 which seems improbable given they would have barely graduated from college.
However, moving up the age and income continuum, the numbers become more realistic, or at least fine in line more close with known net work average.
Below is a benchmark for consideration.
| | | |
| --- | --- | --- |
| Age | Income | Net Worth |
| 20 | $25,000 | $50,000 |
| 25 | $35,000 | $87,500 |
| 30 | $50,000 | $150,000 |
| 50 | $55,000 | $275,000 |
| 60 | $75,000 | $450,000 |