Five-Fold Friday: Amanda's 30-day challenge plus five financial lessons she wished she'd learned early in life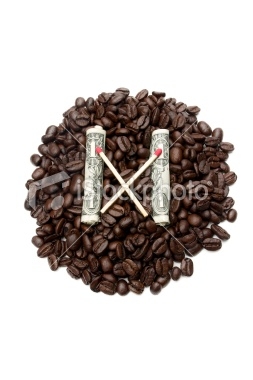 Amanda's 30-day coffee challenge; Five financial lessons she wished she'd learned early in life; How to avoid the scars of sexually transmitted debt
Time for something a little different. I welcome your suggestions and feedback. Sorry no car washes or bikinis. amanda.morrall@interest.co.nz
1) Drink tea not coffee
If I had known when I was 21, when I had my first cup of coffee, just how expensive and addictive the habit would become, I never would have let the seductive, dark prince of Arabia pass my lips.  Mind you, had I known what a drain my then boyfriend, who introduced me to the stuff, would turn out to be, I would have kept my distance from him as well.
Hindsight really is 20/20.  
I don't want to know how much money I have spent over the years feeding my addiction. Needless to say it's a lot. I'm not alone. According to this article in the Independent the average bean-aholic will spend NZ$877 a year on coffee and the real snobs (that's me) around NZ$2,000.
I doubt I'll ever quit my coffee affair completely, but we're having a separation. I've put myself on a 30-day challenge. I know, "Madness" I've been told.  Being reminded how expensive the habit is was a jolt to be sure, however I was more inspired to embark of this journey of madness by two co-workers who just finished the Ramadan challenge. Not once did I hear them complain. Not even when I accidently left chocolate in open view.
I'm a Buddhist but I'm hoping Allah will send me some strength to overcome my slavish worship of the bean. Coffee bet anyone? This will be tough in an office that thrives on coffee bets.
2) Sexually transmitted debt is scarring
I'm a romantic at heart, even though I disdain white weddings, Disney fairytales and saccharine Hollywood movies. But I learnt the hard way that love is no match for debt. Especially debt that lies concealed in white envelopes and arrives monthly. As much as partnership has its economic advantages, it can also be a drag if the debits and credits are not fairly balanced.
At a recent budgeting workshop I attended by CAP Money, a young couple asked the older (presumably wiser) participants in attendance whether separate or joint bank accounts were the way to go. Given this young betrothed couple still had stars in their eyes, I strongly suppressed an urge to shout out "separate.'' To be fair, it is a personal decision best determined by the couple.
My personal view is that separate finances are a good thing. I'm a realist. Even the best relationships are vulnerable to collapse.  Even if they don't, I think it's good to have some financial independence from one's spouse. God forbid you have to go begging for a clothing allowance. And while one party may enjoy or excel at managing the family households, it pays for the other one to know a) what's going on and b) how to manage the show if the other is incapable of doing it for whatever reason.
The other hazard of joint finances is that if the relationship does go sideways, and one party happens to go nuts with the credit cards, you're both held accountable and liable for that debt.
Say "I do" to your love but "No thanks" to their debt, unless you want to own it.
3) Growing old is a fact of life, plan for it
When you're in your '20s, retirement seems like a galaxy far, far away. Planning for retirement seems all the more strange, foreign and unnecessary.
If I could wind back the clock, I would take a look through the Hubble telescope, then turn the lens back on myself and see that 40 years is but a blink of the eye. I'm not an extravagant spender but had I spent half as much of my disposable income as I did on my retirement savings as I did stuff, I'd be no where near as panic-stricken as I am about retirement.
When I heard a well-respected fund manager say the same thing recently (he was in his '50s) I eased up on the self-imposed guilt.
There's a lot of things you can't plan for in life -- and that's the beauty of it I suppose -- but growing old isn't one of them. Retire right by saving for it early on. And don't count on NZ Super to save you unless you're a Boomer.
4) Conquer your tax fear
 I have come to interpret my two-sided hemispheric tax troubles as some form of karma. Not for trying to cheat the government but for putting my head in the sand over the years. Confession: I used to do anything to get out of doing my tax returns, usually fobbing the job off to my sister or mother both of whom have a natural affinity for that kind of stuff.
I reluctantly took over the job when I exhausted their goodwill and then found out it wasn't really so bad.  Moving to New Zealand from Canada, I got lazy again because as a paid employee I didn't need to file an annual return as you are required to do in my home country.  Where I ran into trouble was picking up extra jobs here and there, in a vain attempt to get ahead financially and getting sloppy with the tax side of things.  
Okay, so it's an embarrassing admission for a personal finance editor.  Apparently feelings of isolation have a lot to do with tax debt build-up.  But get this: between 200,000 and 300,000 New Zealanders (mainly small business owners) are in the poo due to their own acts of negligence.  If misery loves company we should throw a party in New Zealand. 
5) Mother is always right
For years my mum harangued me about taking a greater interest in finance and business. Like most teens and 20-year-olds, I ignored her. I naively or perhaps optimistically assumed I'd get by on my good graces in life.  "Yeah, right.''
I'll never lose my love for the fine arts but looking back I wished I studied finance instead of history as a minor in university. I also wished I'd spent more time pursuing the book aisles I tended to cruise past at the library. I'm making up for lost time now but making up lost money is much harder.
For the benefit of those wanting to get a jump on their finances, check out this recommended top five reading list from Investopedia. It includes Warren Buffett, Peter Lynch, Napoleon Hill, Robert Kiyosaki and Benjamin Graham. 
A little learning in personal finance goes a long way.
Happy Birthday Mum!