Personal finance editor Amanda Morrall unintentionally goes without money for a day in Wellington and takes home five financial lessons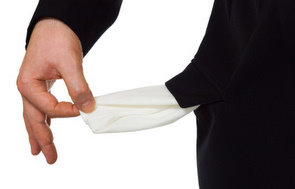 By Amanda Morrall
I'm a seasoned traveller. Or so I thought until yesterday when on a business trip to Wellington I left behind one crucial item. My wallet! It was a first for me. I'm not usually that forgetful, at least not for something that important. This edition of Take Five chronicles my five financial lessons.
1) Emergency money
I have acquired over the years a beautiful collection of necklaces. I don't believe I've ever purchased one. They're all gifted, many from my lovely ex-mother in law who continues to spoil me regardless of awkward social norms. In any case, there is one very special one that I wished I'd been wearing yesterday as I set off on my day without money out of town. It's a sterling silver heart-shaped pendant from my 92-year-old grandmother. Victorian I believe. The pendant opens up and has three little slots for storing coins. Apparently even Victorian-era gals had the need to have a little stash of cash to bail them out in troubled times. I doubt the 100-year-old Canadian coins would have gotten me far but the whole experience pressed upon me the importance (again) of having a wee rescue fund, however small; one in the bank and one in your back pocket ideally.
2) Have faith
I set off to Wellington on a wing (well aisle seat actually) and a prayer that I would somehow manage my day without money. The potential for disaster was as high as it was embarrassing. As I entertained scenarios of me hitch hiking into town or else busking outside the terminal for bus money, I had to banish all negative thoughts and have faith that the universe would somehow carry me through the day.
3) A friend in need is a friend in deed?
I don't recall ever asking a friend for money but yesterday I had no other choice. My car was locked up in parking in Auckland. No amount of begging would get it out upon my return. Fortunately, a friend in Wellington bailed me out. She not only bought me lunch but spotted me $50 so I wouldn't have to walk back to the airport in high heels. Now Richard Dawkins types would undoubtedly cast aspersions on what kind of friend I really was, suggesting naked survival instincts underlie my friendliness and not genuine bonhomie. Others who know me know I'd walk 10 miles in the dark through mud to help a friend in need. What comes around goes around I believe. Many thanks JT.
4) Public transport
Getting back to the airport after my day on the ground loomed in the back of my head all day. Fortunately my bail out money was perfectly provisioned to buy me a seat on the #91 which delivered me swiftly and comfortably (hell there was even Wi-fi) to my destination. Public transportation is fantastic. I need to use it more. It's cheap and efficient.
5) Gratitude
Does gratitude have a place in financial planning or in my case financial misadventure? Absolutely. Gratitude has a permanent place through all facets of life. Always be grateful for the small things. They make up the rich fabric of life for which money is a very poor substitute.
Thank you Wellington for a fabulous currency conversion.