By Amanda Morrall (email)
1) The good 'ole days?
I always get a chuckle out of Mr. Money Moustache's down to earth working man blogs on personal finance.
I can't decide which is more amusing, the larger than life handlebar moustache on his profile picture his handle "achieving early retirement through badassity.''
Actually, what I like most is his honesty and common sense attitude toward money.  His basic premise is there is no short cuts to getting rich.
Instead, he suggests the way to wealth is working hard, saving and spending less.
His latest blog reflects on what it was like growing up in an rural outpost in Canada before the days of conspicuous consumption took hold and keeping up with The Jones' wasn't a clinical condition. Mr. M reckons we're moving back to those days again where "frugality is the new fanciness." In that spirit, here's a cartoon that made me laugh.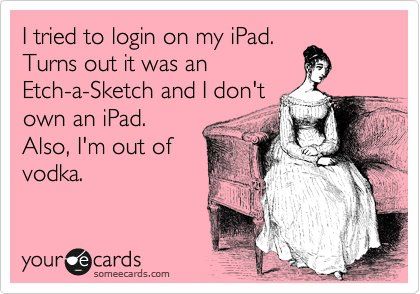 2) Gaming insanity
Already my two sons are technology junkies. After reading this piece in Bloomberg on the real cost of being a video gamer, I'm determined to break the habit. Either that or send them to design school. Cripes, I stopped reading after getting to the $12k running total for consoles, games and the latest PSP generation xiii.
3) 7 step investment programme
When it comes to women in and finances, there appears to be a large gap between their confidence and ability to manage household budgets and spending and long-term investments. The irony is that most studies suggest that women make better investors than men, in part because they tend to be less cocky and therefore more risk averse, which over time can serve an investor quite well.
Here's an introductory investment guide from Investopedia.com that isn't gender biassed, just straight forward and written in plain English.
4) Chill out
According to a study comparing happiness levels of over-achievers and regular Joes, the over-achievers, for all their efforts, weren't that much better off. I don't doubt they'd have more money in the bank and more stuff but if they aren't any happier for it all, then you have to wonder what the point is - beyond greater security in retirement and comfort levels.
The story,  published here in Gimundo.com suggests it's a good reminder to stop and smell the roses, go on holiday or take a yoga class.
5) Get excited
A Facebook friend sent out a distress signal yesterday asking for suggestions on how to bring some excitement to her life. She complained of being "bored." I'm not sure how as she's a full-time working mother with three kids. I don't know when you'd find the time to get bored.
In any case, I'm going to send her this link and I'm posting it here too for the benefit of others. The blog, from financiallypoor.com, suggests those suffering from a case of the blahs, get excited about the future by inking up a calendar of events to look forward to.
It reminded me of a billboard I saw not too long ago which said happiness is: having someone to love, something to look forward to; and someone to share your life with. I know, it's a bit chicken soup for the soulish, however a useful reminder nonetheless that money needs to have a context. That's the essence of personal finance.
To read other Take Fives by Amanda Morrall click here. You can also follow Amanda on Twitter@amandamorrall