Lotto junkies; Cheap holiday destinations; Shopping for the sake of shopping; Housing bubbles; Shameless pet plug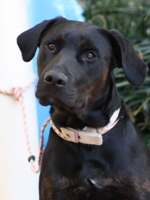 By Amanda Morrall (email)
1) Lottery winners and losers
I bought my first lottery ticket in ages this past weekend.  Big surprise, I didn't win.  I stopped buying those daydreams for a few reasons. Firstly, because they cost more than a $1 which is what you spend on a 6/49 ticket in Canada (the equivalent of your Big Wednesday I suppose).  Secondly, because I have a better chance of being struck by lightening (twice). Thirdly, apart from being cheap and realistic, the mindset of it all disturbs me. I like to daydream as much as the next person but if you're really banking on a lottery win to make you happy or solve your problems, you're fooling yourself and more importantly wasting time working toward making those dreams happen the old fashion way, by working toward them.
That said, I do delight in hearing the stories about worthy winners and will in all likelihood pick up the odd ticket here and there for those heady jackpots.  Here's more on Saturday's NZ$26.5 winner.
I also found this Bloomberg item on the real cost of the lottery revealing. According to a U.S. study, 20% of players account for 70% of the spending with a typical player shelling out US$1,384 a year. Another study also found that households earning between $30,000-$40,000 a year spend $40 a month on tickets whereas household earning $100,000 or more spend half that.
Education also has a bearing on how much players spent with high school drop outs spending $50 a month on average and those with university degrees spending $13 a month on average. What that says to me is a good education pays for itself.
2) Value for money destinations
I have the travel bug. I think I was born with it. I have Malaysia in my sights and also Maui. The former is a good deal, according to a travel agent office mate who says East Asia tops the charts for most economic jaunts abroad.
Gimundo.com, in its most value for money travel list, cites Vietnam, Buenos Aires, Sana's Yemen and Florida as other hotspots for those with the fever.
3) Shopping for the sake of shopping
Can't say this is my problem although I suspect a colleague of mine (and guess what he's a man!) could have an acute case of consumeritis. I'm not sure what happened to my North American free shopping ways. I think the excess there just killed my shopping spirit. Also, I prefer to save up and buy the odd quality item rather than fill my closet with stuff that falls apart in six months or else rarely gets worn.
Anyway, this blog's for you Craig.:) Wanna go shopping at lunch?
4) House prices
My property obsessed colleagues here at interest.co.nz are constantly digging up articles forecasting an explosion of the over-heated property market in Canada. They like to take the proverbial because I have a property there in my hometown that I refuse to let go of. While I would agree the market is overheated, I take these reports with a large grain of salt because I don't believe you can make gross generalisations about housing markets in a country as vast as Canada (where house prices in Toronto and Vancouver have skewed the average) or even in a nation as small as New Zealand. Obviously there are some general trends and cautions to observe, but I believe the devil is in the detail and the value (or lack therefore) is relevant to the region.
Here's the latest let's have a go at Amanda article via the Economist comparing New Zealand and Canada's over-priced markets, which are running neck in neck in terms of being grossly overpriced and poised for a big splat. I'm waiting at the sidelines.
See also our housing affordability report here.
5) Shameless pet plug
I don't advocate impulse buys of any kind least of all pets. That said, if you've given it careful consideration and weighed up the costs, I'm all for a bargain. Auckland's SPCA is practically giving them away; 50% off for the next three weeks, till April 22nd. The discounting is meant to deal with the overflow of unwanted pets which includes 482 cats, 123 dogs and 39 rabbits. Sad. Save a life, save money but do the math first on the cost of pet ownership.
Here's the skinny.
SPCA Auckland is overflowing with animals so the organisation is cutting the cost of adopting a pet for life by a whopping 50% for 3 weeks from 2 to 22 April.

"We've simply run out of room for any more incoming animals. So it's time to do everything we can to encourage prospective pet owners to adopt from the SPCA," says Tracy Dunn, Animal Services Manager.

 

"If you're looking for a pet, please consider rescuing an animal in need and giving them a home for life." The numbers of animals on the SPCA Auckland books right now are staggering, including 482 cats, 123 dogs, and 39 rabbits. Only a small percentage of these animals can be offered for adoption at any one time because there is only so much room in the SPCA Auckland adoption areas. The rest are fostered out to volunteers or await their turn in the holding areas.

 

"We're at crisis point because we must be able to continue to rescue animals in need but we've nowhere to put them," says Tracy. "We really need the public to help us out."

 

When people adopt from the SPCA, they not only rescue an animal in need, but they also get a 'ready-made pet' that has been vet checked, de-sexed, micro-chipped, wormed, flead and had initial vaccinations.

 

"This means you get an awesome deal as these costs are already covered by the SPCA. It's the most cost-effective way of getting a pet. If you got a kitten or puppy from a friend you would still have to pay for all these costs after you bring your pet home. And the money you pay us goes directly to saving other animals in need," says Tracy.

 

"The school holidays are an excellent time to adopt an animal for your children because it gives them and the animal a chance to settle in before the new term starts."

 

If you're not able to adopt an animal but would still like to help out, then SPCA Auckland is also desperate for people to foster cats or kittens.

 

Animals available for adoption can be viewed at the SPCA Auckland Animal Village, 50 Westney Rd, Mangere between 8.30am and 4.00pm every day, or visit 

www.spca.org.nz/adoption/default.asp

. Please note: SPCA Auckland will be CLOSED Easter Friday and Easter Sunday.