Janine Starks on sink holes, cracks, lateral spread, elevation changes and liquefaction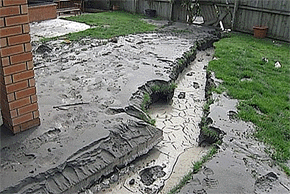 By Janine Starks*

From my mail bag:
When it comes to land claims one large group of homeowners have the most unanswered questions and the most uncertainty; those sitting on liquefied land.
Not enough time has been spent asking EQC and insurers detailed questions about liquefaction. So a few weeks back, I dived into the mucky stuff and tried to clarify a host of questions readers have posed.
As is often the case, the deeper you dig, the more you realise you've disappeared down a hole. So with sink holes, cracks, lateral spread, elevation changes and liquefaction in mind, here are the issues we discussed:
What is land damage?  Gosh that sounds like an odd question. Don't most of us think that liquefaction has altered the pre-quake condition of land, therefore it's damaged?
But we need to take a step back. Our definition of damage might not be the same as EQCs.
Their view is that land damage "means a not inconsequential change in the land, caused by natural disaster, which affects its utility".
The important word here is "utility".
Can you still use it? In short, if you can still use it (i.e. there is foundation solution which supports a rebuild), then it's not damaged.
Surely if you have 10 or 20 metres of liquefied soil beneath your lawn and house, before a solid layer is reached, you have damaged land? No, apparently not.
Concentrate hard on this next sentence. "Liquefaction is a process not an outcome". As EQC explain "Land will only liquefy and eject sand and silt above the surface, during an earthquake. Once the earthquake has finished, the land resolidifies". While EQC won't go so far as claiming that your land is back in its exact pre-quake condition, the fact that the silt goes solid means it is now viewed as useable and undamaged. 
EQC see no need to remediate the soils below ground level.
They tell me the vast majority of people will only get the surface damage fixed - that is, sink holes and cracks filled in, silt removed and ponding fixed. This has been well covered in the media as the 'rake and roll' technique.
There will be very few people whose land is uneconomic to repair and who will receive the maximum payout under the law (that is, generally a cash payment to the value of the smallest allowable section size in the local area – of which there are 19 different sizes in various areas).
Will EQC fix liquefied land to make it less susceptible to new doses of liquefaction?  In short, no.
The solution is restricted to 'rake and roll'. If land is no more susceptible to liquefaction than it was prior to the earthquakes, they will not 'better' it by building it up or strengthening it. Even land that has had repeated doses of mud and silt will not be strengthened.  

It seems if your land is 'more susceptible' to liquefaction you may have a case for strengthening. This one ties EQC up in knots. How do you prove pre versus post quake susceptibility? Being a fan of simple answers, I quote the obvious example of streets where heavy trucks now cause liquefaction to rise forth. 
Pre-quake, a truck could drive on these streets with no side effects. It seems clear that plenty of people could prove they are now more susceptible.  EQC explained that a geotechnical engineer will decide on this and their work is being reviewed by experts at Universities such as Canterbury and Berkeley in the US.  While that's admirable, I hope the professors take the 'truck-test' into account.  Unless 'susceptibility' is tested legally, EQC probably don't have much to worry about.  Cantabrians are proving to be rather limp-wristed in their willingness to litigate or form action groups, so I doubt this one will get tested.  

Will EQC fix a change in elevation if land has sunk? Again no.
If the ability of the landowner to use the land has not changed, the solution will be restricted to fixing any observable surface damage.
If an elevation change has occurred in the Flood Management Areas (FMA) like Redcliffs, Southshore, Sumner and river suburbs, EQC have obligations. Check on the councils website to see if you are in the FMA as rebuilds are likely to prove a challenge. Rumour has it the council will widen the net and capture more homes in the FMA due to land sinking in the quakes. 
Homeowners have 'existing rights' for earthquake rebuilds and can skirt around the need for resource consent.
But building consents may catch you, as the floor level must counter a 1 in 50 year flood (your old house may be beneath this).
The new rules mean you have to counter a larger 1 in 200 year flood. Land that has sunk in the earthquakes will need to be raised by EQC or an alternative solution negotiated between EQC and insurers. Sounds messy doesn't it. Even messier when you consider the volume of homes in these areas.
Email questions to starkadvice@gmail.com, subject line: Financial Agony Aunt. Anonymity is guaranteed.
Will land damage be categorised using a new scale? EQC were unable to offer any comment on this. Reliable sources tell me it will be.
The new categories are likely to be labeled Category 1 through to 9 with 1 being the least damage and 9 requiring more difficult solutions. You can find early evidence of this in the original Tonkin & Taylor reports but the categories were in reverse. The rumor mill says insurers are very wary of carrying out rebuilds in the 8 and 9 categories and these may in some way be linked to the Flood Management Areas around the rivers and coast where land has sunk. Insurers and EQC will need to negotiate higher floor levels versus the practicality of building land back up.

Are insurers beginning rebuilds on liquefied land?
Some insurers have started planning rebuilds in Green-blue areas (TC3) on the basis they have been in the 1-7 categories, with no elevation change and are not in the Flood Management Areas. We can only guess that these categories will become more evident as land assessments are revealed to homeowners by EQC. For now they are silent on the matter. The new categories can't come soon enough. There has been too much confusion over TC2 and TC3 land. These labels only reflect how susceptible land is and what foundation solution is required. They don't tell us the real level of physical damage.

When will land assessments be completed for those who have suffered liquefaction? They are complete. All the work is done and has been for some time.
EQC have completed over 56,000 land inspections in the hardest hit flat-land areas. Inspectors have gone door to door – if you didn't see one, you will have been at work (or you owned a big dog that scared them off). While there are engineers currently carrying out drilling all over the Eastern suburbs, this data is not required for land assessments – it's solely to determine foundation solutions.
EQC are sitting on all the data they need. They've done aerial flyovers and have previously completed 2000 drillings to give the elevation changes. Combine that with the visual house-to-house visits and it's all done. The missing link is they haven't yet designed a model that determines how remediation and compensation will work. This will be available at roughly the same time as the completion of the drilling for foundation solutions, so the two elements will roughly run in tandem.

What are insurers doing regarding carrying out their own geotech reports?
Insurers have been very slow to move in TC3 areas. On one hand it's because of the continued seismic activity making the risks too high. On the other hand they could get off their chuffs, send in their own geotechs and start the planning phase. I've asked insurers what is causing the stalling and they tell me it has nothing to do with a lack of resources. At the drop of a hat they can get as many geotech rigs and people as they need. Instead, they prefer to wait for EQC to release their area wide land assessments in the hardest hit suburbs.  

On digging a little deeper there seem to be a couple of reasons. First, on some sites where shallow foundations and light-weight cladding can be used, they believe there will be no requirement to individually drill those sections. On other sites where heavy brick veneer is being rebuilt, or deep pile foundations are needed, they will need individual geotech reports.
If insurers wait for EQC to release their results, they can concentrate on drilling only those sections that require it. Second, they are very concerned about category 8 and 9 land damage and want to work closely with EQC on this. Just to be clear, this is the insurers point of view – whether it's contractually acceptable to delay is another matter.
-------------------------------------------------------------------------------------
*Janine Starks is Co-Managing Director of Liontamer Investments. Opinions in this column represent her personal views and are not made on behalf of Liontamer. These opinions are general in nature and are not a recommendation, opinion or guidance to any individuals in relation to acquiring or disposing of a financial product. Readers should not rely on these opinions and should always seek specific independent financial advice appropriate to their own individual circumstances.