How low can ETF fees go?; Saving challenges for the 95%; Target 8 times your end salary for retirement; The making of a millionaire; 10 lessons for business start-ups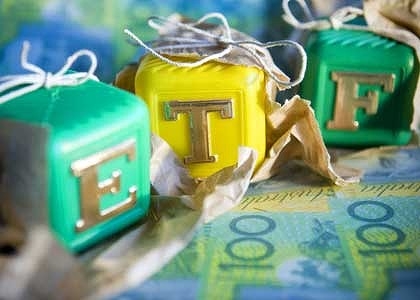 By Amanda Morrall
1) ETF fees
The appeal of exchange traded funds is they are low-cost and highly diversified investment instruments, at least relative to most managed funds. U.S. discount broker Charles Schwab, in a move that could trigger a bidding war for ETF investors, this week slashed its fees on its 15 ETF from 0.06% to 0.04%.
According to the website indexuniverse.com, company officials at Charles Schwab said it would bring the weighted average overall expense ratio of its EFTs down to 0.077%. All eyes on index tracker Vanguard, who built a reputation on low fees, to see whether it will follow suit.
Most managed funds charge around 1%.
According to the IndexUniverse, total U.S. listed ETF assets are now worth US$1.309 trillion.
2) Saving the 95%
The Association of Superannuation Funds of Australia, in its most recently released report entitled "Equity in Superannuation: The Real Issues" says the savings debate needs to be refocussed to secure retirement security for the masses.
The ASFA identifies five groups most at risk of saving deficiencies in old age.
The self-employed
Individuals on paid parental leave
Those under the $450 a month threshold for receiving the Superannuation Guarantee (SG)
Indigenous
Recently divorced men and women.
I expect a similar demographic is as vulnerable in New Zealand.
3) A new rule of thumb
Obviously your desired lifestyle in retirement will dictate how much you need to save for it however as a rule of thumb financial planners often suggest you'll need between 50 to 75% of your pre-retirement income (annually) to get by. Because of extended longevity, low inflation and other factors financial planners are revising their estimates. The following Wall Street Journal article reports that the new rule of thumb for retirement income planning is to target eight times your end-salary as savings.
Here's how that savings target breaks down by life stages:
"Getting there, however, will require that a worker save about one times his or her salary at age 35, three times his or her pay at 45 and five times the salary at age 55."
Remember, that's just a rule of thumb.
Here's a link to Sorted.org's retirement planning calculator.
4) Millionaire's row
After that scare, many of you are undoubtedly wondering how to make your fortune and fast. Sadly, no quick fixes for retirement savings deficiencies friends. That said hope springs eternal and it's never too late to up your personal finance game.
There are as many ways to become a millionaire as there are ways to skin a cat, although whoever came up with that expression seriously needs therapy.
Investopedia.com outlines three key considers on salary, saving and going solo.
5) Accidental entrepeneur
The following first person blog written by an accidental entrepreneur (who turned a simple on-line book sale into a booming business) may serve as an inspiration. If you read through to the end, the author offers up 10 lessons for start-ups.
Have a great weekend.
To read other Take Fives by Amanda Morrall click here. You can also follow Amanda on Twitter @amandamorrall