Playing your edge; Top three financial land mines in marriage; Beginner's guide to haggling; Freud on consumer exploitation; Bye bye bonuses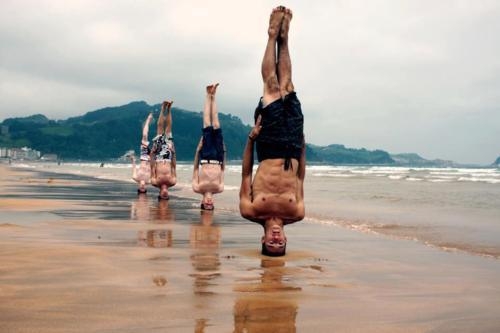 By Amanda Morrall
1) Playing your edge
In the yogi world, where I spend a fair bit of time hanging out, we often talk about "playing your edge.'' What does that really mean?
On the yoga mat, it means taking yourself to a point just beyond your comfort zone but within a safe limit. The fun, and scary, part is exploring and flirting with that edge. Usually what holds us back from taking ourselves to a new level is fear. Fear of falling on your arse in the company of others who probably couldn't care less. One of the many fascinating things about yoga is that in learning to overcome these fears, we build up the mental, emotional or spiritual fortitude to apply this courage or lesson to other spheres of life. 
For that reason, I enjoyed this blog from retirehappyblog.ca on "Feeling the fear, and doing it anyway. "
2) Money woes in marriage
"They" say money is the No.1 marriage killer. I won't quarrel with that statement. Money can be a major source of friction for couples and yet those couples who can communicate effectively and work together as a team stand a much better chance of resolving financial conflict.  This blog from worksavelive.com looks at the top three marital landmines where money is concerned and how to diffuse them. 
3) Beginner's guide to haggling
The ability to haggle is a great life skill. It's not my forte however I'm certainly not scared to ask for a discount. For those shrinking violets out there here's a beginner's guide to haggling from www.givemebackmyfivebucks.com
4) Freudian slips
Perhaps one reason why a lot more people don't haggle is that we're conditioned consumer robots. One of our regular readers from Wyoming sent me this link to a documentary with some psychological insights from Freud on this matter. Thanks Andy. 
5) Bye bye bonus
Working in journalism my entire career, bonuses were something of a foreign concept. Well that's not entirely true.  I once worked for a tabloid newspaper chain. At Xmas time, they trotted out some cash envelopes (the amount of which were based on years of service) along with a stiff rum egg nog.  It wasn't much but the token was appreciated nonetheless. That was 20 years ago. I haven't seen a bonus since. I guess it makes me that much more conditioned to accept their permanent loss. According to Mercer, those days are long gone for all but a few sectors. So too are salary hikes at pre GFC levels. Read 'em and weep.
Mercer's New Zealand Total Remuneration Survey of 190 organisations revealed that salary increases rose 3.2% up only marginally from 3% in 2011.  
Sarah Barnaby, Senior Associate in Mercer's talent business, said certain sectors and jobs are receiving above average pay rises, but the days of hefty pay package increases for all Kiwis are well and truly over.

"Employees should not expect pay rises of 5% or more - as seen before the recession, in fact 48% of organisations are giving staff less than a 3% pay rise and have no plans to change this.
To read other Take Fives by Amanda Morrall click here. You can also follow Amanda on Twitter @amandamorrall