Looking for money in all the wrong places; Top jobs for 2013; Is your smartphone eating your wallet?; Inheritance spending; P2P lending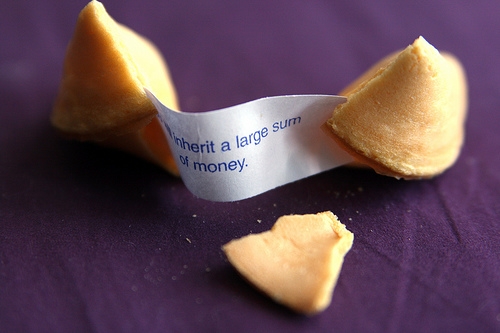 By Amanda Morrall
1) Wrong turn?
U.S. personal finance guru Ramit Sethi tears down the American dream and exposes all the empty holes in the conventional plan that says when you a) get an education b)get a good job c)get a wife or husband d) have 2.5 kids and house in suburbia (or a house anywhere for that matter) you'll be happy. The problem is, as Sethi correctly points, out far too many people take this well trodden path without questioning it and then arrive at their destination unfulfilled in mid-life.
Some good points raised here. Ramit's grown on me or maybe it's just because he thinks scrimping and saving and cutting out lattes is a waste of time. 
2) Career change 2013
Sethi is big on seeking out opportunities; either landing that dream job (or creating it), negotiating a higher salary, earning money through multiple income streams etc. Forbes Money put together a list of the top 18 jobs most in demand post GFC.  I expect there are some parallels here in NZ. Interesting to see personal financial advisors on the list in 18th place no less.
3) Smartphone eats wallet
In theory my wallet should have shrunk in proportion to my smartphone use. Perhaps it's just that I'm not taking full advantage of its capabilities. According to this New York Times piece, developments in smartphones will eventually eat your entire wallet. Great news as far as I'm concern, one less thing to cart around.
4) Inheritance spending
According to a recent study out of the U.S. around 50% people of all people who receive inheritances spend about half of it. Lesley Parker, writing for The Age, talks to managing director of ipac financial care Brendan Burwood about what they should probably be doing with that money instead of frittering it.
5) Peer to peer lending
Regulators here in New Zealand have yet to approve peer-to-peer lending although it shouldn't be too far off. In the U.K., where P2P lending has exploded in popularity as a alternative to using banks for saving and borrowing, the rules are finally catching up with this practice. The Telegraph reports here on how Zopa, RateSetter Funding Circle and Yes-Secure will be regulated by the new Financial Conduct Authority now.
The following video should put the middle class debate into perspective. We live in a land of abundance. Too bad we can't see it.