Can money really buy freedom?; Taming of the emotional elephant; Relationship deal breakers; Why invest in bonds; Teaching money in schools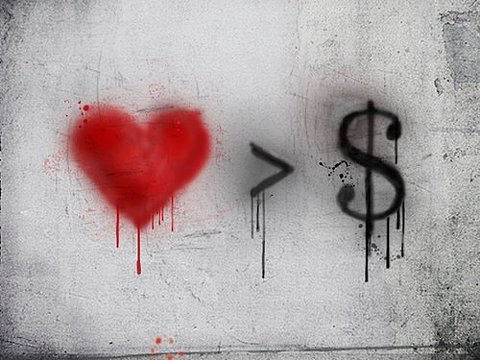 By Amanda Morrall
It's been an interesting week to say the least including six radio interviews in promotion of my new book Money Matters. Being the interviewee is a real novelty I have to say but I've enjoyed chatting with folks from around the country about everything from debt to love. One of the interviewers did a fine job in summarising the book's key themes when she said "the book is really a message of money, love and mindfulness." I think she was right on the money (forgive the pun) because money in isolation from the rest of our lives (the stuff that really matters) is quite pointless.
1) Does money=freedom?
For more philosophical banter about money, what it can and can't do and where you find yourself when you become financially independent, here's some thoughts from GetRichSlowly bloggers who gathered to contemplate the question of whether money can buy freedom.  
2) Taming of the elephant
Another blog that resonates with my views on behavioural financial can be found here at Wisebread.com. The author considers the conflicting impulses between mind and emotion and how self imposed restraints can effect better outcomes when it comes to conditioning consumer behaviour and responsible credit card use.
3) Deal breakers
Kids are quite often cited as deal breakers in relationships. No denying that's a biggie but another that rates highly, or should rate highly, is money. I'm not talking about quantity but rather how it's managed. Why? Because it turns out money is the No.1 relationship killer. This is something that came up in discussion during one of my interviews this week. The interviewer correctly pointed out that it's not exactly a romance building line of questioning asking about debt and credit card habits on a first date. Obviously the first date is not the time and place but if this is a conversation that gets permanently shoved to the sidelines, it's bound to create problems down the line.
I'm not the only one callous enough to say that sound money management is one of my deal breakers. Robert Brokamp from The Motley Fool shares his views on this one.
4) Money skills
The importance of money smarts and survival skills is finally coming home to roost in the school system. The Guardian reports here on how financial literacy is being incorporated into the curriculum in British schools. About time.
5) Bonds vs shares
There's a school of thought that says the appropriate allocation of equities is 100 minus your age. The idea being that as you grow older you want less volatility in your portfolio so you would move to a higher exposure of cash and bonds, as a fixed interest investment. Is this formula rocket science? Monevator takes a closer look at age appropriate asset allocation and the value of bonds.
To read other Take Fives by Amanda Morrall click here. You can also follow Amanda on Twitter @amandamorrall or at www.amandamorrall.com