An equities love story; Are you smarter than a hedge fund manager?; Financial separation; Work/family guilt; Money Matters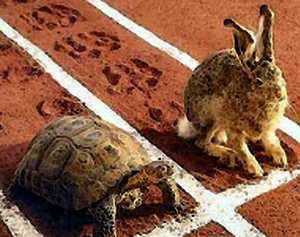 By Amanda Morrall
1) 500 days and counting
All good things must come to an end, right? When it comes to stock market rallies, history has proven this so many times over. And thus the current 500-day plus rally of the S&P500 (which has yet to see a 10% correction in that time) is the subject of great speculation among analysts, many of whom predict it's just a matter of time before it heaves. The Wall Street Journal relays the 500 day love story here.
2) Tortoise and hare
Andrew Hallam, writing for the Globe and Mail, looks at the competitive advantage of taking an index tracking approach to investing in his latest progress report on how his fund has fared against his risk taking, hedge fund admiring colleagues. 
3) Separation city
Whether you're ending a marriage or a long-term relationship where nuptials were not exchanged, the financial separation of assets and liabilities and joint obligations is hard work. Here's a financial check-list via the Wall Street Journal to help with the process.
4) Work/family guilt
Women specialise in guilt. At least I know many working mothers who do. In trying to manage both spheres of our lives, work and family, we're constantly berating ourselves for doing less than a perfect job at each. If guys suffer from this work/family life imbalance and the related guilt, they tend not to dwell on it or else keep it to themselves. The only time I tend to hear this topic raised is by those blokes whose marriages end up collapsing ostensibly because they spent too much time at work and not enough at home.
I don't see this as a gender issue so much as a societal problem. We have constructed our modern lives to make working and family life a hard ask. A very interesting piece here from the Harvard Business Review on the three C's that make it so; countries, corporates and culture. We need to tweak the formulas, some nations more so than others.
5) Money Matters
For those interested, the following is a link to my interview yesterday with Radio National's Nine to Noon show yesterday hosted by Lynn Freeman. 
And finally, effective this week, Take Five will be running every second day. That's by the request of the interest.co.nz. 
To read other Take Fives by Amanda Morrall click here. You can also follow Amanda on Twitter @amandamorrall or at www.amandamorrall.com