Follow your bliss; Generation treadmill; 7 point formula for making more money; Embracing old age; Sandberg's hard hitting advice for women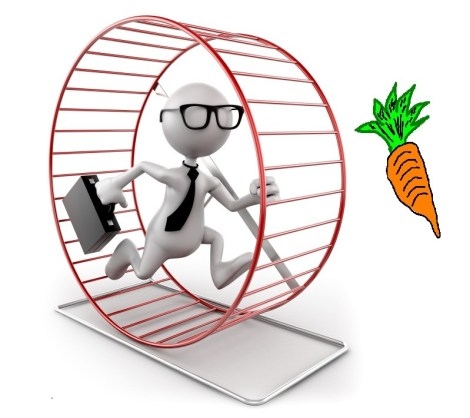 By Amanda Morrall
1) Follow your bliss
An occupational hazard of being a journalist (apart from developing gallows humour) is becoming a complete and utter cynic.
At one point in my career, when I was working for a tabloid, I reached new lows.
My level of cyncism became so harsh and toxic that a non-journalist friend decided to ostracise me and a few other journalists because we'd become unbearable to hang out with.  
The dangerous thing about having a negative outlook, when you suspect and anticipate the worst in others, is that it becomes habit forming and starts to colour your entire thinking.
It's also self sabotaging to the extent that it holds you back from doing and trying new things because you think "What's the point?" or "That's lame!" or "Who am I kidding.'' 
Here's a little brighter in the same spirit of finding your flow, (a concept I write about my in my book), by Kathryn Budig, an internationally reknown yogi.
In case you cynics out there decide to skip it, here's the great Joseph Campbell quote she opens with. 
"If you follow your bliss, you put yourself on a kind of track that has been there all the while, waiting for you, and the life that you ought to be living is the one you are living. When you can see that, you begin to meet people who are in your field of bliss, and they open doors to you. I say, follow your bliss and don't be afraid, and doors will open where you didn't know they were going to be."

Joseph Campbell in Reflections in the Art of Living: A Joseph Campbell Companion
 2) Generation treadmill
Yesterday I had the pleasure of chatting with a super friendly male model from the US. Poor me. This young Yank was working in a retail shop and after I confessed I wasn't going to buy anything, we starting talking North America. That conversation runs a line of questioning that includes: "How long have you been living here?", "Why did you move?" and "Are you happier here?" It's a typical conversation we "foreigners" have with one another. The big question that invariably follows is "Will you be staying?"
When this nice stranger explained to me that friends back home were eeking out an existence on US$6.25 an hour, the answer was pretty clear. Although he'd turned down a much higher wage of A$23 an hour in Perth to live and work in Auckland, he was pretty confident his long-term future was better by far here. 
And that's a long, round about way of introducing this Forbes article on how Generation X and Generation Y are stuck on a financial treadmill that will see them struggle to create comparable levels of wealth to their parents.
3) 7 point formula
At $6 an hour, I sincerely doubt it's possible to get ahead. Yes, it's easy to say follow your bliss and find your flow but that path will also require some concrete action to make some headway financially. Here's some practical steps via Brian Tracy who delivers a 7 point formula for financial freedom. It includes getting up early, writing out your goals and attaching actions to them, growing your knowledge, always reviewing and revising and asking questions. Specifically, Tracy suggests there are two magic questions you should pose after every meeting and "every event of importance in your life."
The first question is, "What did I do right?" And the second question is, "What would I do differently, next time?"
4) Golden oldsters
The imminent and exponential growth of elderly populations worldwide will pose major challenges for Governments worldwide. Adjusting our social attitudes will be no less significant that the financial wrangling involved, writes Guardian contributor Yvonne Roberts, commenting on a new white paper in the UK looking at how to deal with this demographic timebomb. 
5) Getting paid what your worth
Also from the Guardian,  an interesting piece on Facebook chief operating officer Sheryl Sandberg's new book "Lean In" addressing pay parity issues for women and the secret to success. In a nutshell, she says women need to sharpen their negotiating skills and demand more money.  
To read other Take Fives by Amanda Morrall click here. You can also follow Amanda on Twitter @amandamorrall or at www.amandamorrall.com