Opinion: Elizabeth Davies sees parents raising children on a diet of white collar crime, where it's 'only illegal if you get caught'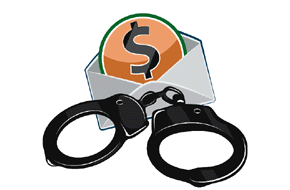 By Elizabeth Davies
Studylink is a dirty word, ask any student.
Everyone needs it, everyone hates it, but go without it for a week and you will sure as hell feel its absence.
It's like a hard drug addiction, you don't want to depend on it but you can't help it, you just can't function without it.

Studylink is the service that provides student loans, living cost loans and student allowances.
Notoriously disorganised, slow, rude and frustrating – Studylink is an ugly piece of furniture in almost every student's life.

I've never qualified for the student allowance, my parents earn too much. The system is designed to give a helping hand to those whose parents can't afford to assist them throughout their undergraduate degrees.
It's a system that I have nothing but respect for, but a system I've watched people blatantly exploit for the last six years.

I've watched wealthy self-employed parents lie about their incomes to secure their children 'free money'. I've even seen parents sign forms claiming they have no contact with their children, helping them secure allowances they are not financially entitled to.

I watched a member of my extended family take part in this and didn't bother to bite my tongue. I loudly voiced my anger.

As I worked three shifts a week at a minimum wage job and racked up thousands in debt, my taxes paid for him to have the luxury of not working so he could focus solely on his studies and not have the burden of financial stress.

But it's not just about me being bitter, it's the harsh fact that money isn't infinite, there's only so much to go around. By lying about his financial status he wasn't just stealing from me, and every taxpayer in the country, he was undermining everything the financial aid system was designed for.

If student allowance cases were properly investigated I'm sure it wouldn't be hard to prevent cases like this, but investigations cost money which is needed elsewhere.

There's no need to remind me how much student life costs and where those student allowances are being spent, no need to preach to the choir. The issue is that of honesty, or in this case lack-there-of.

It's a case of parents raising their children on a diet of white collar crime, where it's "only illegal if you get caught", and no one gets caught.
--------------------------------------------------------------------
*Elizabeth Davies is a 23 year old post graduate journalism student at Auckland University of Technology. She lives with her partner in Epsom and spends her free time refurbishing vintage furniture and attempting to bake while fighting a daily battle against her bank balance. She writes a weekly article for interest.co.nz on money matters and financial struggles from a young person's perspective.