Elizabeth Davies on lies and the career path as young people try to get established in the workforce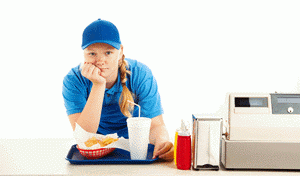 By Elizabeth Davies
"The amount of lies I've had to tell about my future these past few months is just staggering." My friends' words hit particularly close to home when she and I were recently discussing the painful and depressing catch 22 situation that is the 'for now' job.

I'm in the stage of my life where I'm looking for a 'career job' whilst working a number of part time 'for now' jobs in order to pay my rent and generally just support myself. I'm left torn between committing 100% to a job that I don't want to work in forever, or being honest about my future aspirations and therefore likely getting fired.

It seems like every job wants a long term commitment, a serious relationship so to speak. It's nice that people want to keep me around, it's flattering, kind of like being proposed to by a guy you've been dating casually for six weeks. It's a nice feeling but it's not quite what you were hoping for.

Employers don't want employees who are going to quit the second they get offered a job in their field. That being said, every recent graduate is working a job that they hope will eventually be replaced by something better. My career progression is not in my boss's best interest; in all honesty they would rather I resigned myself to a future in hospitality or retail. My friend put it particularly eloquently when she said; "It's such a hindrance that the job market essentially doesn't want you to think about progression".

Over the last couple of decades the number of university graduates has been steadily increasing each year, as a country our youth are aiming higher, wanting more, pushing harder. Whilst this is ultimately a really positive thing it does mean our workforce seems to be becoming more and more over-qualified. You may think it's flattering to be told you're over-qualified. It's not. It's incredibly depressing. These days when people ask what I do for a living I'm hesitant to answer, I eventually rattle off my multiple jobs and quickly follow up by explaining my university qualifications and talking about my aspirations for the future. I find myself simultaneously embarrassed and ashamed of being embarrassed.

As I get older and venture further away from my education I'm realising that in some cases honesty isn't necessarily the best policy. Actually it's a pretty unfavourable one. The trick is learning to lie just enough to scrape through, and then attempting to live up to that lie. If someone asks you what your plans are for the next year, if you intend to get a job in your field, you lie. You claim you are totally focused and committed to your McDonald's job, because no employer wants to hear that they are one (hopefully short) stop on the road to something better.
Then once you have the job you work really hard, you commit, you show up on time and you do the best job you can possibly do, all whilst quietly keeping an eye out and applying for other things. Just because you have a crap job, that doesn't give you an excuse to DO a crap job.

I love my jobs, I work really hard, and I'm happy to be able to pay my rent and not rely on anyone else. I hope that one day in the not too distant future I'll be able to get a full time job that is a little bit more relevant to my field of study. I won't apologise for that aspiration, though I will definitely keep it a secret if I have to apply for another 'for now' job.
----------------------------------------
*Elizabeth Davies is a 23 year old post-graduate journalism student at Auckland University of Technology. She lives with her partner in Epsom and spends her free time refurbishing vintage furniture and attempting to bake while fighting a daily battle against her bank balance. She writes a weekly article for interest.co.nz on money matters and financial struggles from a young person's perspective.