Beautiful summer weddings, plus the cost and size of them have captured Elizabeth Davies' attention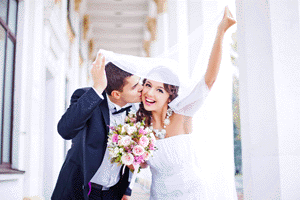 By Elizabeth Davies
It's officially wedding season, according to Facebook. A frightening number of people I'm 'friends' with are getting married, or at least attending beautiful, end of summer weddings.
To my boyfriend's horror I've started imagining what I'd like my big day to look like. I maintain that indulging in this fantasy is a basic human right for any woman aged from 9 to 99.

One could easily spend thousands upon thousands in an attempt to make their special day absolutely perfect. The reality is however that weddings aren't the same occasion that they once were. In most cases parents don't expect to have to pay for the ceremony, and the vast majority of parents are not in the financial position to do so, even if they wanted to. This means that a wedding can put a huge financial strain on a couple who either want to make things memorable for themselves, or feel the pressure to put on a big occasion for their guests.

People tend to get married later these days, and by the time they tie the knot they have been living with their partner for a number of years, there's no longer any need for the traditional gift of a toaster and, or monogrammed gravy boat. Many couples prefer to have a 'wishing well' where their guests anonymously give monetary gifts, making donations towards the couples' honeymoon or mortgage. The gift of money which may have once been considered crass is now merely practical.

Over the last few years a new kind of wedding has become increasingly popular. The destination wedding is a beautiful, romantic alternative to your traditional church ceremony. Once you're at a resort in Rarotonga your costs are relatively low. Most resorts have wedding packages which are great value for money, and it's not like you're paying extra for a beautiful venue, the crystal blue ocean is your backdrop.

There is however, the small matter of your guests. Most people who have destination weddings limit their guest lists and try to keep things small. This means that not only are guests expected and required to spend a couple of thousand dollars on flights and accommodation; it also means they feel too guilty to admit to not being able to afford the trip.

My sister and her partner are in the uncomfortable position of being part of the wedding party in a destination wedding. Realistically they can't afford to make the trip however, as there are only five guests they would be relatively conspicuous in their absence.

The destination wedding is sometimes labelled a selfish choice as it basically financially discriminates against your guests. You can imagine a best friend, or family member being forced to miss such a massive occasion simply because they cannot afford it.

I'm a big fan of the small wedding, and obviously sticking to a budget is really important, but if you're determined to have a destination wedding, don't be surprised or angry if none of your guests are able to attend.

By making a romantic choice for yourselves, you are making a huge financial choice for someone else, and quite possible triggering a touch of resentment.
--------------------------------------------------------------------
*Elizabeth Davies is a 23 year old post graduate journalism student at Auckland University of Technology. She lives with her partner in Epsom and spends her free time refurbishing vintage furniture and attempting to bake while fighting a daily battle against her bank balance. She writes a weekly article for interest.co.nz on money matters and financial struggles from a young person's perspective.