Elizabeth Davies looks at the 50c an hour increase to the minimum wage and wonders what it means for our 'rock star' economy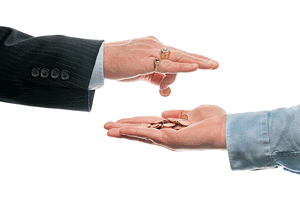 By Elizabeth Davies
From April 1st the minimum wage will increase from $13.75 to $14.25 an hour. Some would argue that the increase is impeccably timed, what better day than April Fools' Day to start a grand joke at the expense of New Zealand's ever growing population of working poor.

As one of my jobs is already slightly over minimum wage, this increase will translate to an extra $6 in my bank account each week. That's a whole Subway lunch meal, small drink and cookie included. Thank you Mr. Key and congratulations, you've provided low income families and working young people with an additional reason to resent you.

The Labour Party have been quick to reassure everyone that if they were elected they would raise the minimum wage to $15 within 100 days. The Green Party go further, wanting to bring everyone up to the living wage of $18.80 an hour. Labour leader David Cunliffe has declared the 50 cents increase "insufficient" and whilst I'm inclined to agree, I'm also aware that a drastic increase to the minimum wage wouldn't solve all of our country's economic woes. The massive financial consequences could mean job losses for young and unskilled workers. If I'm honest I'd rather have a badly paid job than no job at all.

Council of Trade Unions economist Bill Rosenberg said the 50 cents increase was "unfair given several years of stagnating wages, an economy that is starting to grow, and widespread concerns about how that growth will be shared". It seems everyone is talking about our growing economy and how everything is looking up. This increase doesn't seem to reflect that same optimism but rather seems like kitchen scraps, begrudgingly given.

According to Rosenberg, the National Party led government has raised the minimum wage 14% in the last five years, including the latest increase. After accounting for inflation, that's a 3% increase. Greens co-leader Metiria Turei said that translates to $2.25 an hour in the last six years. She went on to compare that figure to the Prime Minister's $35,500 a year salary increase over the same time. Obviously the jobs aren't comparable but the figures are still going to piss people off. It's a bit like me having to wait to get my tiny pay cheque two days late because my boss apparently doesn't have the money, then watching him drive away in his brand new Maserati.

Some people believe the minimum wage shouldn't have been increased at all, stating New Zealand's comparably high minimum wage as a valid reason. Our minimum wage is commonly compared to that of the states which is US $7.25 (about NZ$8.65). I've never been a big fan of the "but hey, at least we're better than blah blah blah" argument as a defence, and in some cases it just plain doesn't work.

One of the most common minimum wage industries in New Zealand is hospitality and the same can be said for the states. The one glaring difference between here and there is the cultural expectation of tipping. In New Zealand a tip is an incredibly rare gem, often given by foreigners who are blissfully unaware that we don't really do that here.
So yes whilst American servers have a lower minimum wage, they often earn more as tipping is culturally mandatory. They also see a reflection of their quality of work in their pay cheque. A good waiter earns more than a bad one. Whereas in New Zealand you can smile till your face hurts or completely avoid eye contact and make strange animal noises, and you're probably going home with the same amount of money – not a lot.

My reaction to a 50 cents an hour pay increase was an understated, "oh really? Cool", because in my position beggars can't be choosers and I don't really feel I have the right to complain. That being said, I have a tertiary education, no kids to feed, no credit card debt and I'm still in possession of my youthful, naive optimism that one day the minimum wage won't be so painfully relevant to my life.

If I were a 45 year old woman with three kids to feed, and a full time cleaning job I probably wouldn't be quite so nonchalant. I recognise the importance of striking a balance for minimum wage employees and employers, but it's increasingly difficult to ignore the huge numbers of New Zealanders living hand to mouth, hearing news of our "rock star" economy and wondering when the financial reward will be handed down the line.
-------------------------------------------------
Elizabeth Davies is a 23 year old post graduate journalism student at Auckland University of Technology. She lives with her partner in Epsom and spends her free time refurbishing vintage furniture and attempting to bake while fighting a daily battle against her bank balance. She writes a weekly article for interest.co.nz on money matters and financial struggles from a young person's perspective.