Yellow metal hits its biggest bump since July 2013 as a range of reasons coalesce to undermine investor precious metals support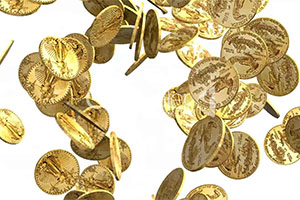 Gold dropped sharply in price today (Wednesday), falling more than US$40/oz and below a trigger point of US$1,300/oz.
Silver prices are down -5% on the day.
These are the largest single-day falls since July 2013.
But market analysts are just guessing when they try to explain why such a sharp fall, and why now.
Among the reasons advanced today are:
- China is on holiday, undermining a major source of demand for the yellow metal. But that holiday ends next week, so the idea is that gold may get some better support then,
- The UK currency is taking a pounding, removing some support from British purchasers,
- Wall Streets acceptance that the US economy is now strong enough to tolerate a Fed rate rise, and that probably means a higher US dollar (which usually means the gold price declines),
- A couple of non-voting Fed members came out overnight saying if they did have their turn to vote now, they would have dissented at the last FOMC to hold rates
- The +19% rise in the gold price since June has been overdone, and a correction was overdue,
- Gold is considered a traditional risk-off, "end of the world" trade and is often bought up aggressively by investors in times of stress. But we aren't anywhere near the end-of-the-world at this time,
- In addition to weak China demand, demand in India is weak as well. Investors there have better options than holding gold, especially after the RBI rate cut today,
- Western derivatives market returns have been poor for gold and as one analysts said today, "people are throwing in the towel". Remember, gold costs money to hold but provides no return other than a capital gain. If investors sense a capital loss, there is little point holding it.
- When prices fall, there are spruikers who jump in claiming "now is a good time to buy" - but this exhortion has been now used far too many times, so it could be generating a counterproductive market response,
- gold-backed ETF inflows were very low in September and that data just came out yesterday, making investors realise demand underpinning from this source is weak. That is important because in previous months, it has been the only major source of support,
- net sales volumes to retail investors in the US of gold and silver coins and bars fell 40 to 50% in the third quarter, according to Thomson Reuters, 
- UST yields are rising, and shifting quite quickly to an up-bias, and that undermines the attractiveness of gold for some investors,
- some investors have positioned for a rise in gold prices if Republican candidate Donald Trump wins the US election in November. They are selling options expiring before the election to buy options expiring after November 8. But Trump's falling prospects undermine this trade.
It seems likely that many of these reasons have dawned on gold investors all at the same time, causing a sharp and painful reassessment. The question now is, will the decline be repeated tomorrow?