The Little Black Book of Scams: Aggressive face-to-face pitches at your front door are often scams, pitching charity donations, investments or home services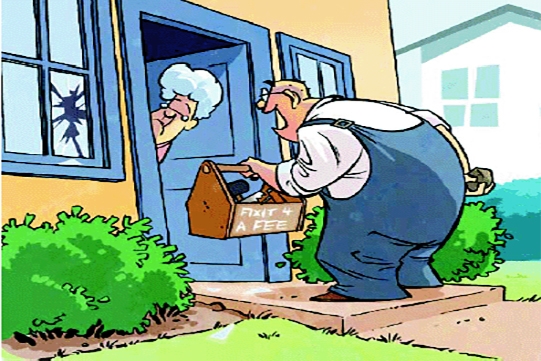 This is the seventh chapter in the Little Black Book of Scams.
---
Knock, knock! Who's there? A scammer.
Despite living in the digital age, there are still some old fashioned scams that come right to your door, posing a threat to you and to businesses.
With this trick, door-to-door salespeople use high-pressure tactics to convince you to buy a product or sign up for a service you don't want or need.
These aggressive pitches are often for charitable donations, investment opportunities or home services and maintenance of various appliances, like water heaters and air conditioners.
In many cases, you'll never receive the product or service promised. In others, the products or services are of poor quality or not as represented.
Tips to protect yourself
✔ Don't feel pressured to make a quick decision — take time to do some research on the seller and the products first.
✔ Ask for photo ID, get the name of the person and of the company or charity they represent.
✔ Ask for the charity's breakdown of where funds are allocated. Be sure to get this in writing.
✔ Never share any personal information or copies of any bills or financial statements.
✔ Only allow access to your property to people you trust.
✔ Research before you invest. Don't sign anything and always read the fine print.
✔ Know your rights. Contact Consumer Protection for more information on the Consumer Guarantees Act.
    www.consumerprotection.govt.nz
✔ Use a Do Not Knock sticker
    www.consumer.org.nz/articles/do-not-knock
---
Always report all scams.
---
*The full booklet is here. This chapter is re-posted with permission. You can also watch a video interview with the Commission for Financial Capability's fraud education manager Bronwyn Groot here.