The latest monthly Quotable Value data shows property values declining in Auckland and Queenstown with tentative signs of falls in Wellington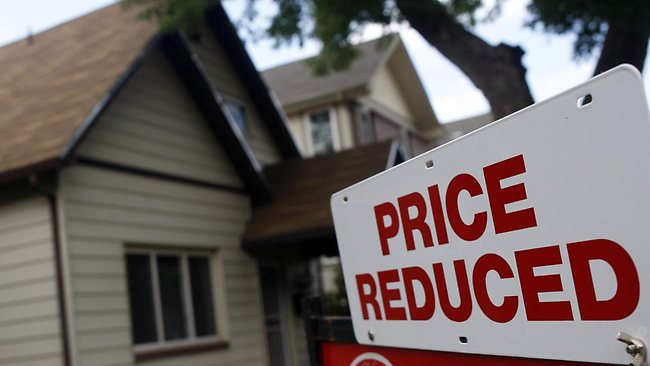 Average residential property values are slowly but steadily declining in Auckland and Queenstown, according to the latest valuation data from Quotable Value (QV).
QV says the average value of homes in Auckland has declined every month for the last seven months, from $1,050,647 in November last year to $1,027,113 in June this year. That means it's now 2.7% lower than it was 12 months ago.
The drop in values has affected most parts of Auckland, with average values in June lower than they were 12 months ago in all city districts except Papakura and Franklin.
The biggest annual declines in values occurred in North Harbour -4.9%, followed by Central Auckland -4.7%, Coastal North Shore -4.2% and Gulf Islands -3.6%.
Compared to June last year, average values were up in Papakura +0.9%, and Franklin +1.6%, although those gains were modest.
Queenstown-Lakes has followed a similar trend to Auckland, with the average value there falling for each of the last four months, from $1,204,828 in February to $1,173,692 in June, which was down 0.1% compared to June last year.
There are also tentative signs of property values beginning to ease in Wellington City, where the average value has fallen for the last two months in a row, from $831,614 in April to $827,125 in June, although values are firmer in the Hutt Valley, Porirua and Kapiti.
Around the rest of the country average values are mostly continuing to rise, although the rate of increase appears to be slowing (the table below shows the average property value and the three month and 12 month percentage change for all districts throughout the country).
The average residential property value across the entire country was $687,021 in June, up just 2% compared to a year earlier.
"Overall the New Zealand property market remains quiet with value growth continuing to slow," QV said in its June report.
"The rate of annual growth nationally dropped from 3.5% in June last year to 2.0% at the same time this year.
"The rate of quarterly value growth has dropped to 0.1%."
QV General Manager David Nagel said there was a lack of impetus in the market, as expected at this time of year.
"Demand remains steady and listings relatively low, resulting in stable market conditions but subdued value growth," he said.
"We anticipate this will continue over the coming months, with supply remaining fairly constrained and demand either staying flat or dropping slightly in many areas."
The comment stream on this story is now closed.
QV House Price Index June 2019

Territorial authority

Average current value $

12 month change%

3 month change %

Auckland region

          1,027,113

-2.7%

-1.2%

Wellington region

              709,803

7.9%

1.0%

Total New Zealand 

              687,021

2.0%

0.1%

 

 

 

 

Far North

434,354

5.7%

-2.6%

Whangarei

548,223

3.6%

0.4%

Kaipara

553,496

2.5%

4.1%

Auckland - Rodney

943,814

-1.3%

-1.0%

Rodney - Hibiscus Coast

916,817

-1.8%

-1.3%

Rodney - North

969,958

-0.9%

-0.8%

Auckland - North Shore

1,177,454

-3.9%

-1.7%

North Shore - Coastal

1,343,601

-4.2%

-1.4%

North Shore - Onewa

945,038

-3.0%

-1.9%

North Shore - North Harbour

1,149,620

-4.9%

-2.6%

Auckland - Waitakere

814,012

-1.5%

0.0%

Auckland - City

1,207,580

-3.3%

-1.9%

Auckland City - Central

1,046,191

-4.7%

-3.7%

Auckland_City - East

1,531,894

-2.4%

-0.6%

Auckland City - South

1,073,126

-2.9%

-1.9%

Auckland City - Islands

1,116,389

-3.6%

-0.7%

Auckland - Manukau

889,363

-1.5%

-0.4%

Manukau - East

1,135,413

-1.7%

-0.1%

Manukau - Central

687,217

-1.7%

-1.2%

Manukau - North West

776,791

-0.6%

0.0%

Auckland - Papakura

709,445

0.9%

2.6%

Auckland - Franklin

672,649

1.6%

0.1%

Thames Coromandel

752,046

2.4%

-1.8%

Hauraki

421,355

-1.6%

0.9%

Waikato

490,079

1.9%

0.5%

Matamata Piako

491,033

10.7%

3.0%

Hamilton

585,264

4.7%

0.9%

Hamilton - North East

731,945

2.7%

1.3%

Hamilton - Central & North West

539,740

5.2%

0.9%

Hamilton - South East

539,041

5.4%

0.7%

Hamilton - South West

520,948

6.8%

0.3%

Waipa

577,565

5.4%

1.4%

Otorohanga

362,612

27.0%

2.2%

South Waikato

257,829

22.2%

2.5%

Waitomo

227,797

8.7%

1.3%

Taupo

519,763

9.2%

0.9%

Western BOP

679,914

8.9%

5.0%

Tauranga

743,978

6.3%

1.5%

Rotorua

472,497

11.3%

0.0%

Whakatane

465,040

7.3%

-3.1%

Kawerau

268,491

27.5%

10.0%

Opotiki

319,605

17.7%

3.1%

Gisborne

352,586

14.0%

3.6%

Wairoa

N/A

N/A

N/A

Hastings

522,306

15.4%

2.0%

Napier

558,000

8.9%

0.6%

Central Hawkes Bay

388,872

14.3%

2.5%

New Plymouth

463,472

2.9%

0.4%

Stratford

283,969

6.3%

5.2%

South Taranaki

243,401

9.4%

2.7%

Ruapehu

220,366

12.7%

6.5%

Whanganui

290,509

13.9%

7.2%

Rangitikei

234,397

14.7%

1.0%

Manawatu

394,079

16.4%

9.6%

Palmerston North

445,586

14.0%

2.3%

Tararua

245,853

24.2%

7.9%

Horowhenua

377,029

18.5%

11.1%

Kapiti Coast

601,223

7.8%

2.5%

Porirua

598,270

6.8%

0.1%

Upper Hutt

562,771

15.0%

3.8%

Hutt

596,737

11.3%

3.6%

Wellington City

827,125

6.0%

-0.2%

Wellington - Central & South

817,716

5.7%

-0.6%

Wellington - East

883,480

6.2%

-0.8%

Wellington - North

758,916

7.5%

0.1%

Wellington - West

940,910

4.1%

0.3%

Masterton

385,213

11.3%

1.9%

Carterton

433,488

10.7%

2.0%

South Wairarapa

504,572

4.9%

-1.9%

Tasman

611,397

5.9%

2.1%

Nelson

624,307

7.1%

1.2%

Marlborough

488,970

5.2%

3.0%

Kaikoura

N/A

N/A

N/A

Buller

196,518

4.3%

2.6%

Grey

219,620

1.7%

2.3%

Westland

254,041

5.5%

-3.1%

Hurunui

386,968

0.5%

-1.8%

Waimakariri

450,548

2.4%

0.6%

Christchurch

499,934

1.0%

0.5%

Christchurch - East

377,834

1.5%

0.7%

Christchurch - Hills

678,967

1.0%

-0.3%

Christchurch - Central & North

589,618

1.2%

0.5%

Christchurch - Southwest

474,624

0.5%

0.6%

Christchurch - Banks Peninsula

522,414

0.2%

0.4%

Selwyn

557,014

1.7%

0.7%

Ashburton

358,188

1.6%

1.5%

Timaru

366,103

1.9%

-0.8%

MacKenzie

N/A

N/A

N/A

Waimate

270,052

10.2%

10.8%

Waitaki

320,901

5.5%

-0.5%

Central Otago

531,832

6.8%

2.2%

Queenstown Lakes

1,173,692

-0.1%

-2.2%

Dunedin

460,448

12.2%

2.0%

Dunedin - Central & North

476,285

10.9%

2.1%

Dunedin - Peninsular & Coastal

414,883

9.5%

0.6%

Dunedin - South

442,031

13.8%

2.3%

Dunedin - Taieri

479,561

13.5%

2.5%

Clutha

228,196

11.0%

-1.1%

Southland

318,578

14.1%

0.7%

Gore

236,227

8.2%

0.4%

Invercargill

300,130

13.3%

3.3%

Main Urban Areas

              790,389

0.7%

-0.3%