Overall sales rate of 48% at Barfoot & Thompson's latest residential property auctions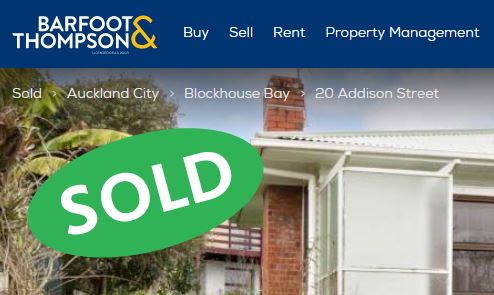 Auction activity eased back at Barfoot & Thompson last week, with the agency's auctioneers handling 93 residential properties compared to 120 the previous week.
The sales rate was also a tad softer with sales achieved on 44 properties, giving an overall sales rate of 48% compared to 56% the previous week.
At the major auctions where at least a dozen properties were offered, the sales rates ranged from 41% at the Shortland Street auction on October 2, where most of the properties were from the more expensive central Auckland suburbs such as St Heliers, Epsom, Glendowie, Ellerslie and Grey Lynn, to 55% at the big Manukau auction. The North Shore auction was in the middle with a 50% sales rate.
Just under 9% of the properties didn't face the auctioneer's hammer, with four being sold prior to their auctions, while three had their auction dates postponed and one was withdrawn (see table below for the full results).
Details of the individual properties auctioned are available on our Residential Auction Results page.
The comment stream on this story is now closed.
Barfoot & Thompson Residential Auction Results

30 September - 6 October 2019

Date

Venue

Sold

Sold Prior

Sold Post

Not Sold

Postponed

Withdrawn

Total

% Sold

30 Sept - 6 Oct

On-site

3

 

 

2

 

 

5

60%

1 October

Manukau

12

 

 

9

1

 

22

55%

1 October

Shortland St

1

 

 

3

 

 

4

25%

2 October

Whangarei

 

 

 

3

 

 

3

0

2 October

Shortland St

5

2

 

9

1

 

17

41%

2 October

Pukekohe

1

2

1

2

 

 

6

67%

3 October

North Shore

12

 

 

11

1

 

24

50%

3 October

Shortland St

5

 

 

2

 

 

7

71%

4 October

Shortland St

1

 

 

3

 

1

5

20%

Total

All venues

40

4

1

44

3

1

93

48%