Average housing values have increased by more than 25% over the last year in some rural districts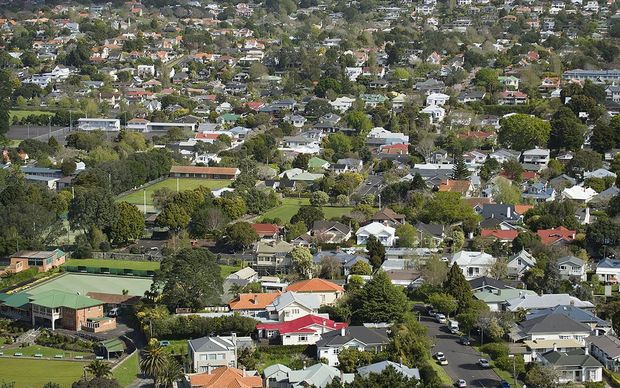 The average value of all homes throughout the country has increased by $55,834 over the last 12 months.
That's an average increase of $1073.73 a week.
According to the CoreLogic House Price Index, the average value of all dwellings in this country increased from $697,204 in October last year to $753,038 in October this year, giving an annual increase of 8.0% in the average value.
The figures also suggest the rate at which property values are rising is also increasing.
Over the three months to October the national average dwelling value increased by 1.9%, up from 0.8% over the three months to September.
Of the four main centres the biggest increase in average values was in Dunedin, which had annual average value growth of 14.0%, followed by Wellington City 8.5%, Auckland 6.2% and Christchurch 5.2%.
The increase in average values tended to be greatest in smaller towns and rural districts where property prices are usually a lot cheaper than the main centres, with many of them recording double digit annual percentage growth.
The biggest increases in average values were in Gisborne, Ruapehu, Rangitikei, Horowhenua and Clutha, which all had annual increases of more than 25%.
The only district where the average value was lower in October than a year earlier was Queenstown-Lakes, where it dropped by 4.3% over the 12 months to October.
The table below gives the average value of dwellings in all districts throughput the country, and the change over three and 12 months.
The comment stream on this story is now closed.
CoreLogic NZ House Price Index

October 2020

Territorial authority

Average current value $

3 month change 

12 month change 

Far North

506,293

3.7%

7.9%

Whangarei

597,861

3.3%

9.6%

Kaipara

619,132

2.5%

11.3%

Auckland - Rodney

990,415

0.3%

5.9%

Rodney - Hibiscus Coast

960,350

-0.2%

5.3%

Rodney - North

1,019,069

0.7%

6.4%

Auckland - North Shore

1,251,886

0.9%

5.3%

North Shore - Coastal

1,437,877

2.1%

4.7%

North Shore - North Harbour

1,200,288

-0.7%

6.0%

North Shore - Onewa

1,014,533

0.3%

6.6%

Auckland - Waitakere

876,333

2.2%

7.8%

Auckland - City

1,286,740

2.1%

5.8%

Auckland City - Central

1,126,005

2.5%

5.2%

Auckland City - Islands

1,182,691

4.1%

7.0%

Auckland City - South

1,153,875

1.8%

6.8%

Auckland_City - East

1,613,502

2.0%

5.5%

Auckland - Manukau

953,970

0.9%

6.9%

Manukau - Central

744,793

2.2%

7.1%

Manukau - East

1,218,619

0.8%

7.2%

Manukau - North West

831,186

0.5%

6.8%

Auckland - Papakura

747,431

2.5%

6.3%

Auckland - Franklin

718,027

1.9%

6.4%

Thames Coromandel

855,348

5.7%

11.9%

Hauraki

458,388

0.0%

6.2%

Waikato

542,204

1.3%

10.2%

Matamata Piako

511,664

-2.9%

4.6%

Hamilton

649,035

2.2%

9.6%

Hamilton - Central & North West

596,766

0.8%

9.0%

Hamilton - North East

800,804

3.4%

8.4%

Hamilton - South East

604,874

1.9%

10.7%

Hamilton - South West

582,058

2.0%

10.3%

Waipa

662,899

2.5%

10.5%

South Waikato

306,858

-4.6%

16.5%

Taupo

599,416

4.8%

8.5%

Western BOP

724,607

3.6%

9.0%

Tauranga

803,447

1.2%

6.1%

Rotorua

547,771

2.0%

11.4%

Whakatane

530,066

0.7%

9.6%

Kawerau

307,147

6.1%

22.9%

Opotiki

392,378

7.1%

8.4%

Gisborne

475,128

8.8%

25.5%

Hastings

601,880

1.4%

11.3%

Napier

622,357

0.6%

10.9%

Central Hawkes Bay

420,231

-4.0%

8.7%

New Plymouth

533,239

3.8%

10.8%

Stratford

350,245

-0.1%

14.0%

South Taranaki

298,306

2.9%

16.5%

Ruapehu

276,018

-1.8%

25.9%

Whanganui

378,123

1.8%

18.5%

Rangitikei

317,364

0.8%

25.7%

Manawatu

487,127

3.6%

15.9%

Palmerston North

541,619

5.0%

15.3%

Tararua

304,610

2.3%

25.7%

Horowhenua

452,216

1.9%

16.5%

Kapiti Coast

692,450

2.6%

13.0%

Porirua

736,173

5.7%

17.2%

Upper Hutt

673,576

4.5%

15.6%

Lower Hutt

710,865

3.5%

13.3%

Wellington City

910,940

1.8%

8.5%

Wellington  City- Central & South

894,453

0.9%

7.4%

Wellington City- East

994,601

4.6%

9.8%

Wellington City- North

838,098

1.7%

9.2%

Wellington City - West

1,034,793

2.3%

9.0%

Masterton

467,147

5.0%

17.2%

Carterton

501,341

3.6%

9.2%

South Wairarapa

621,620

6.8%

13.7%

Tasman

653,057

1.1%

5.8%

Nelson

675,280

1.9%

6.7%

Marlborough

553,129

6.4%

12.8%

Buller

213,163

3.1%

3.6%

Grey

228,131

-6.4%

3.4%

Westland

280,200

-2.4%

8.6%

Hurunui

426,344

4.9%

8.0%

Waimakariri

477,727

2.7%

5.5%

Christchurch

526,062

1.3%

5.2%

Christchurch - Banks Peninsula

550,912

1.9%

4.0%

Christchurch - Central & North

613,533

0.8%

5.0%

Christchurch - East

398,218

1.5%

3.8%

Christchurch - Hills

724,210

2.2%

8.1%

Christchurch - Southwest

501,119

1.4%

5.4%

Selwyn

573,200

0.9%

2.9%

Ashburton

384,998

0.0%

6.5%

Timaru

394,160

0.6%

5.4%

MacKenzie

571,601

-4.3%

5.2%

Waimate

281,264

-0.7%

7.1%

Waitaki

379,272

5.0%

15.0%

Central Otago

600,830

1.7%

10.5%

Queenstown Lakes

1,150,718

-1.2%

-4.3%

Dunedin

554,420

0.7%

14.0%

Dunedin - Central & North

565,506

0.3%

12.2%

Dunedin - Peninsular & Coastal

503,208

0.1%

12.0%

Dunedin - South

534,540

1.8%

15.4%

Dunedin - Taieri

580,225

0.3%

15.6%

Clutha

312,582

3.9%

28.5%

Southland

368,501

-2.4%

13.5%

Gore

291,610

0.3%

16.1%

Invercargill

362,380

0.1%

13.7%

 

 

 

 

Auckland Region

1,093,405

1.5%

6.0%

Main Urban Areas

859,484

1.8%

7.5%

Wellington Region

811,099

2.8%

11.1%

Total NZ

753,038

1.9%

8.0%