Ross Stitt compares Australia's growing build-to-rent sector to the development of a similar sector in New Zealand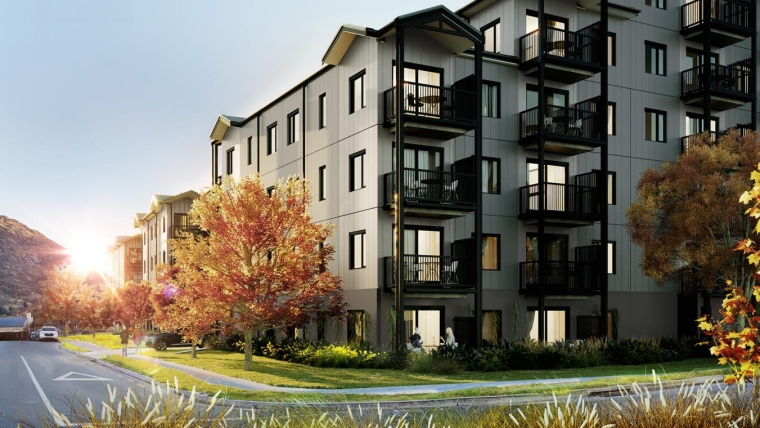 By Ross Stitt*
Australians and New Zealanders have much in common. From an investment perspective, one of their less appealing similarities is an obsession with residential property. House prices have long been a favourite topic of conversation on both sides of the Tasman.
The downside of this obsession is a housing affordability crisis in both countries that makes home ownership an increasingly unattainable goal for many people. While most Australasian politicians still publicly champion home ownership, there are signs of a growing realism that more and more people will rent all their lives.    
One such sign in Australia is the recent rapid growth of the 'build-to-rent' residential market and the promotion of that market by tax concessions.
Build-to-rent (BTR) refers to multi-unit property developments by institutional investors where the units are built for the purpose of long-term residential renting through a single ownership structure. The objective is a stable long-term return from a combination of rental income and capital appreciation.   
The much larger 'build-to-sell' market involves the building of units to sell to individual owner occupiers or 'mum and dad' investors.
Some state governments in Australia are seeking to actively promote the BTR market. They perceive a range of potential benefits. One obvious one is the stimulation of the construction industry at a time when the Covid-19 pandemic continues to drag on the economy. Another is that while new BTR units might not prevent the inexorable rise of house prices, the additional supply of housing might at least temper that rise. In addition, it should relieve pressure on rents.
Participants in the sector claim that BTR buildings can offer secure, long term tenancies in good quality apartments with professional property management. These features do not always apply to single, individually owned rental properties.
To date the primary governmental tool for encouraging the BTR market in Australia has been land tax concessions. Both New South Wales and Victoria have halved the land tax impost applicable to qualifying BTR properties. For example, the concession applies in NSW to properties in metropolitan areas with at least 50 units, subject to a claw back if the property is subdivided within 15 years. NSW has also introduced an exemption for BTR projects from the foreign investor surcharges that normally apply for land tax.
The Queensland state government has adopted a different approach by providing a targeted rental subsidy through its 'Build-to-Rent Pilot Project'. The objective is for the government to partner with the construction industry in the development of affordable rental housing using the BTR model.  
The global commercial real estate services group CBRE issued a report on the Australian BTR market in February. That report said that the pipeline for BTR had expanded by 68% over the previous year, "with 40 projects and the total number of units approaching 15,000". According to CBRE, the aggregate size of the market at that time was in excess of $10 billion with a further $3.5 billion of projects under consideration. 
While these numbers are impressive, the reality is that the BTR market in Australia is tiny as a proportion of the overall housing market. It is still in its infancy compared to many other developed countries.
Home ownership has always been much lower in most European countries than in Australia. There is a much higher level there of lifetime renting and the institutional ownership of apartment buildings.
In the United States, more than a third of renters live in BTR properties, or 'multi-unit rental communities' as they are known there. That is more than 10% of the US population. If just 1% of the Australian residential market was BTR, that would equate to $70-80 billion. The scope for growth is clearly enormous. 
So what's happening in New Zealand?
There have been a couple of BTR developments such as the one at Hobsonville Point but the sector is much less active than in Australia.
BTR has been on the Ardern government's radar for a couple of years. Former Housing Minister Phil Twyford raised the possibility of the government facilitating BTR development back in 2019.
Last August, Housing Minister Megan Woods told a Property Council NZ conference that "build-to-rent can offer some really good solutions" and that "the next big policy priority is making sure we're putting in place the measures to stimulate that market in New Zealand". However, there has been little sign of stimulation to date.
In fact, there are concerns that the government's changes to interest deductibility on property investment could kill off BTR altogether. Property Council NZ has specifically requested the government to exempt "this dynamic new asset class" from the deductibility changes on the grounds that they would "make it much more difficult for Build-to-Rent's potential to be unlocked".
Just last Monday, the ACT Party announced that it "would remove barriers to finance build-to-rent schemes".  In particular, it said that it would provide exemptions from the Overseas Investment Act for foreign investors in build-to-rent residential projects and would "abolish any changes to the interest deductibility tax rules".
The benefits, according to ACT, would be to "super charge building and development" and to "deliver more choices and opportunities for New Zealand renters".
Environment Minister David parker claims that tweaking the Overseas Investment Act is unnecessary and would just open the door to "overseas speculators".  
If the Australian BTR experience is any guide, foreign investment is an important issue. The Australian Property Journal noted in February that "international investors are increasingly showing greater appetite for the asset class in Australia".  
For example, Greystar Real Estate Partners, a US specialist in the BTR sector, has established the $1.3 billion Greystar Australia Multifamily Venture I fund to invest in Australian BTR projects. Investors include the Dutch APG Asset Management and Canada's Ivanhoe Cambridge. The fund is expected to deliver 5,000 plus housing units.
Another Canadian investor, Oxford Properties, is partnering with Australian Investa Office Management on a 702 apartment $450 million BTR project in Melbourne. The pair recently announced that they are looking to develop 5,000 BTR units under the 'Indi' brand.
The trajectory is clear. There is significant demand among global investors for BTR developments in Australia. Local developers and construction companies, aided by state governments, are moving quickly to meet that demand.
In Australia at least, the future of the BTR market looks secure.
---
Ross Stitt is a freelance writer and tax lawyer with a PhD in political science. He is a New Zealander based in Sydney. His articles are part of a new 'Understanding Australia' series.