Sales rates at the latest auctions ranged from zero in Waikato to 51% in Canterbury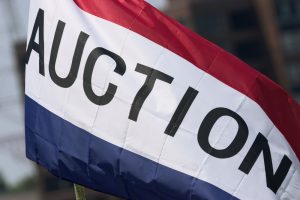 More properties were offered at auction last week but the overall sales rate declined to just over a quarter.
Interest.co.nz monitored 258 residential auctions around New Zealand last week (14-20 May), up from 182 the previous week.
Of those, 69 properties were sold under the hammer, giving an overall sales rate of 27%. That was down from 31% the previous week.
Apart from Central Otago-Lakes, where auction numbers were extremely low, Canterbury remains the most buoyant market for auctions, with the sales rate there just squeaking past the halfway mark at 51%.
Leaving aside Southland where just one auction was monitored, the lowest sales rate last week was in the Waikato where none of the properties auctioned sold under the hammer.
Details of the individual properties offered at all of the auctions monitored by interest.co.nz, and the results achieved, are available on our Residential Auction Results page.
The comment stream on this story is now closed.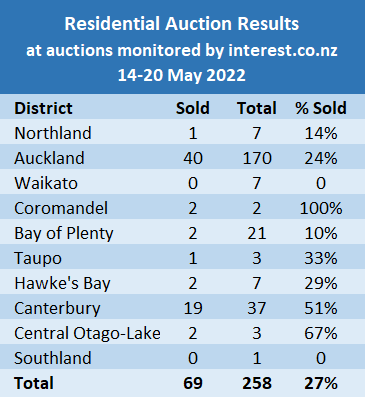 You can have articles like this delivered directly to your inbox via our free Property Newsletter. We send it out 3-5 times a week with all of our property-related news, including auction results, interest rate movements and market commentary and analysis. To start receiving them, register here (it's free) and when approved you can select any of our free email newsletters.