QV says house prices down 2.0% from a year ago; 5.9% down from late 07 peak; Recovery shortlived with prices sliding in March. What are you seeing?
By Bernard Hickey
Government-owned property valuer Quotable Value (QV) said prices were generally steady in March, but a recovery evident early in 2011 now looked to be shortlived because prices slid back again in Auckland and Wellington in March.
"Over the last twelve months nationwide values declined gradually through until December before becoming a little more variable in the months since. As a result values are now 2.0 percent lower than the same time last year, and 5.9 percent below the market peak of late 2007" said QV.co.nz Research Director, Jonno Ingerson.
"The levelling of national values in the last few months was largely driven by a slight recovery in values in Auckland and Wellington, offsetting the continued declines in provincial and rural areas. These first signs of a possible recovery in values were short lived as both Auckland and Wellington slid back again in March." Ingerson said.
QV's figures contrast with those from Auckland's biggest real estate agency chain, Barfoot and Thompson, which reported sharply higher volumes and prices for more expensive houses in March. See our article from last week's Barfoot and Thompson figures.
"With the uncertainty created by the Christchurch earthquake, and the low level of sales activity in previous months, it is reasonable to expect that there may be some volatility in the market for a few months" he said.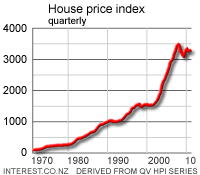 "There was a lift in activity in March, particularly in Auckland and Wellington, after a quiet January and February. First home buyers are back looking in the more affordable areas perhaps buoyed by lower interest rates. However many buyers remain non-committal, knowing that there is limited competition and that values are not expected to rise significantly in the short term. Good quality properties continue to attract interest and sell at the value expected."
Ingerson said there was strong interest for well priced quality homes in suburbs that were not affected by the earthquake. This was also the case in the Waimakariri and Selwyn townships, along with an increase in demand for vacant sections. See more here from Harcourts figures for Christchurch in March.
The average New Zealand sales price over the last three months was NZ$400,656, down from the NZ$411,712 reported last month. QV's price index measures 'like for like' sales, whereas the average simply a pure average of prices and doesn't take into account the 'skew' from more expensive or cheaper houses selling.
Provinces down
None of the provincial centres have values above the same time last year, according to QV.
Compared to this time last year Whangarei is down 6.2%, Rotorua is down 4.2%, Gisborne is down 6.0%, Hastings and Napier were both down 1.5%, New Plymouth was down 3.7%, Wanganui was down 3.6% and Palmerston North was down 4.0%.
In the South Island Nelson has one of the strongest markets and now sits level with last year, while Queenstown Lakes is 1.7% below last year and Invercargill is down 3.4%.
Sales figures from the Real Estate Institute of New Zealand are due out on Thursday.
(Updates with charts, details, links to Harcourts and Barfoot and Thompson figures)