Biggest risk to NZ economic recovery is Aussie housing market and slowing Aussie economy, NZIER warns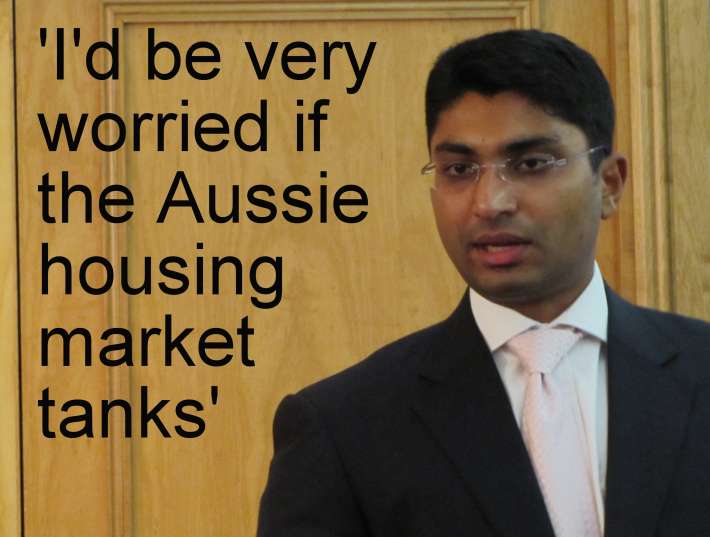 The biggest risk to New Zealand's economic recovery is if a faltering Australian housing market causes growth to slow in our Tasman neighbour, NZIER principal economist Shamubeel Eaqub says.
Eaqub was speaking to a group of media and economists after releasing the NZIER's June Quarterly Predictions, which said the domestic recovery was taking hold in New Zealand, with growth forecast to jump from 0.3% this year to 3.7% in 2012, boosted by rebuilding activity in Christchurch.
The big risks to the recovery were global events, such blowup of the sovereign debt crisis in Europe, or his "biggest concern," a slowdown in the Australian housing market, Eaqub said. Australia is New Zealand's biggest trading partner.
"A slowdown in Australia would make me very, very nervous," Eaqub said.
Because growth in Australia and New Zealand was closely correlated, an Australian slowdown would "really be an issue to us".
Meanwhile, commenting on the New Zealand housing market, Eaqub said he would like to see activity "broaden out" into the regions, instead of there just being a strong housing market in Auckland.
Not rebalancing enough?
Eaqub also expressed concern about the structure of the economic recovery, saying there was evidence the New Zealand economy was not rebalancing as much as expected. New Zealand's external liability position was looking bad three years down the track, with the problem being private sector debt. Whatsmore, NZIER was predicting New Zealand's current account balance to blow out to 8% of GDP over the next few years.
New Zealand's current account deficit was 2.3% of GDP for the year ended December 2010, while net external liabilities were NZ$159 billion, or 81.7% or GDP.
"We're still quite indebted," Eaqub said. A sustainable rate of external liablilities would be around 60% of GDP.
"We haven't made as much of a correction as we should have," he said.
"We're really stuck in no mans' land right now."
New Zealand did not want to be in the situation Greece currently finds itself in where an outside body - in Greece's case the IMF - told the government how to collect taxes.
There was also the problem that the government's budget released on May 19 did not detail how New Zealand would deal with the growing costs of an ageing population - such as healthcare costs - as the baby boomer generation retired.
Deleveraging to continue
Household deleveraging was set to continue, while people's financial situations were still quite tough. Reduced discretionary spending would continue to hurt the already-hit retail sector.
"The deleveraging story has been very powerful," Eaqub said.
"Households are not borrowing as much as they were."
Inflationary pressures in the wings
Eaqub sounded a warning that inflationary pressures were about to start flowing through from businesses that had not been increasing prices as much as they had wanted to over the last few years, instead deciding to take a hit on their margins.
"Business margins have been under considerable pressure over the last few years," Eaqub said.
"There is a fair bit of pent up inflation that's sitting out there in the business community," he said.
Those inflation pressures meant NZIER believed underlying economic growth - that which excludes the Christchurch rebuild - was in the range of 2-2.5%, rather than upwards of 3%. That underlying growth would be "very sustainable," with the economy able to handle it without taking on too much extra debt.
The NZIER thought the Reserve Bank would be able to hold off lifting the Official Cash Rate until the start of 2012, but it would then have to hike to about 4% over the year, from its current record low of 2.5% as inflation pressures flowed through from the rebuilding of Christchurch.
On the Christchurch rebuild, Eaqub said the drop off in demand in Christchurch had not been as large as expected, with business demand pulled out of the CBD and into the subburbs.
Spare capicity out there
On the unemployment situation, Eaqub said NZIER considered there to be some spare employment capacity in the labour force, due to levels of under-employment and part-time employment. In terms of spare capacity, the unemployment rate was more like 11%, not the 6.6% currently.
That spare capacity would put downward pressure on income growth.
"Income growth will come through working more hours," Eaqub said.
In the May Budget, Treasury forecast income growth over the next three years would be about 2% above inflation as private sector demand for workers picked up.
Manufacturing feeling the heat, but rural ok
Growth in export volumes was encouraging, although less so was the small contribution to this growth from manufactured goods, as primary goods continued to dominate.
"We still have a problem in terms of how that manufacturing sector is growing," Eaqub said.
A high New Zealand dollar was a hinderence, and would hurt the exporting sector, bar rural exports. The rural sector was "too strong right now in terms of prices to be bothered by the exchange rate".
The New Zealand dollar hit of post-float high of 82.6 US cents yesterday on the back of improving business confidence figures.