Realestate.co.nz says NZ property market in 'active summer season' after jump in listings in Nov following RWC; Asking prices ease from Oct peak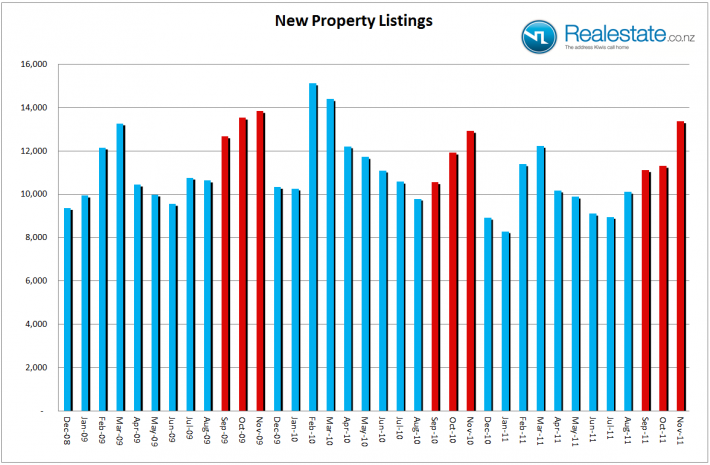 An 18% surge in new house sales listings in November from October indicates sellers were reluctant to place their houses on the market during the Rugby World Cup, and that the 'active summer season' has begun, realestate.co.nz says.
In its latest monthly NZ Property report released Thursday morning, realestate.co.nz CEO Alistair Helm said the strong surge of new listings on to the market gave variety for prospective buyers, who had been active over the winter and spring months.
However the market still favoured sellers, Helm said.
"With this new flow of listings has come what can be considered to be a confident position by sellers on asking price which whilst slipping slightly in the month, continues to show a slow but steady increase over the past few years," Helm said.
The truncated mean asking price in November was NZ$425,956, down from NZ$434,161 in October.
"This confidence on the part of sellers is certainly supported by the rate of sales of property which is being shared by real estate agents in their daily contact with the public, and can also be seen in traffic to online listing sites which has seen an aggregated increase this year of 6% with over 187,000 daily visitor sessions across all sites (Nielsen Online)," Helm said.
From the November report:
 

Asking Price

The truncated mean asking price of $425,956 for all new listings in  November eased slightly from the peak in  October  of  $434,161. On a seasonally adjusted basis the asking price fell 2% indicating that whilst expectations  are rising the rate of increase is not as high as seasonal factors would expect.

The long term trend as seen in the chart has been a steady increase in asking price over the past 3 years – the seasonal trend each year tends to see asking prices rise through from mid winter to October before falling back.

New Listings

The level of new listings coming onto the market in November rose on a seasonally adjusted basis by 17%. A total of 13,369 new listings came onto the market representing a 3% year-on-year rise. On a 12 month moving total basis the number of new listings in the past year totals 124,412 as compared 140,214 for the same period a year ago – a fall of 11%.

Inventory

The level of unsold houses on the market at the end of  November turned down slightly in what was a somewhat unexpected trend. At the end of the month there were 48,647 houses, apartments and lifestyle properties on the market  barely up from 46,597 in  October and down from 54,365 a year ago. This current level of inventory represents 38.1weeks of equivalent sales.