Greens call for govt to ramp up state house building programme to cover for woeful NZ building activity ahead of quake rebuild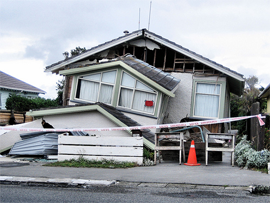 The Green Party is calling on the government to ramp up state house building in order to keep skilled construction workers from leaving New Zealand ahead of the Christchurch rebuild.
Figures released by Statistics New Zealand this morning showed residential building activity at its lowest point in 18 years in the September quarter.
"This coincided with consents issued for new homes also hitting a near-record low earlier in 2011. Building consents issued indicate the intention to build, and building activity estimates the work that was put in place," Stats NZ said.
"This survey of building activity is designed for accuracy at the national level, not regionally. However, to assess the effect of the 2010 and 2011 Canterbury earthquakes, we investigated building activity in the region and compared it with the rest of the country in the September 2011 quarter," it said.
"Overall building activity in Canterbury appeared to have a similar drop as in the rest of New Zealand. However, residential building work in the region seemed to have fallen, while the rest of the country had a small increase," Stats NZ industry and labour statistics manager Louise Holmes-Oliver said.
'Build state houses'
Green Party co-leader Russel Norman said in light of the figures, the government should invest in state housing construction in a bid to boost the sector.
"The National Government is asleep at the wheel when it comes to the building sector. They risk losing capacity and skills from the construction industry while they wait for the Christchurch rebuild to get underway," Norman said.
"Losing more skilled labour to Australia would be a disastrous outcome for the Christchurch rebuild. A smarter way forward would be to smooth the contraction by investing in state and community sector housing construction, bridging the gap between the current downturn and the Christchurch rebuild," he said.
"Expanding the supply of state housing now would increase the stock of housing in the market, limiting the possibility of another housing price spike caused by a lack of supply."
Norman said the Green Party had costed plans to build an additional 2,000 state and community sector houses before the rebuilding of Christchurch got underway. The initiative would cost NZ$670 million and employ 3,100 directly — creating 9,300 jobs in total if indirect and upstream employment effects were included, Norman said.
See and compare the Green Party's housing policy in our party policy section here.
"There's a huge shortage of rental accommodation, especially in Auckland. The building of an additional 2000 new energy-efficient state and community sector houses nationally would help rents become affordable and give more families the security of a place to call home," Norman said.