QV says November nationwide residential property values up 1.7% year-on-year, down 4% from 2007 peak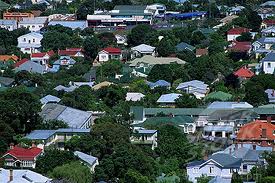 Quotable Value (QV) says nationwide residential property values in November were 1.7% higher than a year earlier and 4% below the 2007 market peak, but Auckland prices were up 3.4% year-on-year, and 0.6% from the 2007 peak taking them to their highest level ever.
QV, the state-owned valuer, said the average New Zealand sales price over the last three months was NZ$390,921, down just under NZ$7,000 from NZ$397,805 in the same period of last year.
Jonno Ingerson, research director at QV.co.nz, said national property values have been gradually increasing since April, driven initially by Auckland and Christchurch. However, over the past three months values had started to rise in other main centres, and in many provincial and rural towns.
"In most of the main centres there has been an increase in new listings as sellers who were waiting for the rugby world cup and election to pass are now putting their properties on the market," Ingerson said.
"This potentially gives a greater choice for buyers, however many remain cautious in their decision making and are not rushing to purchase. First home buyers are remaining active and are driving the lower to middle range of the market."
Auckland isthmus prices up the most
In Auckland the biggest value rise stems from the old Auckland City which is up 4.7% annually with an average sales price over the three months to November of NZ$577,774. Auckland City values are 2.5% above the previous market peak.
On Monday Barfoot & Thompson, Auckland's biggest real estate agency, said it sold 894 houses in November, up 23%  from October and up 34% from a year ago. Barfoot said the average price for the month was NZ$567,489, up 2.5% from October and up 2.5% from November 2010.
The Real Estate Institute of New Zealand's November sales figures are due out next week.
QV's Glenda Whitehead said first home buyers were a "sizable proportion" of those active in the Auckland market.
"This is driving demand and value levels in the lower to middle value end of the market," Whitehead said. "Late spring listings have added more option for buyers but this means they need more time to look at the wider range available to them. This trend is evident on the North Shore, where the first home buyers market was buoyant before the election and has since slowed."
In the south east Whitehead said most entry level priced proprieties had been bought by first home buyers rather than investors.
"In the past couple of weeks, there has also been a noticeable increase in listings which may help the supply and demand levels to balance out, and prices level off."
'Investors coming back' & 'subdivision activity rising'
Meanwhile, demand remained strong for well presented properties in good locations. Furthermore, investors were starting to come back to the market, albeit with very "definite" demands.
"Some are looking to buy, upgrade and on-sell at a healthy profit (the traders), often taking advantage of continued levels of mortgagee sales. Others require a definite positive cash flow return. The latter is often achieved by creating additional revenue from properties such as converting existing garages to sleep-outs or a further self-contained unit" Whitehead said.
"In the West, there has been a noticeable increase in activity in recent weeks. Properties in the NZ$280,000 to NZ$420,000 range are now in demand. There also appears to be an increase in the level of subdivisions activity, with developers seeking titles to individual sites to either sell now or build upon prior to selling."
The average sales price for the Auckland region in the three months to November was NZ$513,792, she said. Although that's down from NZ$526,659 a year earlier, QV says it's up 3.4% over 12 months based on the QV index.
QV says its Residential Price Index is calculated using sales data from the 3 months leading up to the month being reported. It is therefore not the same as the average sales price, which fluctuates in line with the mix of properties selling in upper or lower price brackets.
Values in Hamilton are 0.3% below last year. In Tauranga they're 0.4% above last year. QV says, however, in both cities there is little sign of real strength in the property market, with both 11% below the market peak.
Meanwhile, values in Wellington are only 0.4% below the same time last year but 6.9% below the previous market peak.
Christchurch value rise continues
Christchurch values continue to rise, driven by demand for non-earthquake damaged houses, especially in the northern and western suburbs. Values are 3.6% above last year and just 1.7% below the 2007 market peak. Surrounding areas have also continued to rise in value with Waimakariri District up 6.9% and Selwyn up 5.3% over the year, with both areas now "well above" the previous market peak.
In Dunedin values are up 2.4% over the past three months, but still 0.2% below the same time last year and 6.1% below the previous peak.
"There looks to be a late spring surge in market activity which is likely to continue up until Christmas, then pick up again in earnest in February," said Ingerson. "The strength of this activity will depend to some extent on how economic events pan out in Europe".
In the provincial centres he said Whangarei, Gisborne and Nelson have increased in value the most over the past three months.
"With the exception of Wanganui which is 6.3% below last year, most other towns are either close to or only slightly below last year's value. The exception is Nelson where values are 3.2% above last year."
See QV's full press release here and its residential monthly price index here.