Multi-billion dollar costs of earthquake strengthening and higher insurance premiums beyond Christchurch only now dawning on landlords, tenants and insurers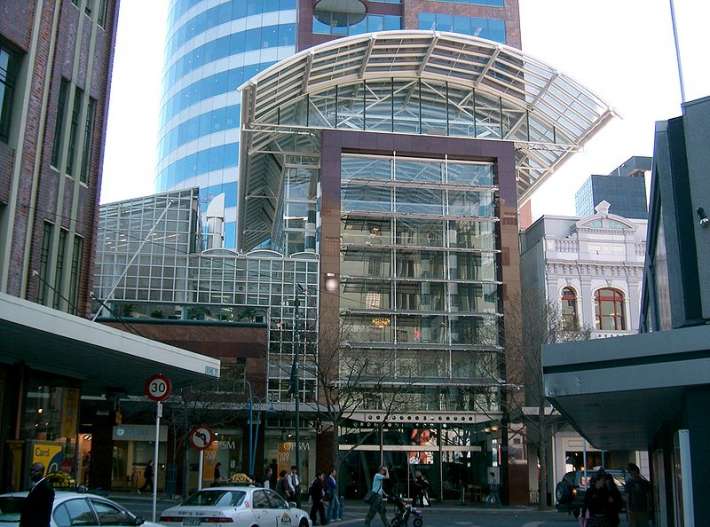 By Alex Tarrant
A year on from one of New Zealand's most devastating earthquakes, it is only now dawning on property owners, tenants, valuers, their bankers and insurers all around the country that they face many billions of dollars more in rebuilding, relocation, revaluation and insurance costs in the years to come.
The NZ$30 billion cost of rebuilding Christchurch now appears to be just the first hit for the New Zealand economy as the cost of assessing, rebuilding and reinsuring earthquake-prone buildings ripples up and down the rest of New Zealand's main streets.
Councils, government departments, hospitals, commercial property owners and property trusts face billions of dollars in repair and rebuilding costs, adding to the doubling and trebling of their insurance costs. The government, individual investors and their banks also face revaluations of their equity levels and loan collateral. The value of some earthquake prone buildings has halved in recent months.
One initial estimate puts the cost of rebuilding and strengthening the stock of low-rise unreinforced buildings outside of Christchurch at NZ$2.1 billion, but real estate agents, landlords and insurers have told Interest.co.nz this estimate may just scratch the surface and the property sector has only just started started to assess the likely costs in years to come.
In the wake of the Canterbury earthquakes of 2010 and 2011, engineers, council building inspectors and insurance assessors have been re-evaluating how earthquake proof individual buildings are under the New Buildings Standards (NBS) code set by the recently updated Building Act of 2004. Buildings deemed to be less than 33% of the NBS code are considered not safe, while engineers recommend buildings be at least 67% of code. Some tenants are now demanding higher than 67% of NBS.
Surprisingly, many of the buildings requiring the most work were built in the last 25 years and some are high rise buildings where tenants are demanding higher degrees of safety and code compliance.
The earliest signs of this coming wave of reassessments and property revaluations have come from Wellington, where Kiwi Income Property Trust announced in November the capital's tallest (and one of its newest) high rise office blocks, the Majestic Building, would require NZ$35 million of strengthening work. Decisions to close buildings at the Newtown, Clyde Quay and South Wellington Intermediate schools also highlighted the potential scale of the problems. See more here at Stuff.
Porirua City Council said it late January it would have to consider rebuilding its non-compliant main administration building at a cost of NZ$20 million. See more here at Stuff. The Gisborne District Council announced in late November it would have to rebuild or strengthen its main 1954 two storey office block at a cost of NZ$3.4 million. See more here at Scoop.
Six district court buildings were closed at short notice in early December after engineering assessments. See more here on Interest.co.nz
Insurers more sceptical
Insurers have been asking a lot more questions of building owners as they hike premiums across New Zealand because of the Christchurch earthquakes. Some in the property sector told Interest.co.nz insurers had notified in recent weeks that premiums had been doubled or trebled in Wellington, while some are refusing to insure buildings in the city that were considered significant risks.
Transactions and the bank loans that go with them cannot go ahead without insurance.
One Wellington commercial real estate agent told interest.co.nz that buildings up for sale, which were considered significantly earthquake prone are being heavily discounted. On the other side of the ledger, buildings considered safe were in demand as tenants sought office space in buildings that met earthquake strength standards.
Tenants are demanding buildings be brought up to at least 67% of NBS code, with many demanding buildings be brought up to 100% of NBS code.
Wellington City Council is most of the way through assessing how many buildings are below 33% of NBS.
These standards are set to be tightened once the Royal Commission report on buildings which collapsed during the Christchurch quakes is released later this year, and many landlords, particularly those who own 'secondary office space' are waiting to see if local councils such as the Wellington Council will hike building standard requirements to the current 67% NBS mark.
Reviews only just started
The cost of seismically improving the nation's stock of 3,384 unreinforced masonry buildings (UMB) which are below 67% NBS - think Wellington's Cuba Street and Auckland's Britomart precinct - to 67% NBS, could be as much as NZ$2.1 billion, according to a report by Jason Ingham at Auckland University's Department of Civil Engineering and Professor Michael Griffith from Adelaide University. According to the report there are a further 483 UMB which are at 68% of code and above, giving a total stock of 3,687. 
However, the estimated value of these buildings was NZ$1.5 billion, meaning rebuilding would be difficult to refinance, Ingham told the Royal Commission into the Canterbury Earthquakes last year.
Following the Christchurch earthquakes, the Wellington City Council commissioned a review of all buildings below 33% of NBS code that were built before 1976, when there was a significant change in building codes.
One of the structural engineers carrying out the work for the council, Jon Devine from SpencerHolmes, told interest.co.nz that the majority of the buildings that came in under 33% of NBS code were low rise unreinforced masonry buildings, the type that contributed to the deaths of 42 people in Christchurch's February 2011 earthquake.
The review for the council was about 80% complete. The council lists buildings considered below 33% of NBS code on its website. Following an initial inspection from SpencerHolmes or another engineering firm Beca, which is also carrying out the work, the council sends a letter to building owners with buildings below 33% of NBS code alerting them that the building may be earthquake prone and that it needed further assessment. 
Then it gets a bit murky
But beyond those estimates for the costs posed by unreinforced masonry buildings - clay, brick or stone buildings bound together with mortar, but without steel or any other reinforcement - there is an information gap as to how much it may cost to upgrade other commercial buildings, such as high rises, to make them less earthquake prone.
Wellingtonians were surprised to learn in November last year the Majestic Centre, valued at NZ$100 million and built in 1990/91 was assessed at between 34-66% of NBS code.
The biggest loss of life in the Christchurch earthquake happened in the CTV building and the PGC building, which were built in 1986 and 1963, respectively. Following a report released yesterday on the collapse of the CTV building, Minister for Building and Construction Maurice Williamson said 352 similar buildings built between 1982 and 1995 had been identified in Auckland, Wellington and Christchurch, and were being checked by the Department for Building and Housing. See more here at RadioNZ.
The collapse of buildings in Christchurch forced landlords in Wellington to get their buildings reassessed as tenants demanded to know how safe they were in case such quakes struck the capital.
The Managing Director of Commercial realtor CBRE Wellington, Ryan Johnson, told interest.co.nz the new unofficial view among Wellington commercial office tenants was they wanted buildings above 67% of NBS code.
"With government looking very closely at new policy toward occupying buildings being up to code, that will drive building owners or landlords to ensure their buildings are sufficiently up to code. Certainly [67]%-plus is where the current line in the sand is," Johnson said.
Government tenants accounted for about 40% of Wellington's occupancy rate.
Scale of problem still unclear
No one knew how many buildings weren't up to scratch, property sector sources told Interest.co.nz
"No one knows what buildings are rated to what. A number of landlords will have got their building rated so their tenants have some comfort that the building is up to code," Johnson said.
"If a tenant knows of a report, and it falls below 70%, or if it's somewhere around 40%, it certainly gives the tenant the jitters and they in turn want to see some action from the landlord," he said.
Tenants wanted confidence that a building was not earthquake prone. That was leading to good demand for prime office space in the city.
Johnson had just sold an office building for about NZ$20 million in December, at 70-85% of NBS code, then a couple at the NZ$1-3 million mark at 14% NBS, meaning they were considered earthquake prone. The market conceivably discounted those earthquake prone buildings by half, he said.
Banks nervous below 30% of code
"It's hard to generalise like that because every property's so specific in what it needs done to it and what seismic strengthening needs to occur. But ultimately the banks are reluctant to lend on buildings that are under 30% of code."
Johnson thought extreme cases would see costs of NZ$6 million to earthquake strengthen 10,000 square metres of office space.
"Although it might be under code, with a matter of spending some money on it, it will certainly bring it up to code and then it becomes one of those sought-after properties where tenants are confident that it's up to code and they're prepared to sign a long-term lease," Johnson said.
"They can all obviously be fixed. It's just a matter of cost and what's economic relative to the rents that you're getting. What else is a landlord going to do? You've got to invest in your property," he said.
Engineers difficult to find
Brae Watkins, head of property management for Primeproperty Group in Wellington, told interest.co.nz that following the earthquakes in Christchurch, Primeproperty had all the buildings it owned reassessed for earthquake risk. All of their buildings came in at above 90% NBS bar one, which was about 70%, he said.
"When the first earthquake happened in September, I had a thought that we were going to be facing a lot of questions from a lot of tenants about how safe we were, and we started to get some reports from engineers. When the February quake happened we were only fractionally through that, and there was a wave of questions coming from tenants in Wellington left, right and centre," Watkins said.
"We carried on with that process but we were hamstrung, as we wanted to get that information as quickly as we could to our tenants, but there wasn't an engineer available because a lot of them were working three or four days a week in Christchurch for the next nine months," he said.
"A lot of tenants were saying if it's not 70% or better then we're not interested. A lot of them were saying they want 100% because they knew the code's going to change."
Office and retail blocks built in the late 1970s and early 1980s seemed to be passing with flying colours, while those built in the late 80s and early 90s faced problems.
Costs escalate
Prime Property was looking at upgrading the building it had at 70% of the code. The property had about 4,000 square metres of floor space and would cost between two and four million dollars to upgrade, depending on how it went about the upgrade.
Emptying the building while the upgrade was carried out would also impose costs in terms of lost rent. Shifting tenants out of an average 8-9 storey building for 6-12 months might cost NZ$1 million in lost rent over that time, Watkins said, raising the question of who would pay the bill.
"If you're going to try and hook them back, the only way you're going to get them to come back is if you're paying the bill."
Watkins had heard of insurance premiums being hiked by anything from 70-200%, with premiums going up across the board.
"Certainly our insurance bill doubled," he said.
Buildings uninsurable
"I've heard of some people with buildings in that Courtenay Place/Te Aro area who cannot get insurance. They just won't insure them," Watkins said.
There were anecdotes of insurers walking away from Wellington or not taking on new business.
"The bank simply won't lend if you can't get insurance, and that puts a double squeeze on everybody," he said.
All eyes on the council
Property owners were now watching for whether the Wellington City Council would change its rules to make it mandatory that buildings met 67% of the building code, rather than 33%.
"It's going to put a lot of pressure on a lot of people, because I imagine a lot of property in Wellington, particularly south of Manners street, heading up into Te Aro and around the Basin Reserve and Courtenay Place, are going to be the properties that are going to be affected," Watkins said.
These were mainly the low-rise buildings referred to by Auckland University's Jason Ingham.
"What are they going to do? Toss people out straight away and say you can't occupy the building then demolish it? There's quite a considerable amount of money involved in dropping it then rebuilding it. Big area – a lot of residential in there too."
Waiting for Royal Commission report
A spokesman for the Wellington City Council told interest.co.nz the council was in the early stages of a policy review which would reflect the findings of the Royal Commission inquiry into the Canterbury earthquakes. A precise number on what the council might demand for earthquake standards - ie 67% NBS - was unlikely to be settled on until after the report was released.
"It's possible there will be progressive changes to provisions in the Building Act as legislative changes happen. Of course, there are a range of more immediate options to help address the safety of buildings (securing chimneys for example), some of which will be part of report to go to the Council's Strategy and Policy Committee on 23 Feb, the spokesman said.
It was originally envisaged that a new policy would be in place by early 2014. However timeframes were dependent on the Government's legislative review process and implementation following the Royal Commission report, which has just been pushed back from April this year to as late as November.
This article was first published in our email for paid subscribers this morning. See here for more details and to subscribe.