BNZ economist Craig Ebert says our housing market is over-valued by 25% because of artificially low interest rates and to ignore this imbalance 'would be irresponsible'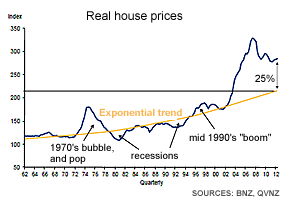 By Craig Ebert*
Those propounding that the Reserve Bank should maintain very loose, even looser, policy, on account of the slow CPI, should take another look at New Zealand's housing statistics.
These suggest a major imbalance is still stalking the NZ economy – one that might only be redressed by less interest rate stimulus, not more. Namely, that NZ house prices, having never really shaken the bubble they formed over 2004-07, are threatening to blow bigger again.
Yes, we know the argument that the fundamental problem is with housing supply, not so much housing demand. Indeed, we agree in large part. The best solution, in this case, would be to increase the supply of new homes, especially with recourse to less-pricey bare land to build upon. And for listings of existing homes to increase from their recent trickle.
However, to the extent that such supply-side responses cannot be assured, and soon, we're likely to be facing increased upward pressure on house prices. It's rather like wishing the economy as a whole could suddenly become more efficient, in order to keep demand pressures at bay. Fantastic if it can occur.
But if it can't, then one has to be conscious of inflation.
It's where reality takes over from a nice thought. So there is onus on the supply-siders to show how their solutions are at hand. But that's not  to ignore the demand side of the housing market equation. Sure, demand and sales are not what you'd call strong, which is why agents don't see the current situation as another boom, even though prices are definitely still  bubbly.
However, activity has certainly picked up over the last year or two, and has some momentum about it. This is indicated in the BNZ-REINZ Residential Market Survey and obvious in mortgage approvals.
Such things are all the more interesting given New Zealand's population growth has slowed to its mildest pace since 2001, as net immigration has turned slightly negative.
The latter tends to be important for housing ups and downs.
This is another reason not to expect sales to get back to where they were in the previous boom (when net immigration was sky-rocketing) before they are judged relatively strong. Sales over 2004-07, in other words, were a great anomaly, not to be repeated in a hurry.
In thinking about the demand side of housing, nor can we ignore the fact New Zealand's retail interest rates are about as low as they've been not just in a generation, but more like two (and not just in mortgages but in many business and farming rates as well).
Should we be surprised, therefore, that house prices have been sustained at pricey levels, and are beginning to heat up again?
To wit, the Stratified REINZ Home Price Index has recently posted an all-time high (as has the REINZ median price), having increased 3.4% over the first six months of 2012,on a seasonally adjusted basis.
And while Auckland's lead on this front is purportedly owing to internal population drift we wonder why the rest of country hasn't seen price corrections as a consequence.
Why Wellington's home prices haven't come down at all, despite a restrained public sector. And while Christchurch home prices are rising partly on obvious supply problems there is clearly enough demand pressure around to drive this.
Yes, we appreciate that nominal prices are not the be all and end all of home valuations. Fundamentals such as incomes and rents always have the opportunity to catch up, over time. Indeed, this is exactly what happened post 2007. However, that process stalled from 2010 leaving the various valuation metrics stuck very much on the high side.
In other words, the 2004-07 house price bubble that has now well been acknowledged, long after the fact, never really popped. We get this impression from looking at:
- The trend in real (CPI-deflated) house prices
- The valuation of New Zealand's housing stock in relation to total household disposable income
- Nominal house prices compared to rents (or its inverse, rental yields)
- House prices to weekly earnings
They all paint a picture of New Zealand's housing market simply less over-valued than it was – so still pretty pricey, and threatening to increase its degree of over-valuation.
These macro-economic metrics, of course, were the same ones we consulted in late-2007, early 2008, when we came to the conclusion the market was around 30% above fundamentals. While this was not the same as forecasting a 30% price drop it did suggest to us that NZ house prices were going to struggle – in terms of either coming off a bit and/or marking time while fundamentals such as incomes and rents caught up.
That New Zealand's housing market is stuck in clearly over-valued territory is a bit of a worry. Especially in that it might mostly be a consequence of the very low interest rate settings in place at the moment.
To ignore this probable imbalance would be irresponsible in this new world of ours, where it's the big stuff, including balance sheets, that matters most. Not so much the immediate progression of GDP.
Of course, there is a way of testing the notion that New Zealand's housing market is being unduly propped up by extremely low interest rates. That is for the RBNZ to remove the degree of OCR stimulus it has in place. Yet the Bank probably feels averse to doing so. Not only because it might actually cause a proper correction in home prices, back to sounder economic footings. But also because of the wider economic distress any OCR lifts might cause.
Then there are the ever-present risks from abroad that might make any domestic rate hikes appear ill-timed and foolish.
It's a very uncomfortable position for the RBNZ to have put itself in, with its 2.50% OCR.
But might a re-bubbling local housing market force the Bank's hand before any supposedly inevitable collapse in the global economy?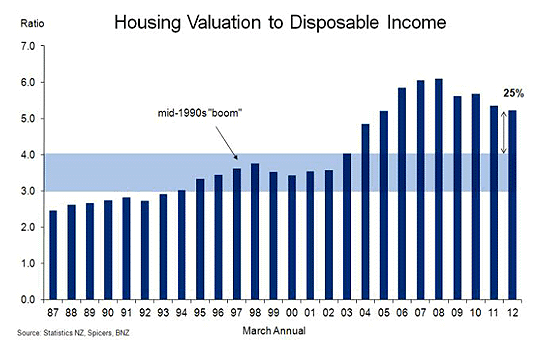 -------------------------------------------------------------
Craig Ebert is a senior economist at BNZ.