Starter home design winner Tony Koia talks costs for mass-producing affordable homes with lower running costs; Also eyes Christchurch opportunities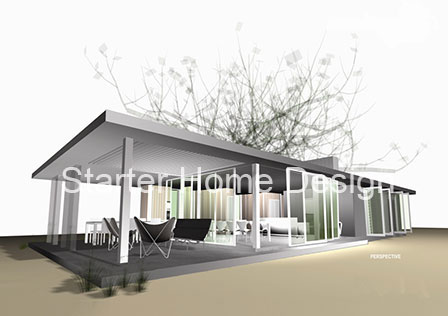 By Alex Tarrant
The architect who designed an award winning "starter home" in a Department of Building and Housing competition reckons the 120 square metre three-bedroom house could be built en masse for less than NZ$200,000 each, excluding land costs, although he says this could still be hard to achieve.
The Labour Party referred to Tony Koia's starter home - unbeknown to Koia - in its KiwiBuild policy document, outlining Labour's plans for the government to finance then sell 100,000 homes at an average build cost of NZ$300,000 over ten years.
Koia Architects designed the home for a category of a 2009 DBH competition calling for simple, affordable home designs with a maximum floor space of 120 square metres.
Principal Tony Koia told interest.co.nz the houses could be built in a group of about ten for around NZ$1,400 (including GST) per square metre, or about NZ$170,000. However some finishing touches would be left for the owners. The design also includes a covered porch of about 39 square metres.
Koia said the design was not as low-cost as it could be, as the firm took expected running costs, such as heating, into account, and designed it with these in mind. Spending slightly more on insulation up-front meant running costs would be more affordable over the longer-term, he said.
Koia told interest.co.nz the house was designed to have bits added on if need be.
"You can add entrance foyers, add on garages, or add on master bedroom wings afterwards. So it's an additive house rather than trying to provide something with a double garage that you don't have two cars to put in. It can grow with your needs," Koia said.
While the standard house entered in the competition contained three bedrooms, since then, Koia had developed a whole series of homes, studios and garages under the name Smarthouse.
"We've got smaller studio homes that start off at around 60 square metres, and build up to around 200 square metres," he said.
NZ$1,400 per square metre including GST
In terms of building costs, Koia had some initial reports done that suggested ten of the houses could built together at one point in time for about NZ$1,400 per square metre, including GST.
"Now that is hard to achieve. It does take some volume and it does have some exclusions in terms of site works and finishes that the owners need to do themselves," Koia said.
"But on volume, they [DBH] were looking around that kind of figure," he said.
Koia did build two of the houses at around that cost.
"Clients were often adding things to them though, as they do, so that increased the costs."
"We tell people for one-off houses you should probably be looking at around NZ$250,000 plus GST [excluding land]. That covers some site works and some more finishes. But they can be scaled up and down depending on what your appetite is to finish them," Koia said.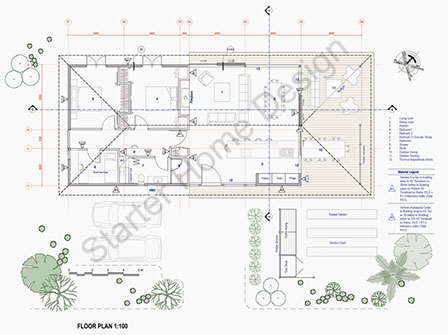 Affordable running costs
"What we've realised even in producing a couple of those houses is that, what's affordable to one set of people is not affordable to another. So what we've actually focussed the home on is a higher value, but concentrated on the whole running cost of the house," Koia told interest.co.nz.
"A lot of group home builders are looking at the lowest cost. We think that's the wrong way to actually look at it. You want to look at what's the actual running cost. Because the lowest cost houses have the highest running costs, and they penalise the people who need the low running costs," he said.
"We use 150 mm studs throughout the house. They offer 50% more insulation than a standard house. For a couple of thousand dollars, we think it's much better to have 50% more insulation than to be losing that amount of money probably every year in a cold climate.
"Yes, you could do lowest cost, but we prefer to focus on best value," Koia said.
Koia was looking at different building techniques and insulation options to make running costs even cheaper. Recently he began to look at how to incorporate Structurally Insulated Polystyrene panels (SIPS) produced in Rangiora by Thermax.
The panels were significantly more airtight than what was currently being used, meaning running costs would decrease substantially.
"We think that will have some big advantages for mass production," Koia said.
Koia was working to produce SIPS houses for the Christchurch rebuild. It was looking at an eight unit development in Christchurch at the moment, while also entering a competition to develop 'The Hive', a 50-plus residential development in Christchurch which would include a range of unit sizes from studios up to four bedrooms.
"It's still early days in the design process, but we're trying to design a product that will achieve something for a broad cross-section of the market. We're doing that not just to maximise sales, but in a community of 50-plus accommodation units having a cross-section of people is just a lot more healthy socially," Koia said.