PM Key on NZ housing fix: Increasing land supply in Auckland the answer, not a massive government-subsidised build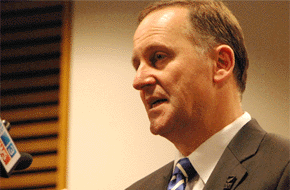 By Alex Tarrant
Fixing land supply road blocks, particularly in Auckland, is the simple answer for New Zealand's housing affordability woes, Prime Minister John Key says.
Changes to the Resource Management Act and building industry reforms would also allow for houses to be built for cheaper, Key said as a new TVOne poll showed 62% of voters polled thought the government should be "doing something to lower property prices in New Zealand."
Younger voters were the most keen for the government to 'step in,' TVOne reported. Three-quarters of voters aged 18-34 wanted a government-led reduction in property prices, based on the poll's question.
The debate comes after the government's response to the Productivity Commission's report on housing affordability showed National would focus on the supply-side of the housing market.
However, the onus was placed on local authorities to make changes to planning rules, while government-led changes to the RMA and building consent process could still be nine months away.
That prompted the Labour Party to announce its 'KiwiBuild' policy, promising to finance building of, then selling, 100,000 dwellings over ten years at an average build cost of NZ$300,000 each. Dwellings would be sold at 1% above the government's cost of borrowing.
Speaking in response to the TVOne poll at his post-Cabinet press conference on Monday evening, Key said it was not the government's intention to make moves which would lower property prices.
"That would actually undermine the value of everyone's home in New Zealand – that probably wouldn't be welcomed by the bulk of New Zealanders, certainly not home-owners," he said.
"Certainly the government doesn't want to see rapidly escalating property prices, because that's probably not in anybody's best interests."
"The plan that we've got, around release of land, Resource Management Act reforms, and reforms to the building industry, I think will help address some of those issues about rampant increases," Key said.
Auckland problem
The property price debate was very much an Auckland story.
"To a certain degree the rest of the country's had quite flat property prices over the last five years," Key said.
"The only other point I'd make is that, at one level, the biggest single driver [of] whether people can afford to have a home or not, is their capacity to service the mortgage, and we've got interest rates at a 50-year low. So that is at least good news for both home owners and potential home owners," he said.
Fix land supply
The government was considering ways to solve the Auckland centric problem.
"And that is very much land supply," Key said.
"If you go and have a look at the pipe-dream of Labour that they're going to build 100,000 houses for NZ$300,000, if they're going to do it in Auckland, they're going to build it on a cloud. Because they're not going to get a section for NZ$50,000 in Auckland easily," he said.
"Around the rest of the country you might be able to, there's plenty of places you can buy a house for NZ$300,000.
"But it's an Auckland-based issue. If you want to deal with that issue, some sort of small subsidy to a home-owner isn't going to fix the problem. You've got to fix land supply issues in Auckland," Key said.