Assessment of collapsed construction firm's projects nears completion; liaison with staff and clients continues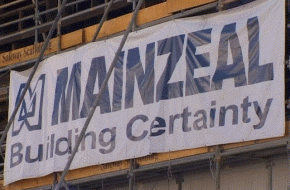 The receivers of Mainzeal Property and Construction say they have "nearly completed" an assessment of the company's projects, two weeks after its collapse.
Receiver and PwC partner Colin McCloy said Mainzeal was a "large and complex" receivership with many different stakeholders.
"We want to assure all parties that the receivership is being progressed as quickly as possible consistent with the receivers' statutory obligations," he said.
"We have nearly completed our initial assessment of Mainzeal's projects and have had ongoing contact with Mainzeal's clients and staff since our appointment. We will continue walking them through each step of what a receivership means. We understand it is a trying time for everyone."
Mainzeal, the country's third-largest construction company collapsed on Waitangi Day after its last remaining director Richard Yan asked the firm's bank, BNZ, to put it into receivership. More than 400 Mainzeal workers, hundreds of sub-contractors and dozens of major construction projects were put in limbo. Yan hasn't been heard from publicly since.
The receivership announcement followed hard on the heels of the resignation of independent directors (former National Prime Minister) Jenny Shipley, (former Brierley CEO Paul Collins) and Tauranga businessman Clive Tilby. Subsequently about half the Mainzeal staff lost their jobs.
Mainzeal is thought to have worked on NZ$7.5 billion of projects over the years.
The receivership could potentially affect the Christchurch rebuild in various ways. Mainzeal was part of a joint venture with MWH Global to work with Vero, AA Insurance and SIS Insurance to rebuild homes and other buildings.
McCloy said the receivers were pleased to have reached some milestones, "for example the orderly transition of a substantial number of Christchurch staff to MWH Recovery, which has bought Mainzeal out of the MWH Mainzeal joint venture".
Limited work had also resumed on Mainzeal's Kapiti Coast District council site.
"The receivers hope to be in a position to either resume work, or as is more likely in a number of instances, transfer responsibility for other projects back to the client or another contractor in the near future," McCloy said.
He said the "vast majority" of contractors and sub-contractors had been given access to sites to recover tools and equipment.