'Staggering increase' in confidence reported by commercial property investors, especially in Christchurch and Auckland: Colliers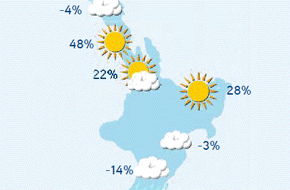 Content supplied by Colliers International
Commercial property investors have begun 2013 in a much more positive mood, with a significant jump in optimism around the country revealed in Colliers International's first quarter investor confidence survey.
Alan McMahon, national director of research and consulting at Colliers International, says commercial property investor confidence nationwide reached a net 25% this month, up 10% since December 2012.
"This is quite a staggering increase in confidence and is the highest national result since we began the survey in June 2009. It shows investors' outlook on upcoming conditions in the commercial property market is becoming significantly brighter," he says.
The 25% net overall confidence reading means more respondents think things will get better for commercial property investors over the next 12 months, by the margin of 25%.
"Economic growth is now established, retail sales are up, the Christchurch rebuild is becoming more of a reality and we are coming to grips with the impact of seismic strengthening issues nationwide. These factors have all contributed to commercial property investors feeling a great deal happier about the outlook for the coming year," McMahon says.
The last time confidence increased by more than 10% in one quarter was a year ago (March 2012), when 16% net optimism was recorded, compared with 4% in the previous quarter.
Confidence has only increased by more than 10% in one quarter on one other occasion in the survey's history: between June 2009 (-32%) and September 2009 (-14%), when investors' outlook was dominated by the global financial crisis.
All centres surveyed showed an improvement in confidence this quarter.
Auckland and Tauranga/Mt Maunganui had the biggest increases in confidence, both rising by 15% since the last quarter.
The next largest increases in confidence were in Wellington and Palmerston North. "The capital's 1% net confidence reading places it in positive territory for the first time since we started surveying the city in 2008, which is quite significant," says McMahon.
Auckland also recorded its highest-ever net confidence reading (48%) since the survey began in the city in 2006, as did Christchurch (60%), which was added to the survey along with Wellington in 2008.
By sector, Auckland office investors were the most confident, up 17% to 59%. Wellington retail investors showed a significant bounce back, increasing by 15% to a net positive 3% over the past three months. Out of the three main centres, Wellington office investors are still the most pessimistic, with confidence at a net -5%.
The survey results were collated from 4,457 responses.