We have changed our opinion about the rent-or-buy equation; market froth and regulatory intervention looms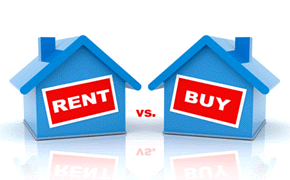 This month we have changed our view.
On a national basis, we now think the circumstances have changed to where it is now probably better to stay renting than buying, at least for the next year or so.
Each month, we update our monitoring of both home loan affordability and rent affordability, and publish the updates here.
For many months past, for most of the country, it has generally been close - that is +/-5%, and we had the view that on balance it was wise to buy. (There were exceptions, of course.)
The 'numbers' still show the same relatively close tracking, but the policy landscape is changing and that has changed our view.
The pressures in Auckland and Christchurch are changing how the public officials are likely to react. Those public officials include the policy makers in the RBNZ, the Government, and in some big Councils.
We have four reasons.
Firstly, the RBNZ is signalling that it will likely start raising mortgage rates next year on a fairly aggressive scale, rising by as much as 2.5% in the next cycle.
That would raise the interest rates from 5.75% to as much as 8.25% when the cycle is completed. Such a rise would take current mortgage payments up by at least $118/week, from $464/week to $582/week. (These figures assume no other changes over the cycle, which of course probably won't be the case.)
Secondly, the RBNZ has recently instituted its LVR 'speed limit' rules and these penalise borrowers with low equity. Banks have reacted by not only raising rates for low-equity home loans, but also imposing and raising their 'low equity' margins or fees, making buying without at least a 20% deposit even more expensive and financially stressful.
Thirdly, in most markets (Christchurch is the main exception), rents are not rising as fast as they once did and not as fast as mortgage payments are about to. Landlords may have to consider absorbing at least some of the fast-rising costs of building insurance and property rates. At least as a tenant you can negotiate these; as a home owner you are just a price taker.
And finally, the Government and Councils are making a concerted effort to get more median priced houses built. Those efforts are gaining pace. While they may find it a challenge to reach the targets they have set themselves, the fact is many more new and reasonably priced houses will be coming on to the market in the next few years, altering the supply-demand imbalance we have now. House price pressures are now more likely to wane, as are rental demand pressures.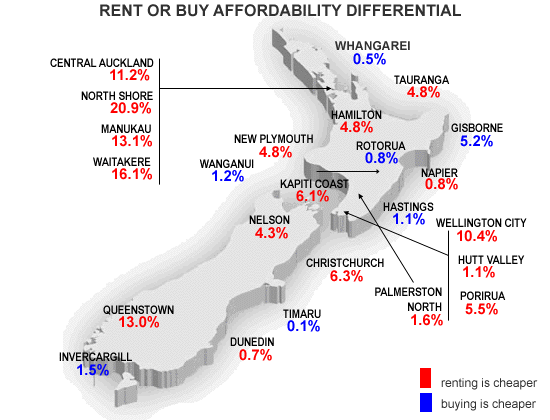 Despite all this, you will need to make your own assessments and judgments on the likelihood of how future cost may affect you personally in the area you live, for both mortgage interest rates and rents. Landlords may come under pressure; if many more people stay renting, rents may rise faster than expected. Or, the RBNZ may not actually push ahead with its rates rises due to other big and presently unexpected economic influences. And the RBNZ has signalled its LVR restrictions may not be in place for very long - But what if they aren't reversed as they have implied?
And finally, in a year, there will be an election, and housing affordability will likely be an election issue. A change of government might change things too.
These are the reasons, and caveats, for our changed view. In general renters should hold off jumping into a frothy market when the risk of correction is high and the pressures on rising ownership costs are higher than for renting.
We think you should stay renting and act like a homeowner - that means you should save the additional amounts you would have spent (mainly on interest, rates and insurance) if you were a homeowner. (Remember, almost all your mortgage 'repayments' in the first few years are interest - very little pays down your loan and increases your equity. Use our calculator to check the numbers.)
True you may miss out on 'capital gains' but we (and others) think you are just as likely to miss out on capital losses the longer present market conditions build - and miss out on the coming regulator reactions.
It's just our general opinion though.
We encourage you to a) check the facts yourself, b) make up your own mind, at least as an interim opinion, and then c) check your personal situation with a professional adviser you trust.
Here are the September 'numbers' for first home buyers - lower quartile prices for a three bedroom house purchased or rented, and median household incomes for a couple aged 25-29 years, no children. Other scenarios will be different of course. The full details are here.
 

% household take-home pay

 
 

$

$/week

$/week

%

%

%

 
 
 
 
 
 
 

Auckland North Shore

          1,614

Auckland West

          1,466

Auckland South

          1,362

Queenstown

          1,356

Auckland Central

          1,567

Wellington City

          1,739

Christchurch

          1,438

Kapiti Coast

          1,351

Porirua

          1,447

Tuaranga

          1,325

Hamilton

          1,370

New Plymouth

          1,367

Nelson

          1,373

New Zealand

          1,456

Palmerston North

          1,478

Wellington Hutt

          1,490

Napier

          1,321

Dunedin

          1,262

Timaru

          1,308

Whangarei

          1,465

Rotorua

          1,364

Hastings

          1,315

Wanganui

          1,278

Invercargill

          1,323

Gisborne

          1,181