Hamilton and Hawkes Bay real estate agents pull 1,700 listings from Trade Me after change in fee structure; Trade Me appeals directly to home sellers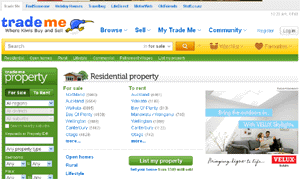 By Bernard Hickey
Real estate agency groups in Hamilton and the Hawkes Bay have pulled more than 1,700 listings from Trade Me Property since mid-January, arguing they are not prepared to pay a quadrupling of fees.
Describing the new fee structure as an "arrogant, dumb and stupid hydraulicking" of prices, some agents pulled their listings from Trade Me without first telling their customers and said they saw it as an opportunity to break away from Trade Me and re-direct vendors and home buyers to Realestate.co.nz, which is controlled by agents.
Trade Me founder and director Sam Morgan later tweeted: "Trade Me is the best value way to sell your home. Costs $159 through an agent. Agents cut off noses to spite face. Turkeys."
Others said they had been telling vendors since late last year they planned to withdraw their listings from mid-January and were hopeful Trade Me would revisit the fees structure. The agents are now offering Trade Me as a 'cost-plus' option, although some are telling vendors any extra spending would be better used on print advertising or feature listings on Realestate.co.nz.
Trade Me said it was disappointed by the agents' decision to pull the listings and had sent letters by courier directly to the around 1,300 vendors whose listings had been pulled, offering to reinstate them until their property is sold. 
Late last year Trade Me told smaller real estate agency groups it would begin charging NZ$159 per per listing, rather than a capped monthly fee per real estate agency office. The agency groups involved said the change would quadruple or quintuple the monthly cost of their listing fees, which they had previously absorbed within their own fee structures with vendors. They are now being encouraged by Trade Me to 'on-charge' the fees to vendors.
'A small proportion of overall agency commissions'
Trade Me said the change to a per listing fee rather than a monthly per-office fee meant small offices with a few listings saw costs unchanged or even lower, but it acknowledged the larger offices would have to pay multiples more than the 'tiny' average fees previously paid. It said the NZ$159 fee per listing remained a small proportion of overall agency commissions and better reflected the value Trade Me delivered, given half of buyers came via Trade Me and the website delivered over ten times more buyers than more expensive newspaper advertising. Larger real estate agency groups remain on larger bulk deals with lower average fees per listing, although they are due to expire later this year.
Hamilton's Monarch Real Estate, a Harcourts franchisee, and Lugton's Real Estate in Hamilton have both confirmed to Interest.co.nz they withdrew their listings from Trade Me on January 17. Trade Me said Lodge had also withdrawn listings. A spokesman for Lodge did not respond to Interest.co.nz's messages to confirm the withdrawals. There were 9 Lodge listings on Trade Me as of Monday evening, while there were 102 Lodge Hamilton listings on Realestate.co.nz. Property Brokers' Hawkes Bay offices had also pulled their listings as of Monday, Trade Me said. A spokesman for Property Brokers has yet to respond.
Monarch Harcourts General Manager Brian King said his agents were still offering Trade Me listings to vendors, but only as an add-on with an extra cost of NZ$159 + GST per listing. King said Monarch Harcourts would continue to absorb the cost of print ads in Harcourt's fortnightly bluebook and the Waikato Times, as well as the cost of listing on Harcourts.co.nz and Realestate.co.nz
"The cost of this has been hydraulicked. If it was a gas station or supermarket, there'd be people standing outside with placards," King told Interest.co.nz.
He said the Trade Me listing costs were four to five times the previous costs and Monarch could not absorb it. 
"I don't see value for every listing being on Trade Me for what they're trying to charge us now," he said.
Monarch Harcourts had told its agents to inform vendors whose listings had been withdrawn. King said there had been two or three complaints and only half a dozen vendors had taken up the option of paying extra for a Trade Me listing. Monarch Harcourts had previously had up to 500 listings on Trade Me at any one time, King said. There was just one Monarch Harcourts residential listing on Trade Me on Monday evening. There were 213 Monarch Harcourts listings on Realestate.co.nz on Monday evening. 
"You can't just expect to put up your prices so much and expect people to just sit down and take it. It just doesn't work," he said.
Lugton's Real Estate Sales Director Simon Lugton said Lugton's was no longer recommending a Trade Me listing and any vendors wanting a Trade Me listing would be charged the NZ$159 + GST. Lugton's started telling vendors in November that it wouldn't be absorbing the cost of listing on Trade Me from early in the New Year.  
'Quintupled costs'
Lugton said only four out of 100 vendors had chosen to take up the option of paying extra for a Trade Me listing and he had not received any complaints.
He said the change in the fee structure would have almost quintupled Lugton's Trade Me costs.
"It was a bit of  a dumb strategy and a little bit arrogant of them," Lugton said, adding Trade Me did not have a monopoly and vendors could still use the agents' own websites and Realestate.co.nz.
Lugton's would continue to absorb the cost of putting listings on Lugtons.co.nz, Real estate.co.nz and publishing black and white newspaper ads in the Waikato Times when space permitted.
He said Realestate.co.nz now had 915 residential listings from all Hamilton real estate offices, while Trade Me had 454 residential listings for Hamilton, including both private sales and agency represented sales.
"We saying to our vendors: 'You may as well be on the site that's got everything -- Realestate.co.nz. If you want to spend NZ$159 + GST, we can find a better way for you to promote your property. That would be print, or signage or a feature listing on Realestate.co.nz."
Lugton said the fee changes came at an opportune time.
"When I heard the news I thought it was a great opportunity to move away from Trade Me. I wasn't particularly happy about being on there in the first place. We went onto Trade Me a number of years ago. We felt we were forced to because our competitors were on there, but we didn't want to go there," he said.
Not all Hamilton agents have pulled their listings from Trade Me. Bayleys Waikato had 148 listings on Trade Me on Thursday evening, while LJ Hooker Hamilton had 82 residential listings, Eves Hamilton had 66 listings and Ray White Hamilton had 117 listings.
Lugton said he had some discussions with other Hamilton agency group principals, but the decision was a commercial one taken by his agency alone. He noted he had received calls from elsewhere in New Zealand about the Trade Me fee increases.
"They're of the same mindset that they're moving out of it," he said.
The linked agencies of Tremains and Sothebys in Hawkes Bay also confirmed they had pulled their listings from Trade Me as of February 1.
Morgan later described the comments at "Agency collusion at its best."
See more commentary from a vendor and industry veteran Alistair Helm in this piece on Interest.co.nz
David Hargreaves also comments on the issue here at Interest, comparing real estate agents to the printing unions in the pre-computer era and saying it was a battle they could not win.
'Nothing's forever'
"The cost proposed to us by Trade Me we couldn't live with, but nothing's forever," said Tremains Sales Director Cam Ward. 
"Everyone is trying to run a business and jostle for business and that's the tack they've taken, and we're happy to discuss it with them," Ward said. Tremains had withdrawn around 350 listings, he said.
"It's unfortunate. I'd like to think we could work out an amicable agreement where everybody's happy. At the end of the day we want to best serve our vendors and this at the moment is probably not the best way to serve our vendors, so if we can work something out that works for all parties concerned that would be the best outcome right across New Zealand," Ward said.
Tremains advised vendors in writing of the change, he said.
Trade Me said it had sent letters to around 300 vendors with listings through Tremains and Sothebys.
Trade Me responds
Trade Me Chief Executive Jon Macdonald said the fees had been changed to better reflect the value offered to vendors, given around half of buyers came via Trade Me.
"Under the new model, we believe our fee for agents of less than NZ$200 + GST per listing until the property is sold still represents great value for money," Macdonald said.
Trade Me said Nielsen Online data showed it received more than four times the visitors that Realestate.co.nz received and research Trade Me commissioned from Perceptive showed Trade Me Property was the source of over 10 times more buyers than newspapers.
Macdonald said he was disappointed some offices had taken down the listings before the end of the month, given the offices had already paid for them. 
"The crazy thing is these listings have already been paid for, either by the vendor or the agent. It's disappointing to us that some real estate offices have chosen to take this approach and disadvantaged their current customers," he said.
Macdonald rejected the criticism that Trade Me had overplayed its hand and defended the higher fees.
"Our fees are only about 1% of the commission an agent will get on an average-priced house – pretty good given that more than half of the buyers of houses come through Trade Me," he said.
See more from research on what tools buyers and sellers use to buy and sell their properties.
(Updated with Property Brokers Hawkes Bay pulling listings to, and link to article with research on how property is bought and sold, also updates with Sam Morgan's comments and a link to David Hargreaves' commentary)