The first homes planned for Wynyard Quarter on Auckland's waterfront could be offered for sale by the end of the year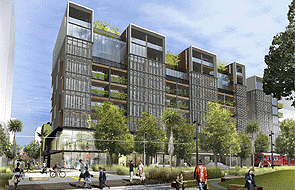 The first homes to be built in the Wynyard Quarter on Auckland's waterfront should be available for sale off the plans by the end of this year.
Waterfront Auckland had appointed Wellington company Willis Bond to develop 500 to 600 homes on the site.
They will be a mix of mid-rise apartment blocks, townhouses and duplexes.
The housing project will eventually also include office buildings with 48,000sq m of floor space and a five star hotel.
Willis Bond won the right to develop the housing component of the project after an 18 month competitive tender process.
The 500 to 600 new dwellings will be contained within 17 buildings spread over five sites covering just over two hectares.
The entire project is expected to take 8-10 years to complete and the first units are expected to be sold off the plans near the end of this year and completed by late 2017.
Willis Bond has been behind a number of high profile developments around the country, including The Hub at Botany Downs in Auckland, the NZX and Wellington Free Ambulance buildings in Wellington and Chews Lane in Wellington. It is also involved in the development of the Hobsonville Point housing project in Auckland.