A Gulf Harbour home sells for a bargain basement price at mortgagee auction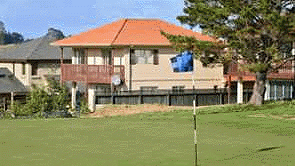 A modern four bedroom home on two levels next to the golf course at Gulf Harbour north of Auckland has sold at auction for $375,000.
The price appears to be a bargain because sales records from QV.co.nz show that it was originally purchased for $520,000 in 2007 and had a 2011 rating valuation of $445,000.
The REINZ's median selling price for properties sold in the Auckland region in July was $610,000.
It was sold at a mortgagee auction (it was mortgaged to Westpac) by Bayleys Real Estate last week and the company's advertising material described it as an ideal family home or rental property, with good sized kitchen and dining areas, a separate lounge and spacious back yard.
As well as having four bedrooms, the house had two bathrooms and a double garage and was located on a 346 square metre site immediately adjacent to the Gulf Harbour Golf Course, with the upstairs deck and rear windows of the house overlooking one of the greens.
But the agent who handled the sale, Billy Beggs of Bayleys Whangaparaoa, was reluctant to discuss the reason for the apparent low price when contacted by interest.co.nz, other than to say that as far as he was aware, the property did not have weathertightness issues.
But its does have an interesting history.
It appears to have been developed by the Merlot Investment Group, a property spruiking outfit that was active at Gulf Harbour in the early to mid-2000s, but which is now in receivership and liquidation.
It was bought by its current investor/owner in 2007 through an investment company set up for the purpose but this went into voluntary liquidation at the beginning of this year.
The liquidator's report said it was insolvent.
The mortgagee had subsequently taken possession of the property and put it up for auction.
Apart from Westpac, the other creditors were ACC and IRD.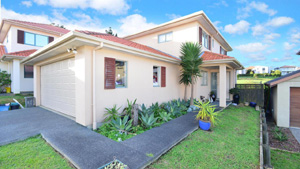 A view of the house from the street.